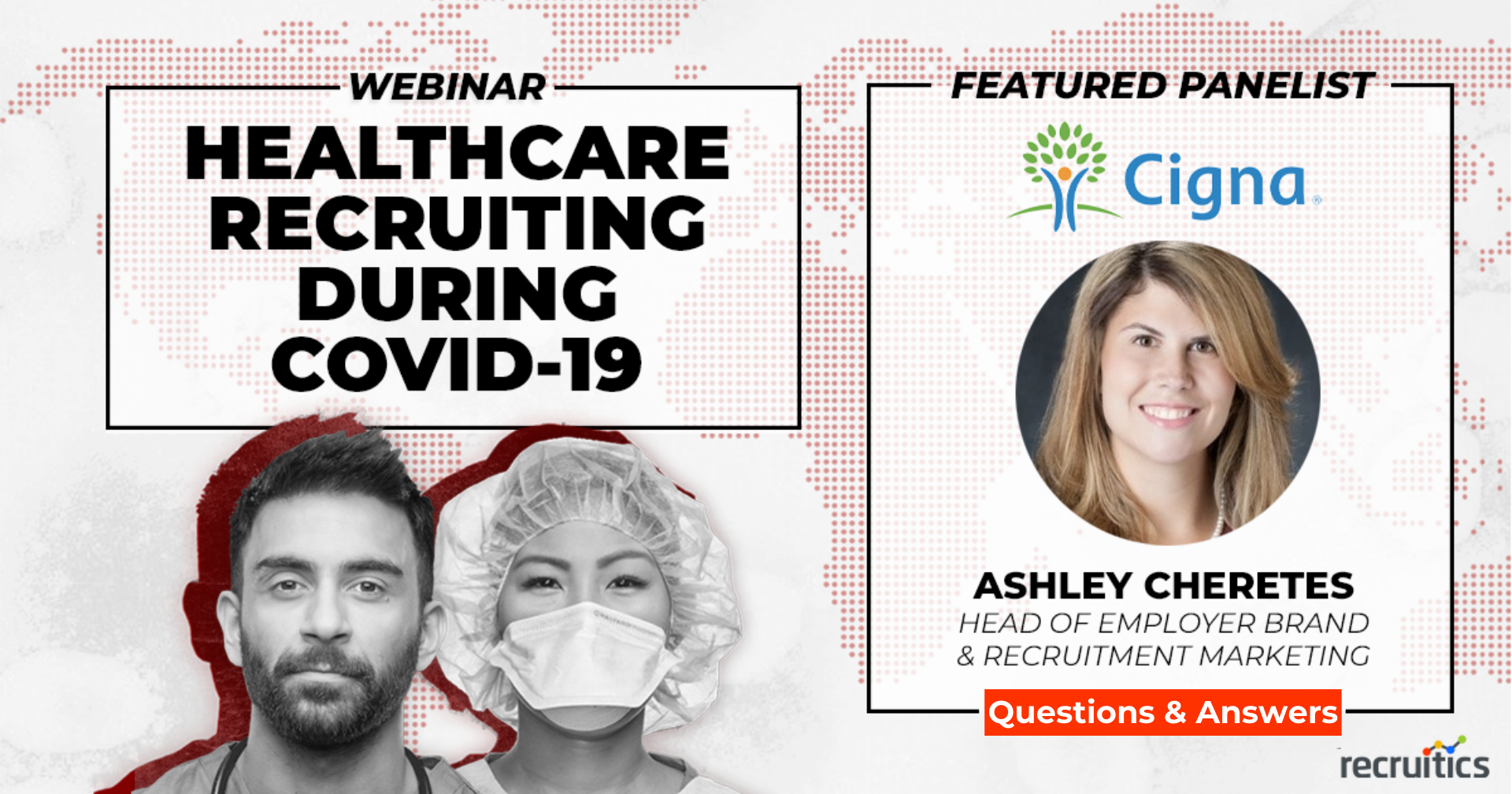 On Recruitics recent webinar on "Healthcare Recruiting During A Crisis: How TA Leaders are Navigating COVID-19 & the Impact to Recruitment Marketing" I was part of a panel of healthcare recruiting experts to share insights and information on how we are navigating challenges of COVID-19. During this webinar, a number of questions came up generally around healthcare recruiting and more specifically around how healthcare companies' employer brand and messaging are being impacted.
In this post, I address some of the questions from actual webinar attendees.
Q: "How can I craft language for job pages/postings during this sensitive time?"
A: I think it really depends on if the role is directly related to the COVID-19 response or not. If you have created a role in our organization due to COVID-19, you should be upfront and honest that the job is supporting that effort and be clear about how the role will progress as things settle down. You need to be prepared to answer questions like, "Is this a temporary role?" or "How will my responsibilities change after as we transition?" for instance. If you are honest in your job content about what the role is and how it will evolve with this current situation you will gain candidates' trust and strengthen your brand.
Q: "We have several departments that want to make offers; however, are unsure of when they will be able to support them coming onboard. Is there any language you recommend for 'contingent start dates' meaning the start date could be pushed back if it's not an essential role in the moment?"
A: We are currently not practicing contingent start dates, as the large majority of our workforce is working from home. For most of our new starts, we are having them start at home, as well. Also, one of the things I'm most proud of is that we've made a decision to keep our internship program commitment where our 200+ summer interns will start out as completely remote with the potential to work in an office when it's deemed safe.
Q: "When thinking about messaging (both externally to the public and internally to a company's own employees), do you find healthcare providers care more about speed of getting the message out or more about being extra thoughtful on the words they choose to ensure the message is received in the way they truly intend?"
A: At Cigna, one of our five company values is "acting with speed and purpose." Speed is just as important as being thoughtful because we have a duty to help and protect our clients, patients, customers, employees and candidates. When we were planning our COVID-19 careers site content we focused on asking four key questions before sending out any message: Does it answer specific questions that the audience will have? Will it help someone? What emotions will someone have reacting to this? Will this prompt anyone to change their behavior to take a specific action?
No matter what, we are always focusing on purpose and intention with our communications to cut through noise and clutter.
Q: "What ways are you communicating with your current and future employees, besides email?"
A: For current employees, we have a whole COVID-19 resource center on our company intranet that's updated regularly with resources, blog articles from leaders across the organization and spotlights from employees. We are also encouraging managers to have regular conversations with their teams during their daily stand up meetings or weekly meetings.
For candidates in process or those who haven't applied yet, we have several touchpoints to communicate our efforts including a careers site coronavirus content hub and social media content. In the first week of launching the hub on our careers site, we had thousands of people view the page which was very validating that people really wanted to know how COVID-19 affected them in our hiring process. From there, we started building more content on social media and frequently update the page with new questions we get asked from candidates.
Q: "What does recruitment messaging look like post COVID-19? Is it too early to tell, or has some thought been given to the strategy as the curve flattens and (fingers crossed) we return to a more 'normal' daily routine?"
A: If you've created new communication or used existing touchpoints to communicate, I would start with updating those first. I don't think there needs to be a grand announcement or communication when things adjust to a new normal. Instead, I would stay purposeful and intentional in any communication you send out. It's also important to stay in sync with your company's communications teams to stay on top of new topics or discussions that potentially could be utilized for your own efforts.
---
I hope these additional insights were helpful for the webinar attendees!
You can get access to the full webinar recording here, or you can watch the section of the webinar on "The Impact of COVID-19 on Healthcare Employer Branding" below.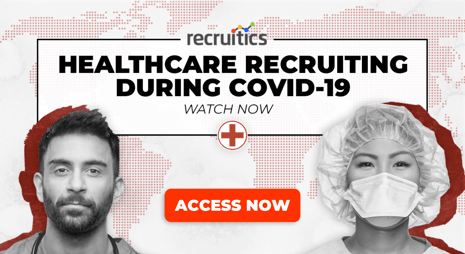 Get access to the full webinar recording of "Healthcare Recruiting During a Crisis: How TA Leaders are Navigating COVID-19 & the Impact to Recruitment Marketing" here.
Posted by Ashley Cheretes

Ashley is currently the Head of Employer Brand and Recruitment Marketing for Cigna, a global health services company. I'm also a Jersey girl, Spotify junkie, mom, and runner. (It's no coincidence those last two are next to one another.) I've spent the last five of my 10-year marketing career convincing big brands that recruiting is now a sales and marketing game…and one they can win.