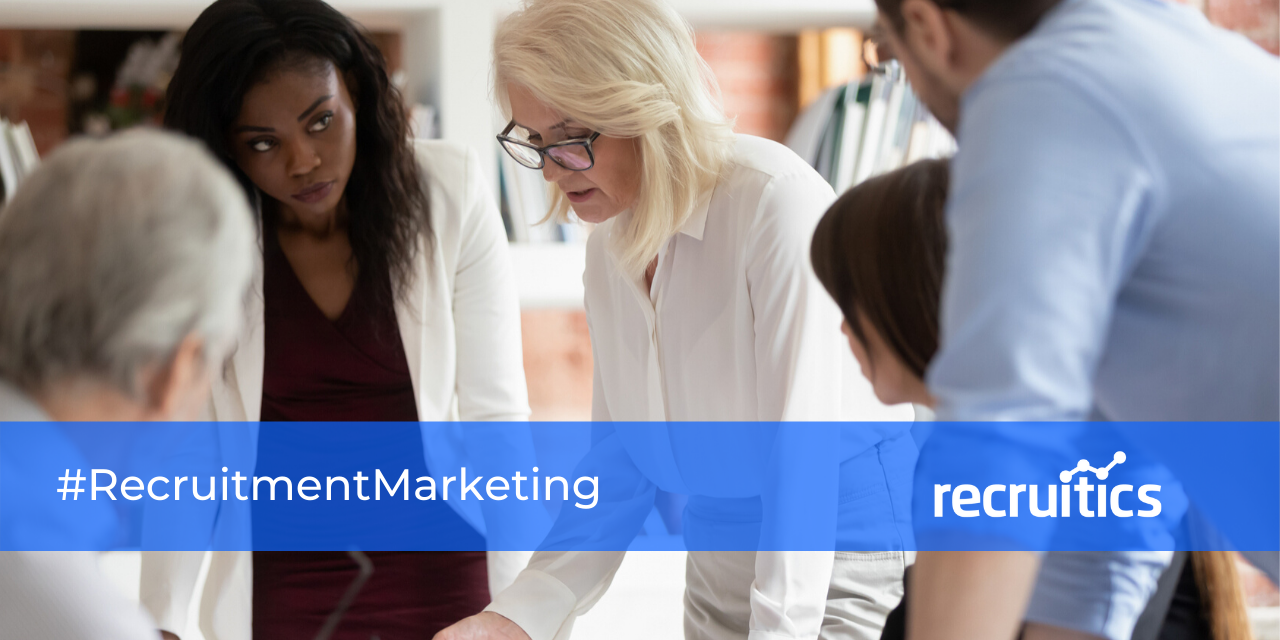 We've talked in the past about how to best communicate internally when your workplace has employees from multiple generations (as most do).
In short, the key is to ask the right questions, listen to what your colleagues have to say, and remember to tailor your message to the right audience.
But what about recruiting candidates from different generations? Should you create a custom message depending on the age group? Should you use different media tactics and channels for each age group?
For generational recruiting, we recommend starting with a similar approach as internal communication: tailor your message and medium to the audience you want to reach.
Generational #Recruiting: How to Tailor Your Message [CLICK TO TWEET]
HOW TO RECRUIT ACROSS GENERATIONS
First and foremost: Know your audience!
Identify whom you are trying to reach.
Baby Boomers may want to share from their knowledge and experience, so try promoting ways they can contribute to the growth and maintenance of the organization. Also keep in mind that some Boomers are getting ready to retire and may be looking for part-time options.
Gen X are focusing on building their careers – promote growth opportunities.
Millennials tend to be socially conscious – promote work culture, company ethics, and corporate social responsibility.
Currently, Gen Z are often just starting out their careers – promote learning opportunities and a "fun" work culture.
Optimize for mobile and usability
People from all generations are on mobile, so consider mobile ads and text campaigns to reach job seekers.
However, older generations may still turn to desktop. Ensure your site is easy to use and offers a seamless experience across devices (cross-device functionality).
Be aware of how generations are similar as well as different!
At the end of the day, there is no "one size fits all." You need to find a balance between recruiting for the needs of the role, the fit for the company and the fit for the candidate.
RECRUITING BABY BOOMERS
What are Baby Boomers looking for in a company?
Flexible hours – Many boomers are not retiring at 65 anymore. They could want part-time options or flexible hours as they get older.
Stability – They want to feel secure in their role as they approach retirement.
Healthcare benefits – As this group ages, healthcare options are increasingly valuable.
Recruiting Tactics
Digital is universal — Boomers are on mobile and desktop and have learned to utilize a variety of digital resources.
Traditional is still a strong influence — Consider their history with offline media such as print or radio. These are still trusted sources.
Get to the point — While they are generally interested in what an employer's company culture is like, Boomers can pay more attention the day-to-day aspects of a role.
RECRUITING GENERATION X
What is Gen X looking for in a company?
Growth opportunities and consistency – At this stage in their career, they are looking for growth and the ability to be a contributor.
Work-life balance – They want a balance between family, work, and time off.
Stability and company values – What is the "why" of what your company does?
Training and development – They are still seeking ways to learn and grow and still have the time to make changes in their career.
Mentoring programs – They are ready to be mentors and share their knowledge.
Strong benefits packages
Formal Career Path Development – This is important as Gen X has been in the workforce for some time now, and they know what they want from their careers.
Recruiting Tactics
Digitally savvy — This age group knows how to utilize online sources and turn to them frequently.
Connected via mobile — Text and emails are strong communication methods for this age group.
Promote a combination of company culture and "day to day" of the role.
RECRUITING MILLENNIALS
What are Millennials looking for in a company?
Growth opportunities – Many are just starting out their careers or are a few years in. However, unlike Gen X a formal career path may not necessarily be their goal.
Mentorships – They have been in the workplace long enough to recognize what they can gain from more experienced peers.
Flexibility – Millennials want work-life balance as more and more are seeking out unique working approaches (remote working, custom hours, pet friendly offices, gig work).
Ability to engage digitally – As digital natives, this age group is looking for technology-forward companies.
Recruiting Tactics
Company Culture — Promote the company as a whole, not just the role.
Benefits (beyond just a 401K and health package) — Benefits such as PTO, flexible work schedules (work from home), free lunch or gym memberships may appeal more to this group.
They don't want to be a "cog in the machine" — Provide examples of how they can affect the company and how the company affects the community as a whole.
RECRUITING GEN Z
What is Generation Z looking for in a Company?
Learning opportunities – This is a young age group, and they may not know what they want but are excited to learn and grow.
Mentorships – Similar to the other generations, Gen Z will value mentorship and at this stage in their careers, they will look toward mentors for guidance.
Flexibility – Gen Zers are more likely to want to work remote or test out a non-traditional career path.
Ability to engage digitally – Similar to millennials, as digital natives, this age group is looking for technology-forward companies.
Contribution to the company – Although young, Gen Z wants to be heard and contribute. They may not be familiar with the system of "paying dues" as older generations might expect.
Recruiting Tactics
Similar to Millennials, promote benefits (beyond just a 401K and health package).
Gen Z is more likely to be entrepreneurial — Provide examples of how they can make a difference and contribute beyond the day to day.
—
Candidates of each generation have different approaches to job hunting, work-life balance, and work productivity. Most differences are subtle and sometimes a matter of communication style, individual interpretation, and life stages. Keep your audience in mind and pull out the key elements of the company and the job that will resonate the most with the candidate you want to attract.
If you would like help with your generational recruitment strategy, contact Recruitics today!
Posted by Abigail DiFazio

Abigail DiFazio is no longer with Recruitics. During. her time with us, she was a Director of Client Strategy, with over nine years of media planning and buying experience. She has been in the recruitment space for over four years, utilizing knowledge from the consumer world to help employers target and reach the right candidates for their roles. She has a passion for strategy and reporting, utilizing metrics to help drive performance for her clients. When not building media plans you can find Abby on the mountains in Colorado.