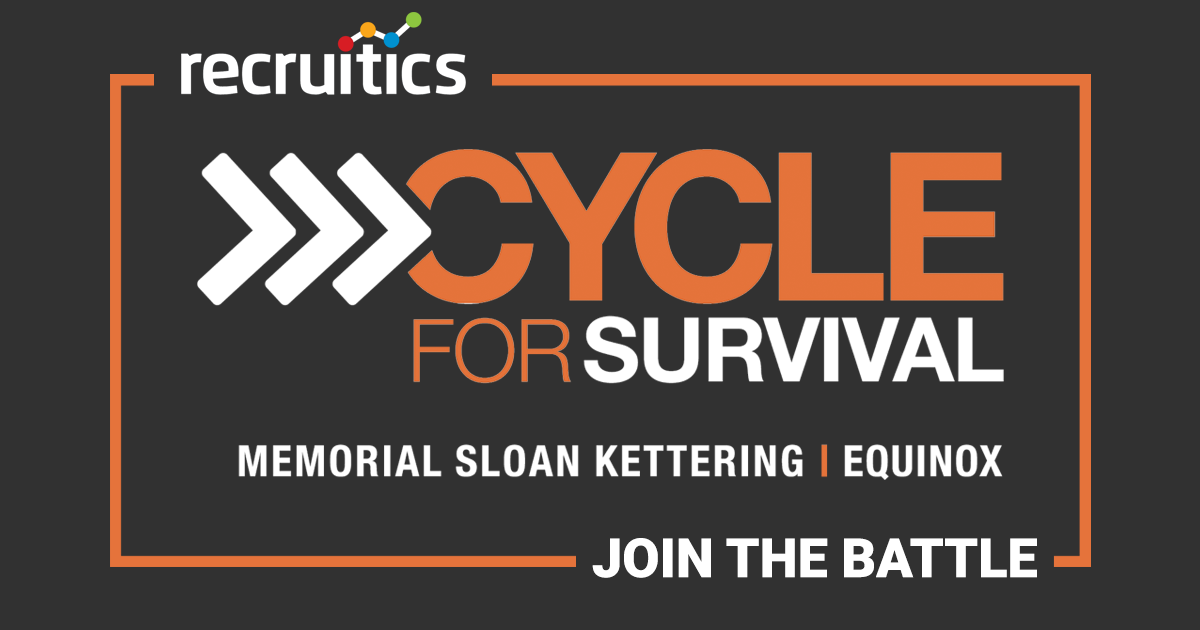 Whether you've experienced it firsthand or have witnessed the fight of a family member, friend, or colleague, cancer has made an impact on everyone's life in some way.
That's why Recruitics has formed a national team with Cycle for Survival, a fundraising movement to beat rare cancers. Approximately half of all people with cancer are battling a form of rare cancer, but they often have limited or no treatment options because rare cancer research is drastically underfunded.
Cycle for Survival partners with Memorial Sloan Kettering Cancer Center – the world's oldest and largest private cancer center – in a commitment to change that reality. Over the past decade, Cycle for Survival has raised over $229 million, and every single dollar raised is directly allocated to rare cancer research at MSK within 6 months of the close of fundraising. Cycle for Survival funding opens doors for hundreds of MSK physicians, scientists, and research teams pursuing bold new ideas for battling these forms of cancer.
Join The Battle
February 7th marks the first of three Cycle for Survival events that Recruitics will be participating in as a National Team, and we would love your support!
Our three regional teams have a combined fundraising goal of $60,000.
Every dollar counts, and every penny you donate will go to funding rare cancer research. You can learn more and donate to support one of our teams in their Cycle for Survival events using the links below:
San Francisco (2/7)
Los Angeles (2/22)
New York (3/7)
Can't Donate? Share!
If you can't donate, you can help us reach our funding goal by sharing this blog post, information about Cycle for Survival, the video above, and/or our donation links with your network via social media. Tag us (@Recruitics) in a post to show your love, or click one of the team hashtags below to generate a tweet:
Eat For Change
Our friends at Chipotle have also agreed to donate 33% of all sales at specific locations/times to Cycle for Survival.
NOTE: Specific details and "save the date" information for additional events in other locations is forthcoming. Revisit this post soon for more details!
Lafayette, CA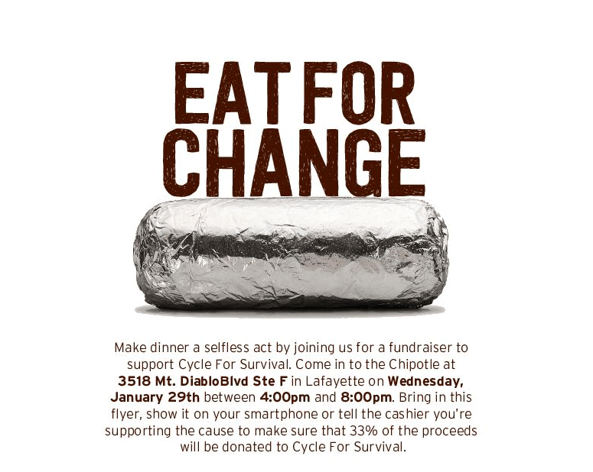 Those in Lafayette can support Cycle for Survival by visiting the Chipotle at 3518 Mt. Diablo Blvd Ste F on Wednesday, January 29th between 4:00pm and 8:00pm.
Make sure your purchase counts by printing the flier above or saving to your smartphone to show your cashier, or just tell your cashier you want your purchase to support the cause.
Together we ride. Together we fight. Thank you for joining us in supporting the movement to defeat rare cancers!
--
Posted by Shannon O'Shea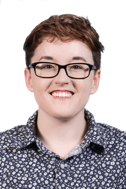 Shannon is a Sr. Marketing Manager at Recruitics with a background in communication, copywriting, and sales. A graduate of Emerson College with a degree in Political Communication and Marketing, Shannon enjoys finding new ways to merge her passions for research and analytics with her love of creative writing and design. When she's not at her desk, you can usually find her in her backyard with her dog Molly, hanging out with family and friends, or binge-watching documentaries on Netflix.