New eBook Makes It Easy for Companies to Understand their Job Advertising Strategies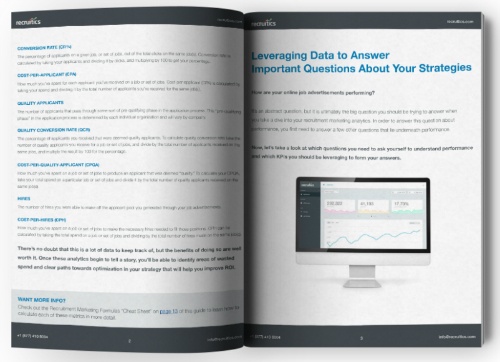 NEW YORK, NEW YORK--Recruitics, a leading recruitment marketing analytics and advertising platform, has released a new eBook titled The 2017 Guide to Recruitment Marketing Analytics.
This guide is an invaluable resource for any HR or talent acquisition professionals that have a job advertising strategy.
"As talent acquisition continues to become more challenging with the skills gap, a growing contingency workforce and shrinking unemployment, the need for recruitment marketing analytics is only increasing," said Recruitics Director of Marketing Emily Fearnley. "Whether someone is new to recruitment marketing analytics or just looking for a reliable reference around the fundamentals of data-driven talent acquisition, this guide is for everyone in the industry."
The 2017 Guide to Recruitment Marketing Analytics includes important content for HR and talent acquisition professionals, including:
An overview of why measuring the performance of all recruitment strategies is critical
Explanations of the most important recruitment marketing KPIs needed for success
How to calculate and incorporate these KPIs into current strategies
Common talent acquisition questions that data can help answer
An interactive assessment to evaluate your current level of success with recruitment marketing analytics
"With the overwhelming response we've received around our pre-release of Recruitics Analytics, our free recruitment marketing analytics dashboard, we felt it was important to publish this guide," said Recruitics CEO Josh Gampel. "With this educational resource, anyone can understand the true value of analytics and start taking steps to leverage them in recruitment."
Requests for early access to Recruitics Analytics are already being processed and more information on this free product can be found here.
A free copy of The 2017 Guide to Recruitment Marketing Analytics can be downloaded here
About Recruitics:
Recruitics provides recruitment marketing analytics and automation solutions that makes it easy for companies to achieve amazing results from their recruitment advertising efforts. Founded in 2012, Recruitics works with the nation's largest corporations, staffing agencies, and job boards to drive more applicants to their online job postings, hire great talent, and meet their recruitment goals. Recruitics also partners with a number of other ATS systems in the US to provide seamless integration and tracking. The company is headquartered in New York City, NY and is privately owned and operated. You can find Recruitics online at http://recruitics.com/ or follow @Recruitics on Twitter.
Posted by Recruitics

Recruitics is a data-centric recruitment marketing agency that makes it easy for the world's leading brands to attract and hire great talent. Recruitics has helped thousands of companies find, attract, and engage millions of job seekers and continues to lead the industry as a data-driven recruitment marketing agency that is powered by its innovative analytics and optimization platform.