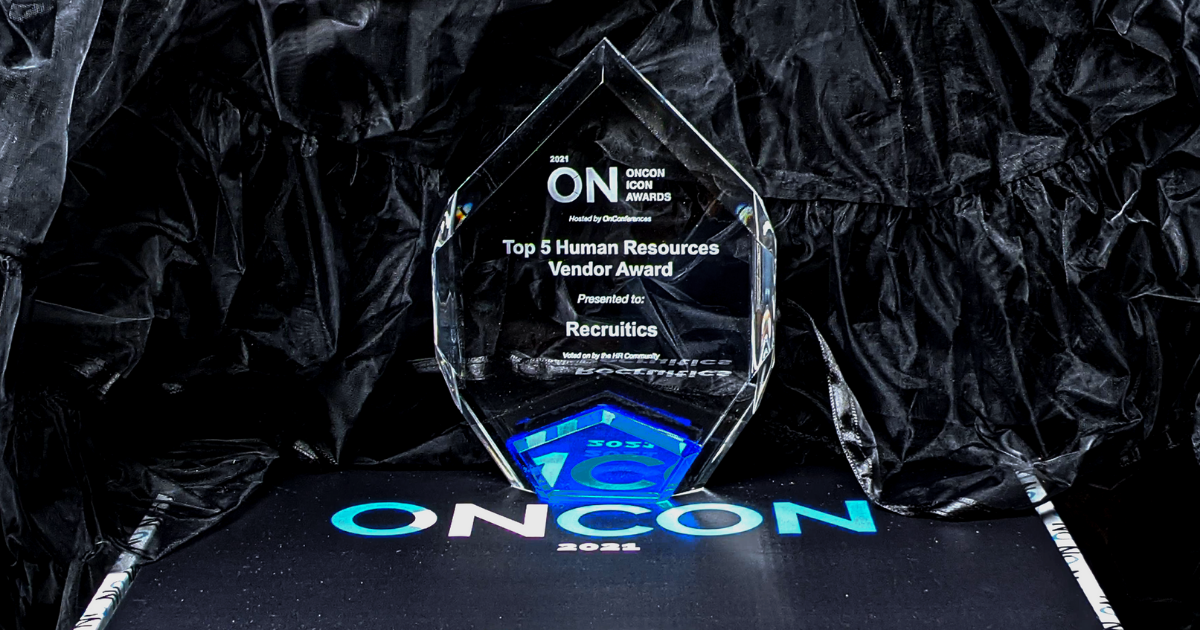 PRESS RELEASE
RECRUITICS WINS "TOP 5 HR VENDOR FOR 2021" AT ONCON ICON AWARDS
Recruitics, the data-centric recruitment marketing agency, was recently honored with an OnCon Icon Award for "Top HR Vendor" for a second year in a row.
Julie Calli, Chief Marketing Officer at Recruitics, attended the virtual award ceremony held on January 26, 2021, where Recruitics was named a "Top 5 HR Vendor for 2021." Last year, Recruitics was recognized with its first OnCon Icon Award, selected as one of the "Top 25 HR Vendors for 2020."
The OnCon Icon Awards recognizes top HR professionals and outstanding HR vendors around the world, and both finalists and winners are selected based on a peer vote. To be nominated for the "Top 5 HR Vendor" award, companies had to be observed to meet one or more of the following qualifications: providing an exceptional product/service or set of products/services, making strong contributions to their solution category's professional community through thought leadership, and/or contributing to strides in innovation in their solution category.
"We appreciate the recognition for working hard to make it easy for employers to hire great talent." says Calli.
Thank you to OnCon Icon Awards for this recognition, our amazing team of industry experts, and everyone who voted for us. At Recruitics, it is our mission to use our expert teams, data, and technology to deliver world-class results. We look forward to continuing to develop services and solutions that help companies attract and hire great talent.
--
ABOUT RECRUITICS
Recruitics is a data-centric recruitment marketing agency that makes it easy for the world's leading brands to attract and hire great talent. Recruitics revolutionized recruitment advertising with the introduction of the industry's first programmatic buying platform in 2012. Since then, Recruitics has helped thousands of companies find, attract, and engage millions of job seekers. Today, Recruitics continues to lead the industry as a data-driven recruitment marketing agency that is powered by its innovative analytics and optimization platform.
FOLLOW RECRUITICS ON SOCIAL MEDIA:
Posted by Julie Calli

Julie Calli is the Chief Strategy Officer at Recruitics. In the 16+ years that Julie has worked in talent acquisition, she has managed over $700 million in recruitment advertising and developed strategies that have supported hundreds of organizations. She is passionate about recruitment advertising and the positive impact that it has on bringing together employer opportunities and talented people.