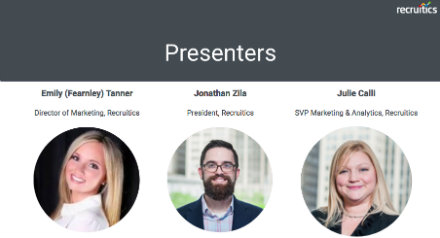 Last week we hosted our first #RecruiticsEDU session of 2018, which is a live webinar series focused on educating and informing employers, staffing agencies and job boards. Our first topic covered "3 Major Indeed.com Changes to Start 2018" and was presented by 3 industry experts here at Recruitics - Jonathan Zila, Julie Calli and Emily (Fearnley) Tanner.
In this live webinar, we reviewed everything you need to know about three major Indeed.com changes to start 2018, and why these changes matter to employers, staffing agencies and job boards worldwide.
In review, the three major changes from Indeed.com to start 2018 include :
Indeed Resume has changed from a usage-based model to a subscription-based model.
Indeed job board inclusion guidelines have been updated to exclude any duplicate jobs or companies.
The job seeker experience has changed from a one-click path to a two-click path.
The top takeaway for all three changes is ensuring that you have access to job- and source-level analytics, and that you understand that data, is going to be key in how you prepare for and move forward with these changes.
[If you don't have analytics already, Recruitics has a free recruitment marketing analytics dashboard for you! Learn more here.]
While we did get to answer some of our attendees' questions on the live webinar, some questions were missed. However, we've curated a list of all questions with responses from the Recruitics team for your convenience.
Questions About Indeed Resume
Q: So, is there no more "free" resume?
A: Indeed Resume will continue to be free to access and view resumes just as before, but in order to contact candidates through Indeed Resume, you will need a subscription which is not free (unless you're a featured employer, in which case, you will get some free subscriptions).
Q: When you talk about "initial contacts" with the Indeed Resume database, is that emailing through Indeed directly, or do you actually get contact info (phone number/email address) for candidates, and can you download their full resume?
A: As a user of Indeed Resume, the initial contact is within the Indeed Resume platform through a messaging system. You do not receive the candidate's contact information (i.e. email address, phone number, etc.) unless they respond to you in that message within Indeed's dashboard.
Q: How or where do I see whether my candidate contact responses are positive or negative, and what does that mean exactly?
A: Indeed Resume messages have button options for the candidate to respond to. One says "I'm interested" and the other says "Decline" - so Indeed shows "positive" responses as those who clicked the "I'm interested" button, and negative responses as those who clicked the "Decline" button. Candidates may also simply not respond, if they don't click either button. You can view data around this engagement within your Indeed Dashboard under "Analytics" within "Resume Performance" - and we can provide screenshots of this in our follow up blog post.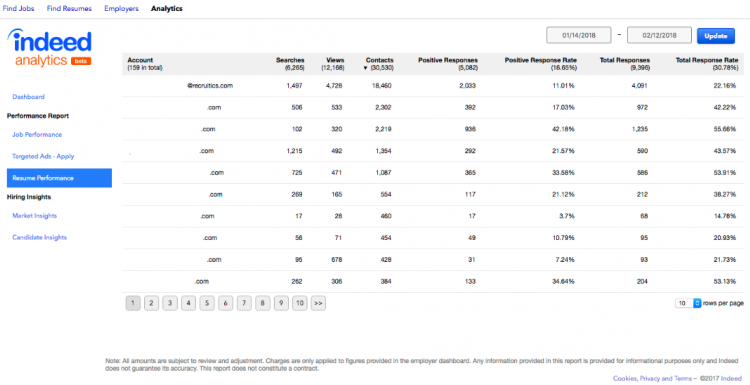 Q: How does the response credit work?
A: A positive response gives you 2 contact credits, a negative response gives you 1 contact credit, and no response doesn't give you any contact credits. Contacts can roll over for 6 months before expiring.
Q: Do the prices that you mentioned, 20k and 35k, include any job ads or just for search?
A: The spend thresholds that we discussed in our webinar in order to be eligible for Basic or Preferred Featured Employer ($20k and $35k, respectively) were only example spend thresholds for a hypothetical US-based company with exactly 1,000 jobs (see image below). These spend thresholds are based on Sponsored Job (PPC) spend only; spend on other Indeed Products are not included in this eligibility.

Q: If I add a subscription mid-month will this be prorated?
A: No, subscriptions are not prorated but will be available for use until your next billing date. For example, if you purchase a monthly subscription on Jan. 15th, your subscription will renew on Feb. 15th.
Q: Do you know if and when Indeed Resume will start in Germany?
A: Indeed Resume is not currently available in Germany, and Indeed does not have any known timeline as to when employers will be able to search German resumes.
Q: Can Indeed Resume subscriptions be shared?
A: Each subscription can only be assigned to one person at a time, but you can freely move non-expired subscriptions between linked accounts.
Q: Is there some sort of administrative access level in this new model for Indeed Resume? If so, how many people can have administrative access for Indeed Resume?
A: Yes, there is an administrator access role and there is no limit to how many administrators can be assigned to an account. Administrators have the ability to purchase subscriptions and allocate contacts among linked accounts. Additionally, they can also assign, re-assign or unassign subscriptions to users of linked accounts. If you're an account administrator, you'll be able to view and access "linked accounts" in the upper right-hand corner under your email address on Indeed.
Q: Does someone have to buy their own resume subscription just to have administrative access?
A: Only administrators will have the ability purchase subscriptions. If you're not an administrator, reach out to your account administrator to get a subscription assigned to you so you can start contacting candidates.
Questions About Indeed's Job Board Inclusion Guidelines
Q: How does Indeed determine what a "duplicate job" is?
A: Indeed uses their own proprietary technology to indicate what a duplicate job is, but they have indicated that two jobs with approximately 90% content match or higher is consider duplicate.
Questions About Indeed's Search Experience Changes
Q: To confirm, will it now take two candidate clicks to get to an employer's careers site or ATS?
A: Yes, that is correct.
Q: On the two-click path, the cost of the click will still be incurred on the first click, correct?
A: Yes, that is correct.
Q: In regards to the change to the search experience, does this mean that Indeed prices are going up? Does that mean each click costs me more now?
A: No. The click still works on bidding and you can choose your own cost per click. Cost per click trends are always in flux based on supply (candidates) and demand (jobs).
General Questions
Q: Any details on Indeed Canada changes specifically?
A: For the most part, all of the changes discussed on this webinar do impact Canada, as well. The new 2-pane search experience is live on desktops in Canada, and the new Indeed Resume subscription model has already been rolled out in beta in Canada and will soon be released to all advertisers.
---
FOR MORE INFORMATION ABOUT THIS WEBINAR
We did record this webinar, so you can download the full recording here.
If you would like to access the presentation slides, they are available on Slideshare here.
This webinar is a follow up to an eBook we published on the same topic. If you'd like to download this eBook, you can do so here.
Feel free to engage with us on social media at any time by tagging us (@Recruitics) and using the hashtag #RecruiticsEDU.
Posted by Emily Tanner
Emily is the VP of Marketing at Recruitics. With over 8 years of industry experience, Emily has worked on both the client side and the business side of marketing, partnering with top enterprise customers on their talent acquisition and recruitment marketing strategies as well as developing inbound content marketing plans, paid advertising campaigns, lead generation initiatives for Recruitics. A true data nerd at heart, Emily finds joy in analyzing deep performance metrics and finding the story in the numbers. When not working on marketing strategies or in Excel documents, you can find Emily hanging with her husband and son and their 3 dogs.