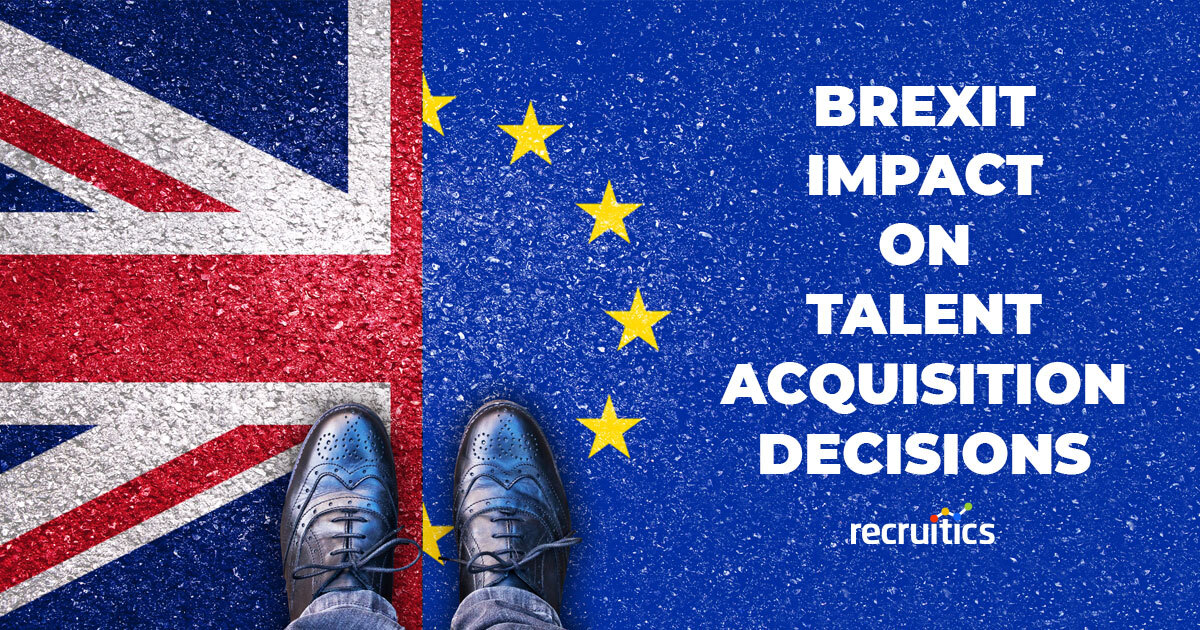 The UK hiring market is changing drastically. Due to Brexit, the government has implemented a points based system, and many companies are concerned that they will not be able to hire qualified talent -- all while the pandemic is exacerbating hiring in general.
Between the pandemic and Brexit, the UK unemployment rate was 4.6%, and a report by KPMG shares that there is record demand for both permanent and temporary staff. Also, IndeedUK shared that five years on from the Brexit referendum, searches from EU workers are down 45%, compared with 2016.
Since we are in a candidate-driven market, many companies are feeling the effects of the shift in the hiring landscape. For many employers, there's a lot of pressure to consider updating their recruitment strategies to attract, recruit, and retain candidates. The entire hiring process, from looking to obtaining talent, has changed dramatically, and now's the time for companies to take a step back and create new hiring practices that will be beneficial now and into the future. With this, your company will remain competitive and actionable in securing and retaining top talent.
Read on to learn more about what your company can do to remain competitive in the current hiring landscape.
Use The Right Tools
While hiring, it's important to have the right tools in place, from ATS to CRMs, to help remain attractive to candidates. To elaborate, if you have an ATS in place, the application process should be smooth and the candidate will be able to submit their information to you with ease. Having CRMs in place will allow you to engage with passive and active candidates in the hiring process. Also, you're getting information from the candidate about what they're interested in and can find other ways/content to engage with the candidate. By being able to connect or reconnect with talent at any stage, you become more attractive and candidates will remember you when they start their job hunt.
Also, new technologies can help transform organisation and the way people work, which is why investing in automation and AI might be helpful with productivity and improved performance. While many companies are currently retooling their work processes to adapt to the new ways of working, incorporating automation will also help organisations remain agile and competitive as they build for the future.
Tip: It's important to test your application process to ensure it is running smoothly, if a candidate is having trouble in the application process, they'll stop and move onto someone else. This helps eliminate speed bumps in the process and ensures you'll be the candidates first choice.
Importance Of Retaining Your Talent
With the demand for talent so high, some hiring managers are struggling to find candidates that meet all the skill requirements for their open opportunities. This might put you at a disadvantage, since many industries are being impacted by skill shortages. Instead of attempting to find candidates who have every single skill you're looking for, focus on the existing talent in your organisation. Work to develop training programs and strategies that will help your current employees expand their skills so that they may grow to meet the requirements for the roles you have available.
Keep in mind that employee experience is vital to talent retention. If you dedicate all your efforts to attracting and onboarding new talent, you may end up overlooking improvements you could make to your workplace, culture, or employer brand that could increase your ability to retain the talent you already have. While fostering relationships with new candidates is important, ensure that you're also working with your teammates to understand their goals for career growth, align with them on a career pathing plan that meets those goals, and determine how you can invest in developing their skills to keep them on target. This will show your current employees that you are committed to their success, growth, and happiness, providing them with a more positive employee experience.
This is also important when it comes to your employer branding and culture. Not only are happy employees 13% more productive on average, they are also more likely to become brand advocates. Brand advocacy amongst employees is a fantastic way to organically increase the reach and visibility of your employer brand. According to a study from PostBeyond, company branded messages shared by employees had a 561% higher reach compared to those shared by an organisation's branded channels like a corporate social profile.
In addition, when employees share positive messages about working for your organisation via their personal profiles, they help increase awareness of your career opportunities amongst the qualified talent in their professional networks. This can increase your likelihood of attracting new, quality candidates through employee referrals and promotion. Creating a positive experience for current and potential employees will help you to communicate a more authentic and appealing employee value proposition and improve your overall employer brand.
Understanding the growth potential of your employees and the skill gaps you can help them fill can be a complex undertaking that requires strategic workforce planning. However, until you have a dedicated plan in place, you risk losing existing talent to competitors in the market and higher turnover rates. Employers without a designated process for elevating current employees should work with urgency to identify the skills and knowledge that their organisation will need to succeed and grow, both now and for the future. This is a necessary first step that will help narrow down the focus of the learning and development your workforce requires, as well as trainings you should prioritize for continuous improvement.
Understand What The Workforce Is Looking For
When hiring, employers should understand what the current workforce is looking for -- i.e. what drives them -- and create a recruiting strategy to keep them engaged. Without knowing what candidates are looking for in companies, it can be hard to find job seekers who are interested in your position for the long run.
For example, due to the uncertainty in employment that came about with Brexit, salaries are not always the determining factor for many job seekers. Instead, many candidates may be looking for better management, workload, and culture that matches their values.
Another factor that is becoming apparent for candidates on the job hunt is benefits that fit them. This includes flexibility and mentorship opportunities. Flexibility helps candidates with maintaining the workload, with 43.5% of UK candidates saying flexibility is a factor that would attract them to an opportunity, while mentorship gives them the security that their employer is invested in them and willing to support them in their career path -- not an employer who is looking for a quick fix and might move onto another candidate if skills don't entirely match.
Stand Out From The Competition
With competition being as fierce as ever, your recruitment strategy will need to be adjusted to enhance your brand in the eyes of job seekers. This is why it's important to take the time to evaluate what makes your brand different from the rest, and how you can showcase that to potential candidates and be a more attractive employer.
This is why improving your employer branding and culture is essential. Showcase all the perks of your job, such as good management, your workplace culture, growth opportunities, flexibility, focus on diversity, etc. As mentioned above, many job seekers currently are looking to work for companies that match their values and will look over companies who do not match up. With this, companies should examine their hiring process to ensure it's inclusive and accessible of all candidates, from job descriptions to the interview.
Building your employee offer with non-financial benefits will not only help your company when facing hiring difficulties in the short term, but will make your organisation a more attractive option in the long run.
--
Updating hiring practices to ensure your company will remain competitive and actionable is essential when securing and retaining top talent. As we look towards the future and how the hiring landscape is evolving, remaining agile and competitive will help companies with their hiring needs -- and keep attractive to job seekers.
If you're looking for help with updating your hiring practices, reach out to Recruitics, we're happy to help!
Posted by Peter Morrow

Peter Morrow, Commercial Director of Reverse Delta, has a passion for helping recruiters attract and hire great candidates. He is responsible for commercial, sales, marketing, account management, and business development. Outside of work, Peter enjoys long walks with the family dog, equestrian sports with his wife, and watching rugby.