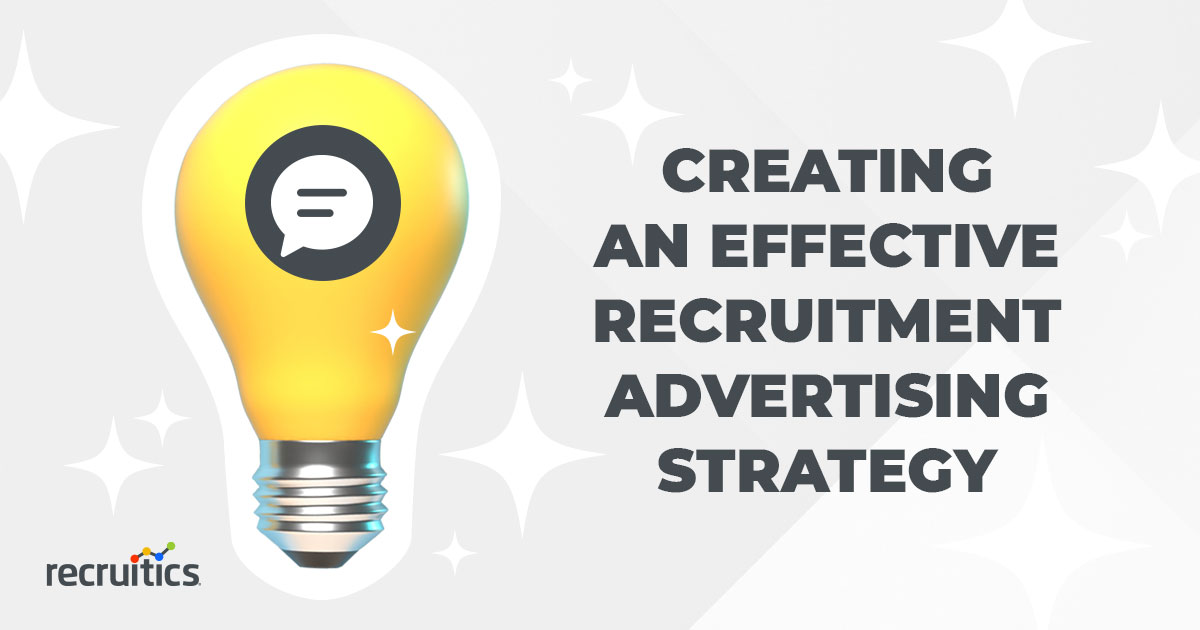 Consider for a moment, a company that job seekers might want to work for. Chances are that the company's recruitment marketing and advertising practices were very influential in leading those candidates to that discussion – and, it's likely that a company that has a strong brand presence would come to the minds of people first, if asked.
These companies go to great efforts to ensure that people – potential candidates for hire in particular – see them that way. They spend significant resources for recruitment advertising to project an image. That image fosters a perception in the minds of potential candidates that working for the company will support a certain lifestyle, environment, or level of fulfillment that they desire.
As the industry has come to understand, recruitment advertising is an essential component to business, especially growing businesses, and all that wish to attract the best talent. As the workforce continues to grow and evolve, it's beneficial to review some areas a company can address in order to freshen up their recruitment advertising strategy.
Impact of the Pandemic
One of the more recent developments that companies might be shrewd to consider is the impact of the COVID-19 pandemic in relation to their recruitment advertising efforts. As previously discussed, dramatic changes in recruitment and workplace dynamics plus the pandemic served up a one-two punch to organizations and workers alike. Over the past few years, traditional recruitment advertising underwent widespread changes due to disruptive technologies and novel candidate generation techniques. Then, the pandemic not only changed how people work, but it also impacted job seeking and hiring processes – such as the Great Resignation.
The effects of the pandemic provide the first area companies might think of addressing during their re-evaluation efforts: Does their recruitment advertising media reflect this as a selling point for a brand? Is it possible that their current recruitment advertising strategies may be outdated? If companies are operating in a pre-pandemic modality, this might indeed be the case.
Recruitment Advertising in Today's Market
Many professionals have talked a lot in this space about how employment trends and emerging technology have revolutionized the working and recruitment landscapes. The internet has given job seekers unparalleled access to information they can use to vet companies, including innumerable news feeds, employment websites, and social media. Their behaviors on the job and in their job seeking reflect the fact that they're making good use of this information.
It's obvious that job seekers are paying attention to companies' recruitment advertising, which, when employed correctly, can help companies reach candidates and enhance their employer brand. As reported by LinkedIn, "[R]ecruiters and talent acquisition professionals now use recruitment advertising as a medium not only to reach active job seekers, but also to engage, attract, and nurture passive candidates through the candidate journey."
Some methods to keep in mind when creating ideas around recruitment advertising:
Target new talent pools. Given the rise in remote work, virtually all people are now potential job candidates, whether they're actively seeking new opportunities or not. If remote work, (part-time, full-time, hybrid, etc.) is something that works for an organization, hiring professionals may want to look at testing the waters of consumer media for potential candidates.
Hire for soft skills. Over the last few years, employers have increasingly sought more employees with soft skills such as natural communication, problem-solving dependability, collaboration, and flexibility. While most people are hired for capabilities directly relating to a given position, soft skills give them the ability to acquire the skills, knowledge and mindset needed to fill multiple roles.
Meeting the audience where they are. Meeting potential candidates where they are means keeping on top of the means by which they're communicating today, knowing the places they frequent and targeting them there. This includes such things as social media, emails,

text messaging

,

podcasts, etc.
Employ generational recruiting.

As previously discussed,

targeting candidates based on their age demographics and tailoring messaging specifically to these groups is practically a no-brainer at this stage of the game. This also means that hiring professionals will likely be using different media tactics and channels for different age groups. The first step is in identifying whom they are trying to reach, and what their mindsets and goals are. This is all data that can be used to craft messaging that's relevant to these disparate age groups.
If a company is interested in updating their recruitment advertising, here are some ideas to help:
Target in-home media. Since there are more people working from home, the consumption of in-home media has risen. Thus, more social media, TV/video streaming, music streaming and radio are areas an organization might want to look at. Some examples of this include:
Video Advertising: TV Commercials, Ads on streaming services like Amazon Prime Video, Netflix, Hulu, YouTube Ads, etc.
Social Media Advertising: TikTok, LinkedIn Ads, Facebook Ads, Instagram Ads, Twitter Ads, etc.
Radio Advertising: Ads on local radio stations, Ads on audio streaming devices like Amazon Alexa / Google Home / etc.
Podcast Advertising: Ads on audio streaming services like Spotify / Pandora / iHeartRadio, etc.


Consider new media channels. The increase in digital media usage and lower advertising spend overall has given rise to a shift in media supply versus media demand. This potentially gives a company the opportunity to advertise on certain channels at lower-than-average costs and with higher market share, better ad positioning, and less market competition. Some examples of this include:
Display Ads: on news websites, on help-focused websites on topics like homeschooling, home activities, etc.
Local Newspaper Advertising: print and digital
Email Advertising: Gmail Ads, etc.
Email Marketing: nurturing talent networks, drip campaigns, and engagement campaigns with past or current applicants, etc.
SMS Text Message Communications
Street-level Out-of-Home Advertising: street signage targeting local walkers, bike riders, etc.
Advice for Recruitment Advertising
From improving employer brand awareness to generating a consistent pipeline of talent, a solid recruitment advertising strategy can be a great way to attract, engage, and nurture both active and passive candidates throughout the candidate journey. As companies build their strategies to fit the new way of working, it's also important to understand that even if candidate media behavior has changed significantly since the pandemic began, seeking reliable ways to capture and keep the attention of qualified talent can also be from engaging current employees.
It's been an accepted adage for many years that there's no better advertising than word-of-mouth, and this is true – but the quantity and quality thereof is important as well. A company's employees can be their greatest asset in recruitment advertising because they're the ones who serve as ambassadors for the company's culture outside of the company. Additionally, there are areas of both traditional and novel advertising media in which companies can involve employees (i.e., video). But whether or not they actively participate in advertising, it's important that the employees believe in the employer brand.
This has become even more important since the advent of social media platforms. Today, it's very easy for a job seeker to reach out to an individual employee on LinkedIn or Facebook to ask them about their experiences at their company. This makes a positive company culture reflecting positive employee experiences more important than ever, as this will go a long way to support a company in their recruitment marketing. Soliciting comments and constructive ideas from employees on a regular basis can provide important messaging data for recruitment advertising.
--
Like consumer products, a company has a brand, a culture, and a reputation. Representing it authentically and showcasing it strategically will not only help hiring professionals fill open positions quickly, but will also help find the right candidates.
If you'd like to learn more about freshening up your company's recruitment advertising strategy this year, feel free to reach out to us!
Posted by Tiffany Mack

Tiffany Mack is the Senior Director of Marketing at Recruitics. With 15 years of experience in marketing, media, and sales, Tiffany has been responsible for multi-million-dollar growth in customer acquisition and retention campaigns across several industry verticals. She loves how marketing allows her to cross the intersection between people, pain points, and solutions. Tiffany's favorite recruitment marketing solution is employer branding because it helps organizations look their best while helping employees feel their best.