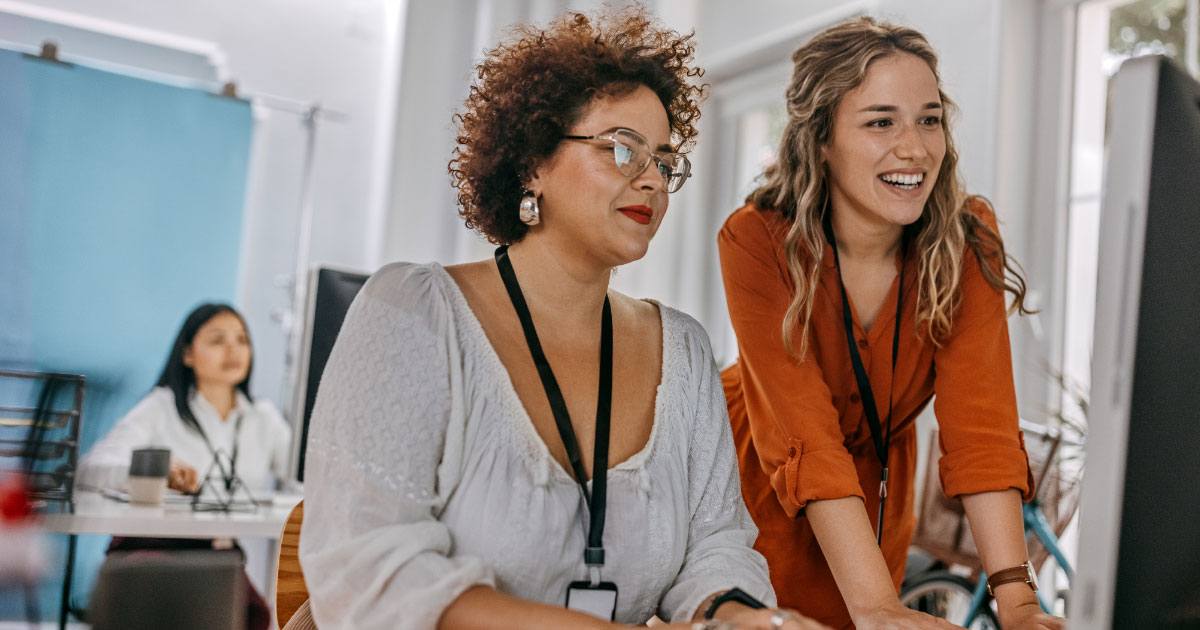 Did you know that "89% of job seekers find the employer perspective useful when learning about jobs and companies?" (Glassdoor)
Job seekers use resources such as careers sites, careers pages, and company profiles to learn about a company's mission, vision, and culture, to get details on benefits and compensation packages, and to find job openings that they are interested in.
To win the war on talent, it's critical to make sure your prospective candidates have access to your company's information. Showcase your employer brand, company culture, and EVP not just on your careers site (FREE: Download your Careers Site Best Practices Guide here), but also on third-party company profiles and pages like Glassdoor, Indeed, LinkedIn, and Facebook.
Read on to learn how we break down each company profile into actionable best practices so you can attract top talent.
LinkedIn Company Page Best Practices
With 26 million career pages, 148 industries represented, and 260 million unique monthly visitors, LinkedIn is a unique platform to showcase your company culture, mission, values, and provide custom messaging based on your candidates' location, industry, and job function.

Employee Profiles - Select 2-4 people that best represent your organization and feature their profiles. Prospective candidates will get an immediate look into your company culture and who their co-workers may be. Be sure to select employees that have their profiles up to date and give them a heads up that they may receive questions about the company—they should be responsive!
Employee Testimonials - Include testimonials from a few employees. Candidates trust their peers much more than brands, so hearing about the company from current employees will go farther than any descriptions the company presents.
Life Tab Custom Modules - In these 2-3 modules, you can discuss your company culture, career opportunity growth, diversity, employees, and link to up to two sites.


FREE: Download the full LinkedIn Company Page Best Practices Guide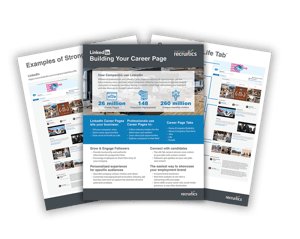 Indeed Company Profile Best Practices
As the #1 job site in the world with over 200 million unique visitors every month, you don't want to miss out on the reach of this company page.

Header Image - Choose a photo that represents company culture. An engaging header image can capture a prospective candidate's attention, give them insight on your employer brand and company culture, and leave a lasting impression on them.
Social Media Feeds - Add your company social feeds (candidate-facing channels, if you have them) to the side of your company page. This addition is not only a great opportunity for cross-promotion to your social channels but will also showcase your solid recruitment marketing and company culture posts.
Links - Insert up to 5 custom links to pages such as your corporate website, social accounts, and blog. Links are another great opportunity to cross-promote, and help give your prospective candidates easily accessible information to learn more about your company.


FREE: Download the full Indeed Company Profile Best Practices Guide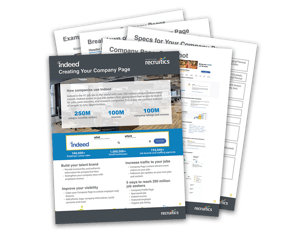 Glassdoor Company Profile Best Practices
Glassdoor is the second largest job site in the U.S. with 62 million users worldwide and is a great platform to build a positive employer brand profile.

Company Updates - Share updates about your company culture, career opportunities, events, and news to engage your prospective candidates.
Add Video or Photos - A short video is an excellent way to show potential employees what your company is all about. If your company doesn't have any video content, use a photo.
Remove Competitors' Ads - While this feature is only available with paid profiles, it's certainly worth it! Normally, competitors' ads will appear alongside your profile, which could lead prospective candidates to apply for their jobs instead of yours. With the paid profile, you can not only have your ads appear instead of your competitors' but also target your jobs to appear on competitor profiles who are not current Glassdoor customers.


FREE: Download the full Glassdoor Company Profile Best Practices Guide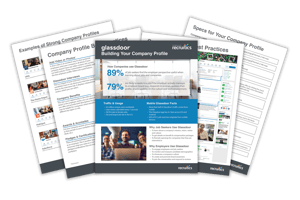 Facebook Careers Page Best Practices
Attract prospective candidates with a Facebook Careers Page and help them find the information they need to know what it's like to work at your company.

Cover Photo - Showcase your employees—no stock photos if you can help it! You can also use this section to highlight the hiring needs for specific job groups or locations.
Mission Statement - Include information about your mission as an employer and talk about your employee value proposition (EVP). What kind of employer do you strive to be? What do your employees love about being on your team?
Content Strategy - Here's your ultimate formula for a compelling content strategy: 10% of your content and posts should be career opportunities, 30% of your posts can be about your company as an employer in general, and the remainder of your posts, 60%, should be third-party content that prospective employees would find helpful.


FREE: Download the full Facebook Careers Page Best Practices Guide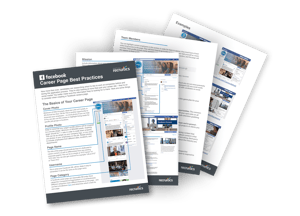 There you have it! We hope these best practices gave you some value, insights, and actionable tips that you can use to attract talent. Be sure to download the free, full-length guides for more advice. Remember, while a careers site is a great start, other external company profiles and pages give your prospective talent a captivating glimpse into your employer brand and company culture.
Need help with your employer branding? Contact us today to chat about how we can help you attract more talent.
Featured Resources:
Posted by Kristen Stephens

Kristen is no longer with Recruitics. During her time with us, she was a Copywriter, where she put her passion for creative thinking, employer brand, and recruitment marketing into every project. A graduate from UC Davis with an English major and Linguistics minor, she is a true lover of languages and grammar with a fascination for how syntax and diction can influence brand voice. Her diverse portfolio includes digital copy, print, ad, short-form, long-form, blog, and social media. In her spare time, she can be found writing, reading, hiking, and spending time with her nieces and nephew.