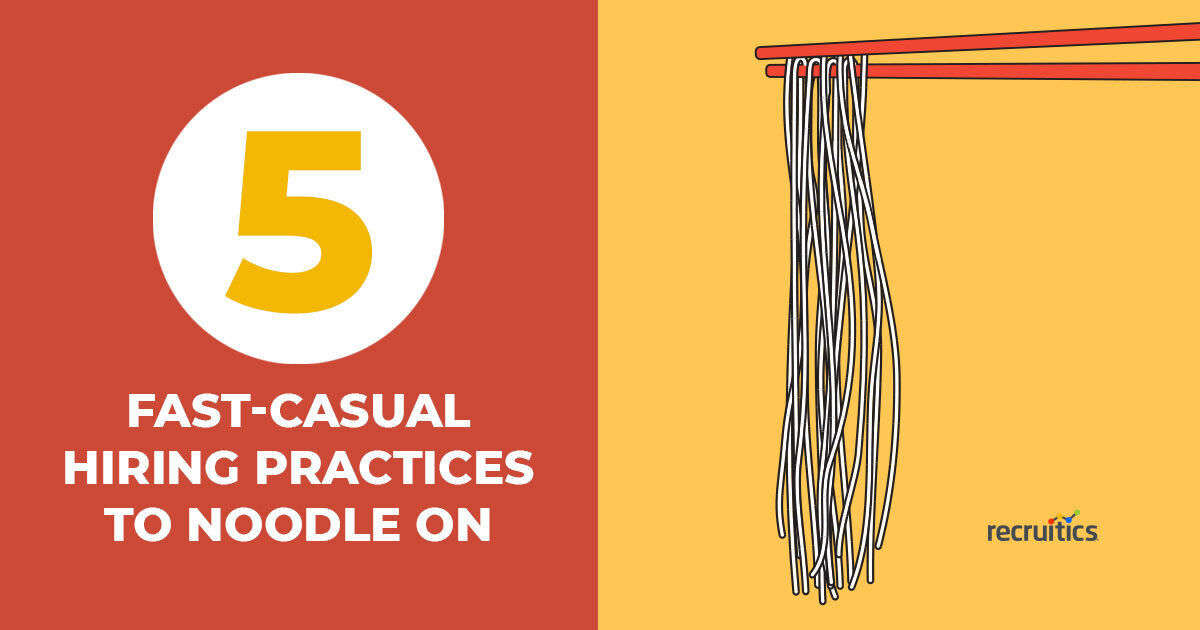 Attracting, hiring, training, and retaining workers in fast-casual dining restaurants has always been a predicament for the industry. From turnover exceeding 100 percent (yes, that's possible in restaurants) to increasing operating costs, restaurant owners and employers have faced numerous challenges in keeping their staff full and dining rooms open.
That was before the global pandemic.
Now, in addition to the above industry hurdles, restaurants of all sizes -- including fast-casual -- face worker shortages as COVID restrictions lift, and businesses reopen. With everyone seemingly hiring at the same time, restaurants are not only competing with other food and service establishments, but they are also competing with other industries, such as gig and retail.
With a continued shrinking pool of qualified applicants, restaurants are pivoting their hiring practices to keep the doors open and avoid burning out overworked staff. However, this unique point in time allows fast-casual dining to "effect real change" by improving employee engagement, exceeding customers' needs, and boosting your bottom line.
This all starts with hiring.
Read on to learn five fast-casual hiring practices to noodle on in this new normal for restaurants.
#1 Use the Most Common Job Title
This may seem straightforward, but employers often get wrapped up in excitement when creating job titles, losing track of the intended goal -- to get qualified applicants.
When crafting your job postings, be sure to use the most common job title for the role. According to Glassdoor, "a job title should convey more than just an employer's originality or a fun and creative work atmosphere. In fact, the short group of words that makes up a job title serves multiple functions, and just like the employee it represents, if it's not chosen wisely, could lead to lost opportunities."
And with job seekers spending only 14 seconds reading a job posting before deciding to apply, that short group of words must count.
For restaurants, each position has its own duties and responsibilities, all contributing to the greater whole. Therefore, understanding the essence of each role helps you to better create your job title. However, many restaurant owners try to distinguish themselves among the slew of job openings, coming up with creative, fun titles such as mixologist instead of bartender or pizza artist instead of cook.
These "fun" titles don't necessarily convey the position's responsibilities or duties. Further, they don't reveal the potential progression of roles within the restaurant.
For example, an assistant manager position would lead to a manager position. A counter worker may lead to a shift manager. Using the most common job titles for your industry can better optimize what job seekers are searching for while giving them concise information about the position itself.
#2 Catch Their Attention
Using the most common job title is one thing, but catching a potential candidates' attention through the job description itself is another. Both are essential to attracting qualified applicants.
For most restaurant positions, each role's actual duties, responsibilities, and expectations sound the same on paper -- restaurant to restaurant. For example, a line cook has specific tasks (and requires certain skills), whether it's at your restaurant or one down the street.
Where you catch a job seeker's attention is through your culture. So how do you distinguish yourself from other fast-casual restaurants?
In the first two paragraphs of your job description, tell your story. Why would job seekers want to join your team? Who is the ideal candidate that would thrive in your organization? Create a visual where candidates can envision themselves in a role at your restaurant. Discuss your values, culture, and investment in your employees --such as job training, tuition reimbursement, or flexible shifts.
Also, be upfront about your compensation packages, especially in today's highly competitive market. By detailing wages and benefits, candidates can better determine if your job opening can cover their monthly bills, increasing their chances of applying.
#3 Be Creative About Where You Post Jobs
Where you post your jobs is just as critical as how you draft your job descriptions. Long gone are the days of posting a wanted ad and letting the applicants roll in. Today, you need to create a job advertising strategy that will actively help you find quality candidates. Also, where you post your job ads is essential to that strategy.
Be creative about where to post your job ads. Don't opt for only one or two routes. For example, consider posting your job opening in industry trade publications, restaurant job boards, social media channels, and minority job boards, as well as on college and high school campuses. By posting your job openings creatively, you can expand your reach, giving you additional visibility to job seekers.
You can also add "geo-targeting" to your advertising campaign through specific job sites or social media platforms. With geo-targeting, you can "target the right area with the right content at the right time," according to HubSpot. By using an accurate location, you can get more qualified "clicks."
For example, if your restaurant is in Indianapolis, you probably don't want to advertise to the entire country. Instead, you can geo-target job candidates in your area, more likely finding a job fit while using your advertising dollars efficiently.
Also, think about using a QR code to link to your job posting. You can then display the code on your menus, your host stand, or even your front door. Then, with a simple scan of a smartphone, an interested job seeker can review your full job posting and apply from their phone in minutes.
#4 Optimize Your Job Postings
Another way to make sure your job postings are getting the attention they deserve is to optimize your ads. With most job seekers searching for new positions on their computers or smartphones, your jobs ads should stand out in internet search results.
Search engine optimization (SEO) is not just for your website or blog content. It's also vital to driving interest in your job postings as they appear in search engine results. You can ensure more views by applying SEO to your job descriptions, allowing you to move higher in search results.
One common SEO practice is using common keywords for a specific job. Using SEO tools such as Google AdWords' keyword planner can identify which words job seekers are searching for in your industry. You can then incorporate these words strategically into your job ads or career site. Doing so increases visibility by giving you a boost in your search rankings.
Be cautioned though, you don't want to stuff your job posting with so many keywords that it's convoluted and unreadable. Instead, use the keywords as appropriate in your description.
Pro tip: Be sure also to optimize your URL. By customizing your URL with applicable keywords, your job posting will get more clicks, boosting your search ratings.
Incorporating video into your job ads also magnifies your search engine rankings. What better way to distinguish yourself from your fast-casual restaurant competitors than with a compelling recruiting video?
#5 Use Recruiting Metrics to Improve Your Recruitment
Finally, how do you know your hiring practices are effective unless you measure your results? Objective measurements give you insight into your recruitment processes, showing where you're excelling and where you need to improve. Measuring results in your job advertising strategy, however, is more complicated than it sounds.
You can pull up numerous recruitment blogs and find references to key performance indicators (KPIs) that you should be tracking, such as source of hire or time to acceptance.
But, this is where it gets complicated. Today, there are numerous points to measure along your recruitment funnel. For example, you need to track the funnel from the top-down, measuring first impressions, clicks, cost per click, conversion rates, and cost per applicant -- all the way down to hire.
By tracking and measuring these metrics and nuances, you can better understand where to improve your hiring process while continuing to increase your return on investment (ROI). In addition, through end-to-end analytics, you can determine which steps to eliminate or which to expand.
For example, there's been anecdotal evidence from a large professional networking platform on how it used analytics to create a more efficient interview process. Initially, this platform included three interviews for customer success representatives. The first interview was a phone screening, where the candidates were ranked on a scale of 1-3. Analytics showed that candidates ranking a 3 on the phone interview all made it to the third interview -- representing the final round of interviews. With analysis, this networking platform eliminated the second round of interviews, decreasing time to hire and increasing efficiency.
Moving Forward
Since restaurants are competing with so many other establishments and seeing a shrinking pool of qualified talent, it's important to update hiring practices to hire in this new normal. Keep an eye out for more best practices!
If you'd like to learn more about end-to-end recruitment marketing analytics, giving you a competitive edge in hiring, contact Recruitics!
Posted by Mona Tawakali

Mona is a Chief Strategy Officer at Recruitics. With over 13 years of experience helping Fortune 1000 companies with their recruitment marketing efforts, Mona is considered an industry thought leader in data-driven recruitment marketing solutions and is passionate about finding innovative ways to deliver the best ROI on all advertising investments. Mona holds a master's degree in internet marketing from University of San Francisco, and she earned her B.A. in broadcast journalism at San Francisco State University.