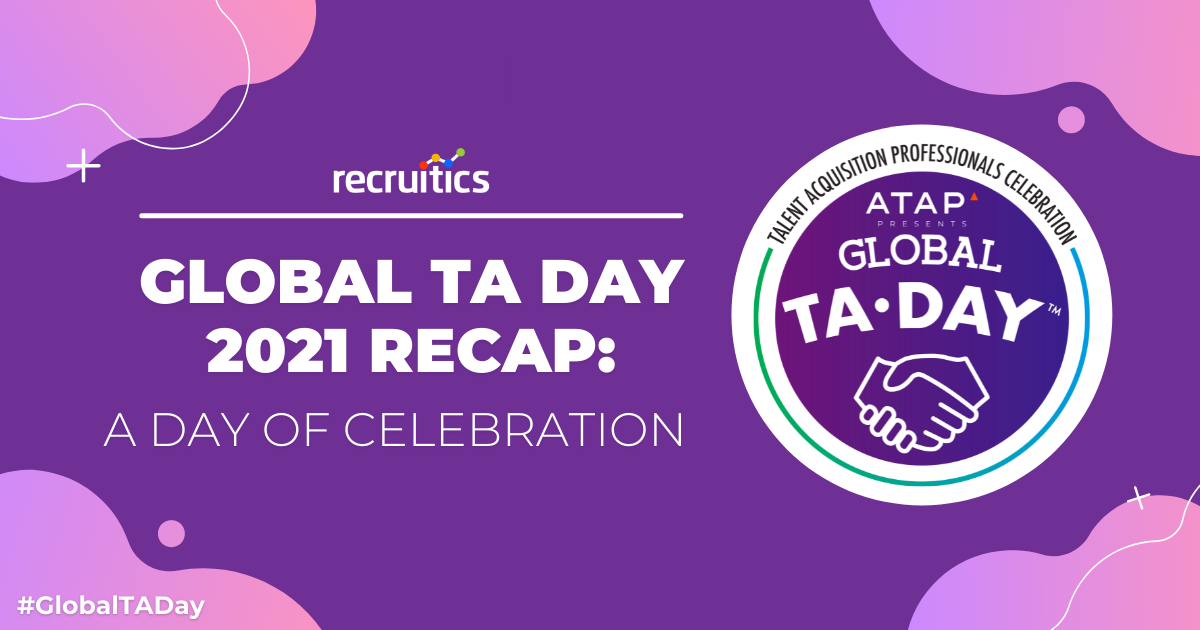 September 1, 2021 was Global Talent Acquisition Day, and in a world where we can often feel so disconnected, what a wonderful day to not only connect, but CELEBRATE those in talent acquisition!
For those who do not know, Global TA Day was an idea born in 2018 from the minds of Audrey Agot & Adriana Kevill, who both worked at KRT Marketing (acquired by Recruitics). There was discussion around what days to celebrate, from "National Love Your Dog Day" to "Secretary Appreciation Day," and there's even a day to celebrate donuts -- but why not celebrate the folks who work tirelessly in talent acquisition!
I have been fortunate enough to spend the last 35 years of my life helping talent acquisition professionals around the world. I have made friends for life in this industry, and perhaps I am biased, but I believe the TA folks I have had the pleasure of networking with are some of the brightest minds around (you know who you are)!
At Recruitics, we love what we do and have many amazing things to say about being a part of the talent acquisition industry. We are so thankful the Association of Talent Acquisition Professionals (ATAP) for hosting this event.
It was incredible to see how Global TA Day has evolved around the world -- check out how others in the industry celebrated the day!
Here are some Twitter posts showing talent acquisition pride:
Source: https://twitter.com/MyThermoFisher/status/1433192613860024322
Source: https://twitter.com/WesternUnion/status/1433154441423638531
Source: https://twitter.com/FidelityJobs/status/1433127556945940483
Source: https://twitter.com/ProcterGamble/status/1433127118184067072
Source: https://twitter.com/cityofhopejobs/status/1433114327532195843
Check out some of the amazing LinkedIn posts spreading the love:
Here are some fantastic videos that have been shared:
ATTENDing THE VIRTUAL #GLOBALTADAY EVENT
The 2021 Global TA Day, put on by ATAP, was a smashing success. Almost 2,000 folks registered from around the world to listen to over 80 amazing speakers! From the platform, to the content, to the format, it was a really well done virtual event. On the platform the day of the event, it was 12:45am PST when I started getting notifications of people chatting. I just smiled to myself and thought, "This truly is a global celebration!" By the time I was up and working, over 22 sessions had taken place across 5 stages -- and it was only 8am!
I'm thankful Recruitics is a proud sponsor of the event. I was there all day manning the booth, networking, and attending sessions. I was amongst some great company, with Global TA Leaders from Disney, Amazon, Uber, Netflix, Neilsen, Danaher, and SO many more.
There were so many incredible sessions, and I will give you some of my favorite highlights!
Eightfold did a great job in their session "Navigate Post-Pandemic Hiring Market with Your Talent Data." This is a HOT topic to say the least and was a common discussion in the chats.
Christy Spilka, VP of Talent Acquisition with iCIMS, had a great session called "Optimize Your Process to Delight Your Candidates." That is something we talk a lot about at Recruitics. As a talent acquisition professional, you can come up with the best recruitment marketing strategies, but if the client's process is not optimized, you have lost that candidate.
You will never be disappointed when attending a session with Allison Kruse and Chloe Rada! These two nailed it when discussing "Employer Brand Activation." I always find it fascinating that companies spend so much time talking about EVP and Brand Development, but brand activation is an afterthought.
If data is your thing, and it should be, "Dazzling with Data: Using Data, Analytics and Visualizations" with Melissa Thompson & Michele Thompson was a great session to end the event. Data analytics was a VERY big theme this year. At Recruitics, it is no secret, we are passionate about data and it was good to hear that so many people feel the same way.
I would be remiss if I didn't give a shout out to one of the hosts, Mike "Batman" Cohen. He opened, he closed, and he kept us all connected with a great sense of humor!
--
We couldn't be happier with the success of #GlobalTADay, and we hope you enjoyed the day and celebrated how amazing each you all are. We're already counting down the days until next year!
Do you have any ideas on how to celebrate next year or is there anyone you'd like to shoutout who did it well this year? Let us know, we'd love to hear all about your celebrations!!
Posted by Michelle Sargent

Michelle Sargent is VP of New Business & Partnerships at Recruitics. Michelle has over 30 years of recruitment marketing experience. Her extensive knowledge comes in handy when providing strategic solutions for our Fortune 100 & 500 Global Accounts. Michelle is also instrumental in bringing new clients onboard the growing Recruitics client roster. She also considers herself an extension of her clients' talent acquisition team and enjoys all aspects of working with her clients, from employment branding and execution to candidate attraction and experience.