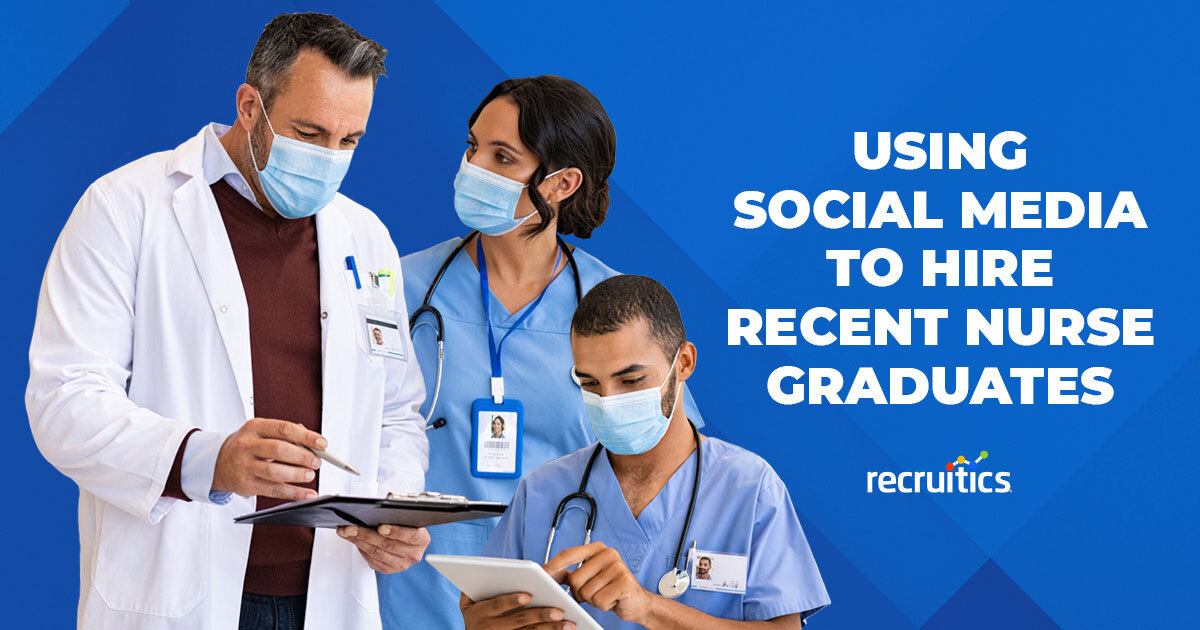 With competition in hiring at an all-time high, brand loyalty and the public's perceptions of a company play a huge role during the job-seeking process – which is why organic social media is essential. It's been reported that social media has a major impact on a person's decision-making process, with 81% of people admitting to being influenced by what their peers share. This fact holds true in the nursing profession.
Organic social media plays a critical role in building an employer brand, engaging potential hires, and serving as a major mode of communication of a brand's voice. In addition, organic social media can communicate a company's brand values, help customers validate a brand, cultivate influencer relationships, and provide an outlet for creativity – with many other added benefits. All of these modalities are integral to a company's recruitment marketing efforts and, when properly applied, will help attract talent.
This article will discuss how an organization can work to best optimize its organic social media, as it pertains to recruiting nurses.
Optimizing Organic Social MEDIA
There are six ways companies can tweak their organic social to bring about a (much sought-after) optimized state.
1. Brand Awareness
According to Forbes, the most important role organic social media plays is communicating a brand's lifestyle and values. Thus, a company's efforts in this area should be prioritized before moving forward with anything else.
An organization must first have an awareness of how they are perceived and how the market is likely to relate to them. If any tweaks or adjustments need to be made to the brand, brand voice, or brand values, this is the best time to make them. Thereafter, a company can effectively communicate its messaging and create more brand awareness.
2. Analyze Sentiment
The next step is discerning which trends a company does well within their messaging, and which they need to address more effectively. Here, organizations will want to consider: what is important to both current and prospective employees, what they currently want or enjoy, what they're connecting to, and what they want more of. This may be things like benefits, sign-on bonuses, flexibility, etc.

In recruiting nurse graduates, the above will determine the messages a company should share and, to an extent, how they're shared. According to Glassdoor, in addition to things like salary and benefits, here are some industry standards that usually come to the fore when nurses are surveyed:


Organizational advantages and values – Both new nurse graduates and nurses who are changing jobs typically want to see what is unique in an organization versus others. More often than not, this involves things like the quality of equipment and the physicians and other nurses with whom they'll be working, but it also includes company culture.
Growth opportunities – While the lion's share of nurses graduate with the same degree, many branch out into specialty areas of nursing (i.e. Charge Nurse, ER Nurse, Neonatal Nurse, Nurse Practitioner). Some of these require additional education, while others do not—and there are quite a few specialized areas. As such, nurses often seek employment in organizations where there is room for advancement, as well as things like employer coverage for continuing education.
Empowered employees – No matter how talented they may be, employees can't make much of an impact if they don't have the resources or latitude they need to do their jobs well. This means that organizations should be mindful of clearing roadblocks to innovation and creativity when it comes to workers finding better ways to get the job done.
According to Memorial Sloan-Kettering Cancer Center President and CEO Craig Thompson, it's crucial to give everyone on the job "ownership of the individual part of the organization's mission that they oversee, and making sure that the hospital distributes resources so that everybody can optimize their performance."
Diversity, Equity, Inclusion, and Belonging – A fundamental objective of the nursing profession is that of providing quality and equitable healthcare to all members, groups, and communities within our society. While DEIB is a relatively new metric, it resonates across all industries and occupations, including nursing. Today, 83% of job seekers indicate that diversity is important enough to be a consideration when deciding whether to accept a job. As a result, organizations that work with nurses have stepped up their efforts to attract, hire, and support diverse students, staff, and faculty members. Over the last five years, the number of persons from diverse backgrounds entering nursing programs has increased, keeping pace with that of other industries.
3. Outlining Content Themes
When building a social media content calendar, companies should use high-level topics that align with their goals and their audiences' needs to help keep social content fresh. These social posts should also align with events and landmarks with which the audience—in this case, healthcare talent—can identify. In looking at the nursing industry, program graduation dates are a good landmark. National Hospital Week starts each year on the first full week of May and recognizes the care and support provided by hospitals across the country.
Identifying things that nurses and new graduates pay attention to can help a company build out its social media calendar for the coming quarter, and base its calendar on the relevant topics.
Tip: It's important to have a diverse social feed – so it's not all just quotes or videos or brand awareness. Build a content calendar in advance so hiring professionals can mix up the media with posts such as recruiter tips, employee stories, observance posts, etc.
4. Basing Content Themes Around Observances
Further refining the idea of content themes above, special days that occur in a given month can also be recognized. While holidays like Mother's Day and Memorial Day are solid standards, many months of the year provide special opportunities. Knowing celebrations and cultural observances (i.e. Pride Month, Black History Month, etc.) can help a company determine what is trending, and where to put their attention and efforts for the content being shared that month.
Organizations should also dive deeper and find holidays that resonate with and celebrate their team members, such as Certified Nurses Day (March 19), International Nurses Day (May 12), Emergency Nurses Day (second Wednesday of October), etc. This is an opportunity to be more creative about celebrations specifically for nurses, and companies should feel empowered to create opportunities to celebrate nurses and their work, or remember that they're on the job "when everyone else is off."
5. Optimize Each Post Based On The Platform
Understanding the changing demographics of the nursing industry is also essential for the planning of a solid organic social strategy targeting healthcare talent. Today, not all nurses are going to look the same, some may have gone back to school and changed careers at 30 or even 45. Today, many more will be ethnic minorities, and an increasing number are veterans and men.
While the strategy a company uses to reach younger graduates on Instagram or even TikTok may be fine for those platforms, the messaging on Facebook and LinkedIn (to address the tenure and pedigree of career nurses) will need to be fundamentally different.
Every platform has a unique purpose. This means that the content being shared on social platforms like Facebook, Twitter, and Instagram should be tailored to the platform hiring professionals are posting on.
6. Video Content With Posts
Employers have discovered that to attract the right talent, they need to create the type of content that provides a superior candidate experience—and more often than not, that content is video. There are social platforms that revolve solely around video, such as TikTok, however video content can be beneficial on any social media platform.
Video has been proven to deliver higher audience engagement than any other type of content, and that goes for entertainment, education, and marketing. Based on research conducted by CareerBuilder, content with videos results in a 34% greater application rate than content without videos. With videos, prospective candidates can hear directly from employees, and this is something that resonates particularly well in healthcare-related fields, which have a strong emotional component. Viewers see a more authentic representation of the employee—and the message—and come to feel that they know and can relate to that employee.
There are many tools on the market that help companies get content from their employees, such as iCIMS video studio. That platform is a great way to facilitate engagement internally and is an easy way to collect content from employees since it can all be done directly from the employee's phones.
Today, an organization can also do live videos on platforms like Instagram, Facebook, and Twitter. This milieu provides an excellent channel for organic growth since live video can drive instant engagement. Posting video that was recorded live after the fact can drive further engagement with tags, shares, and comments, which also drives organic growth.
Organic Social MEDIA Best Practices
Growing organic social reach isn't about simply pushing out content. Companies need to go above and beyond to showcase their brands in authentic and engaging ways. In focusing on the pool of healthcare talent, some things that companies should consider when considering organic social best practices include:
Focus efforts on the right places

–

As in any recruitment marketing effort, this means going where the candidates are. Not only should a company research the optimal social media platforms for their market, but they should familiarize themselves with specific areas in which their target market is likely to congregate. On Facebook and LinkedIn, for example, this would very likely include

industry-specific groups

. It's important to keep track of what's working and what's not. Resources like Glassdoor reviews can be helpful here since they can tell a company what employees are saying online and how they feel.
Keep social media profiles current – This means not only up-to-date profiles but ones that are optimized for the algorithms used by social media platforms. This is similar to search engine optimization, and every aspect of a company's social media profiles can be improved for better visibility and optimization.
Post the right types of content

–

Once again, studies have shown that video wins out against status posts, links, and posts with photos. Videos are typically showing the highest organic reach on social media platforms. What's more, companies that produce employee-generated videos see a 37% increase in time-on-site from candidates! This is an excellent resource that's easy to employ since employees can capture it directly on their phones. Finding a tool (i.e. video content platform) that companies can use to aggregate content from employees will help to move things along.
Engage with followers – It's not as though companies have a captive audience; people who follow them or otherwise interact with their brand on social media have chosen to be there. This means that organic social media reach has never been easier. If a company engages with people, they'll build a reputation as being approachable and accessible, and that can create a viral effect for organic reach.
Target the market – This means using native targeting tools on social media platforms to maximize organic potential. These vary from platform to platform, but managing the settings of social posts to target an audience will help a company's organic potential. Some platforms such as Facebook have targeting options that they can choose from, while Twitter lets users use hashtags (i.e. #Nursing, #NursesWeek) to categorize posts. Using hashtags effectively can be crucial to elevating a company's employer brand and expanding its reach to new followers. Of course, including keywords currently being used in the nursing industry (i.e. RN, LPN, clinic, patient care, hospital) can certainly help enhance an organic reach.
Optimize posts to platforms – As mentioned earlier, boilerplate messaging across social media platforms is a waste, whether it's organic or paid. Companies should craft an approach for each platform they're posting to, and determine formats they'll be using (video, text, links, photos) for each one long before diving into campaigns or posts.
--
In the end, it's important to remember that—at least for the time being—cultivating organic social media reach is very much analogous to search engine ranking. Optimization, user experience, and quality content will be the key to expanding an organization's reach and engaging with nurses.
If you're looking to create an effective organic social strategy that will put you in the strongest position you can be as a recruitment marketer, we'd love to help!
Posted by Kayla Nelson