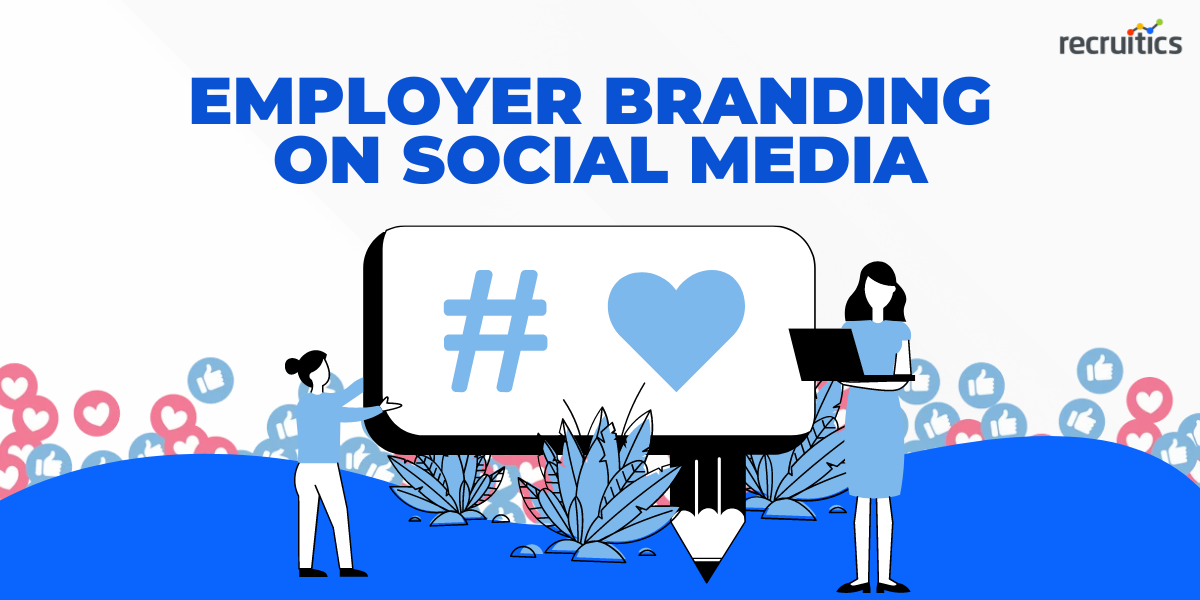 The recruitment landscape has changed drastically. There are new methods and skills being adapted for existing recruitment plans, and many companies are using this time to focus on something that might have been overlooked in the past: branding on social media.
As a marketer, one thing I love about social media recruiting is that people tend to share a lot of information about themselves on social networking platforms. They build a profile where they can share more information about who they are, what they do, the things they like and dislike, the places they go, and the content that interests them. All of this creates data that is valuable to marketers, who can then use that data to target the right audience and identify -- very specifically -- the types of people they want to reach with their messaging.
While social media may not translate to instant conversion in the form of a completed application, posting on social is a great way for companies to get in front of their target audience, create employer brand awareness, build consumer trust, and influence potential talent to consider exploring careers with your company when they're interested in new opportunities. To do this successfully, you just have to make sure you're posting the right content to the right channels.
Recruitics VP of Brand & Creative Development Jillian Einck shares, "Social media is a great place to get your employer brand voice out there, engage directly with your audience of candidates and employees, and drive awareness. And the great news is that everyone right now is at home and on social media due to social distancing!"
People want to work with great businesses - so it's important to showcase yours! Here are some tips for best practices and factors you should consider when developing your social media strategy.
THE KIND OF CONTENT YOU SHOULD POST
Social media is a place where people can go and find out more about your company outside the office. When trying to create a content plan, it is always good to showcase your employees. We spoke with Tony Prudente, who is Senior Specialist, Employer Branding, Recruitment Marketing & Social at Brother, who shares that you should "Always do your best to highlight and showcase your employees – people respond to people more than they do brands." With this, you can create unique campaigns to build your employer EVP. Tony recommends that you should "Review your EVP and develop content or campaigns around your organization's unique aspects."
EMPLOYEE-GENERATED CONTENT
Encouraging employee-generated content will help with your employer brand because it showcases your employees' perspective of your business, which helps add transparency and demonstrates that your business is authentic about its stated values. Now more than ever, people want to see how employees are doing, and it's really nice to see the human side of a business instead of a generic graphic or stock image. People are also generally more likely to engage with humanizing, people-focused content.
According to Prudente, "Social media presents a huge opportunity for employers to strengthen their brand, particularly through UGC (user-generated content) from your employees (also known as EGC, employee-generated content). Create a corporate hashtag and encourage your employees to use the hashtag and share their personal experiences working at your organization on their social media accounts. This opens up an additional content stream for you, and showcases your brand in a humanistic way."
If you're wondering how to create these videos and where to get started, check out this webinar about why you should try employee-generated video.
WHERE YOU SHOULD POST IT
Each social media platform is different, and because of this, you can post different types of content on each platform. Here is a breakdown of each social media platform, the benefits of each, and how to use them effectively:
Facebook
According to Statista, there are over 2.7 billion users on Facebook. Facebook is a great platform for businesses, since you can use analytics to get a better understanding of your audience and how they interact with your page. It is especially useful to share your company's information, such as your contact information and mission statement. There is also a place for your clients to leave reviews.
This is important for your employer branding because Facebook is a hub where clients can get information about your business and directly review it. This is essential because potential clients have a place to read reviews and learn more about your business in an easily engaging environment. Jillian also shares that, "Facebook does very well with community engagement and has a focus on "tips and tricks" and informational content for candidates."
For content, Facebook is a popular platform to share images, videos, and written posts. Facebook isn't an employer profile, so you are able to post in a more relaxed way. You can have employees create user-generated content, and this helps drive a lot of engagement. People want to see what your culture is like, so showcase it! Posting about the people who work at your company humanizes your brand and makes people want to work with you.
To learn more about leveraging Facebook for employer branding, check out our recent article "4 Ways You Can Use Facebook for Recruitment Marketing."
LinkedIn
LinkedIn has nearly 740 million users on their platform. This is the perfect platform to find industry news, network with people, find information about a client, and market your business's brand. As Jillian Einck shares, "LinkedIn is great for company updates and careers-driven content."
On LinkedIn, you can share what has been happening at your business, products you are launching, and articles related to your industry. LinkedIn is also the perfect platform to post content that showcases your organization as a thought leader in the industry and allows your message to reach a direct audience.
Since LinkedIn is an employer profile and a business networking platform, it is important to be professional in the way that you communicate and in the content that you share. People aren't visiting your LinkedIn page for memes or photos of cute animals. They're visiting because they're interested in business-related information. This is the ideal platform to showcase authority in your industry, so make sure what you're sharing matches that intent!
You can create content for your audiences that showcases the information they're looking to see through a variety of mediums, which can include images, text posts, videos, and you can also link to other high value content like blog posts, news articles, case studies, webinars, and more.
Twitter
500 million tweets are published each day. It's the perfect platform to find what is trending in your industry, engage with your clients, and find relevant industry content. On Twitter, you can typically share more frequently than other social media platforms, since content is intended to be shorter and more digestible. Einck shares that, "Twitter allows for smaller, snackable content and real-time engagement with your audience, as well as other brands that may be closely aligned with you."
Being active on Twitter is a great way to engage with clients, since this platform is frequently used for sharing more informal reviews and opinions. By keeping an eye on your brand name, your mentions, and any relevant hashtags on Twitter, you can learn more about what your audience thinks of your business, your products or services, and even how they view you in comparison with your competitors. This can help build your employer brand because you'll be able to see your audience's feedback in real time, develop a deeper understanding of their likes and dislikes, and gauge the types of content that resonate best with them. Using that information, you can adapt your content and messaging strategy accordingly.
Twitter is popular for sharing quotes, images, and the occasional video. This platform is great to stay on top of trending topics and hashtags that you can use on other social media profiles. If a trending conversation is relevant to your business, you can capitalize on that trend by adding your voice to the conversation. Twitter is also an excellent platform for engagement because you can ask a question and anyone can reply, and then a casual conversion or interactive discussion has started.
Instagram
Instagram is a great tool to show your company's culture while also being informative. According to Sprout Social, about 6 out of 10 Instagram users log into the app at least once a day. Instagram is mainly used to share images, but Instagram Reels has become a popular way to post and share videos with your followers as well. With 90% of users following at least one business on Instagram, you can tell that this platform is crucial to include in your social media strategy.
As a platform focused on images and videos, Instagram presents a valuable opportunity to pull back the curtain and show a "behind the scenes" view of your business, highlighting your company's human side by sharing stories about the people who work for you and their experience as employees. Jillian Einck said, "Instagram is a fantastic platform for employee-generated content, images of work culture and employee experience, day-in-the-life videos, and direct engagement."
It's also an easy way to get your employees involved! For example, you can organize regular "Instagram Takeovers" with your employees and let them run the account for the day. This is a great way to share unique advice or tips and add variety to your content while showcasing the amazing people who work for you.
YouTube
With over 2 billion users, YouTube is a useful platform for publishing educational content that highlights your company's thought leadership within the industry. Video content is on the rise, with one billion hours of video content are consumed on Youtube daily. Posting video content can help with building traffic and brand awareness, especially if you make videos about your company's culture. It is also an easy way to make your business known worldwide, since Youtube is a popular platform in over 100 countries.
YouTube is the best platform to post your long form videos showcasing your products, your process, or knowledge-based advice/tutorials. Creating videos is an interactive and engaging way to share information to potential clients or others in your industry.
TikTok
As the most downloaded app of 2020, TikTok's popularity has certainly been on the rise over the last year. With over 800 million active monthly users in 155 countries worldwide, many people across the globe regularly use the app to create and consume short-form videos. As ad adoption continues to increase on the app, TikTok is also becoming a great platform to create brand awareness and extend your reach into new audiences or target markets.
Like YouTube, TikTok is an excellent place for sharing tutorials or informational videos, but in a shorter and more condensed format. Since TikToks can only be a maximum of one minute long, it's ideal for "bite-sized" video content that is attention-grabbing, digestible, and to-the-point. This platform is ideal for more relaxed, informal videos where you can really lean into humor. Posting on social media should be fun, and nowhere is this more true than on TikTok. As a trending social platform popular with influencers and younger audiences, TikTok also offers valuable opportunities when it comes to developing partnerships with popular content creators and increasing your brand awareness amongst young adults.
Want to learn more about TikTok and how it can be successfully leveraged by TA professionals? Check out our recent blog post, "Why TikTok is Becoming a Worthwhile Tool for Recruitment."
SOME ADVICE?
Jillian Einck shared with us that it is important to be consistent and plan an editorial content calendar. "A consistent presence is always advisable; get into a regular organic posting cadence on all the major channels (Facebook, LinkedIn, Twitter, Instagram)."
Being consistent is key - if you forget to post, what will candidates/clients think? Since more people are online than ever before, they are engaging much more on social media. This is the perfect time to revamp your social strategy and showcase how amazing your company is and keep your business on the top of everyone's mind.
--
It takes more than luck to build a successful social recruiting strategy for your company. If you're looking to expand your knowledge on all things social, we'd be happy to help, or you can check out our social recruiting resources hub for more tips!
Posted by Julie Calli

Julie Calli is an industry leader, innovator, and advocate for recruitment marketing revolution. She has managed over a billion dollars in recruitment advertising and developed strategies that have supported hundreds of organizations. She is passionate about recruitment marketing and the positive impact that it has on connecting people to opportunity.