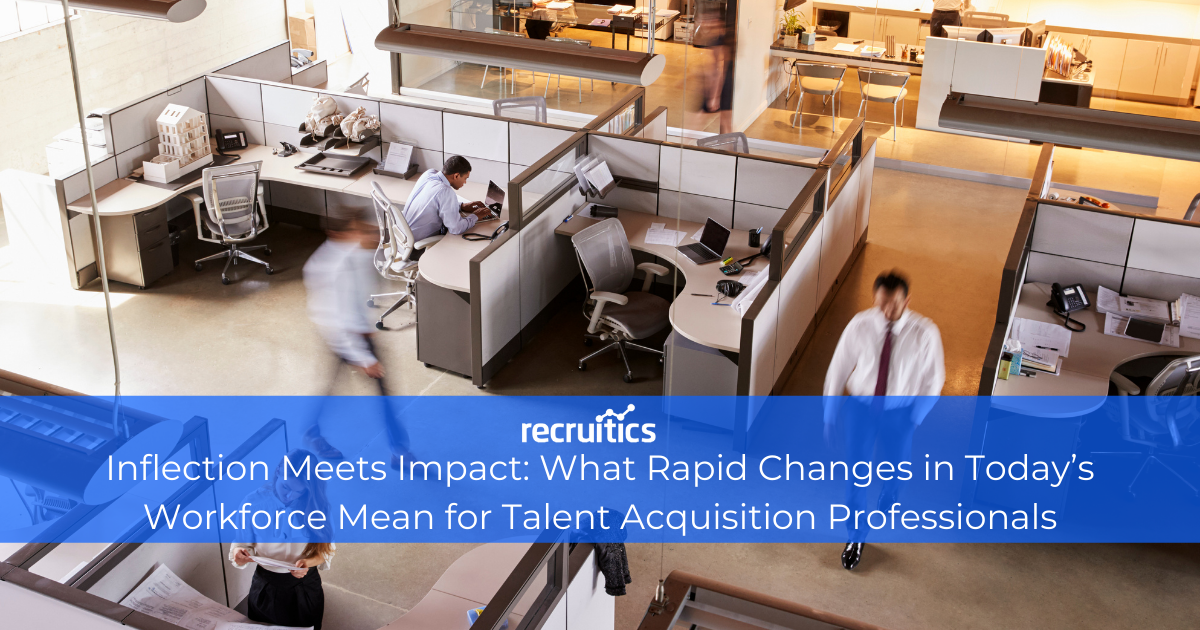 In a recent interview with CBS News' "60 Minutes," Federal Reserve Chair Jerome Powell said the US economy is at an "inflection point" and that job growth and creation are poised to accelerate. That may be the case, but what's also true is that the workforce is changing, and there are new realities about the way people look for jobs and prioritize what they want in a job.
This shifting landscape is likely to have a profound impact on the talent acquisition industry, creating heavy competition for candidate attention. Recruiting professionals may find themselves investing more time and money to fill hiring gaps, achieving poor results despite unemployment rates.
Here are some stand-out workforce trends and how you can proactively address them:
Trend: Fewer Searches For Jobs
I've been in recruitment and talent acquisition for 16+ years now, and for my entire career, the overall traffic trend behavior of the job seeker has been incredibly predictable. Every January, we expect job search traffic to increase. People set New Year's resolutions to explore new jobs, and every single year, I can expect job seeker traffic to increase in January that carries on through most of the first quarter. It's happened as long as I've been in this business.
There is a bit of a lull in the summer, and it picks back up in September and October, as people move to different locations and kids go back to school. Then, there is a slight spike in demand right before people head into the holiday season. By the time December hits, there's a sharp decline, and job searches basically fall off a cliff because most people don't want to be looking for a new job going into the holidays.
Then, in January, the spike returns every single year. It's highly, highly predictable.
But that didn't happen this year.

The great January didn't come. During the past year, Google search trends for the term "jobs" have declined dramatically (41%). In fact, the number of those interested in searching for jobs has fallen to its lowest volume in a decade.
Now think about 2020. The pandemic didn't markedly impact jobs in the U.S. until April, so when comparing Q1 year-over-year, they should offer a fair pre and post comparison, but the metrics are nowhere close.
In fact, that 41% drop is a real reflection of what's taking place in the labor participation rate, and we'll talk about that in a moment.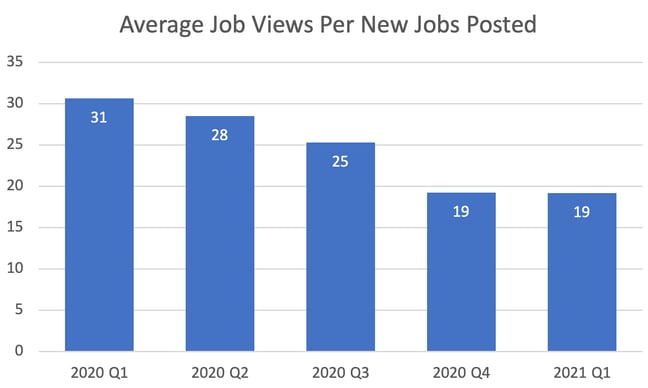 Source: Recruitics Analytics
I looked at Recruitics analytics to determine what kind of response we see in jobs. The result of increased job demands paired with the declining search activity and overall interest equates to less activity per job on average. What we see in Q1 year-over-year shows a 39% decline in job views per job on average.
Why are so many fewer people interested in searching for jobs? Well, the workforce participation rate is declining. While in a recession, usually, job seekers are actively applying to available positions, and they aren't now. Why?
Trend: Increasing Talent Demand
If you thought talent acquisition was competitive before, think again. Talent competition is rising and will continue to rise and scale at an exponential rate for the foreseeable future. That's good news! All signs show talent demand will continue to recover fully and surpass current growth for nearly the next decade. But limited and declining talent supply combined with growing talent demand is expected to increase talent acquisition costs. What does this mean for talent acquisition professionals?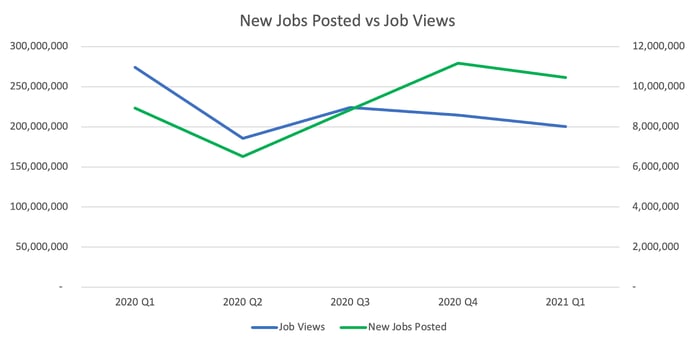 Source: Recruitics Analytics
Because candidates will have more options for jobs, recruitment marketing will be more critical than ever to drive top of funnel results. It's time to activate targeted advertising and influential media to compete.
At a time when workforce participation is low and job supply is high, the key for most employers to navigate hiring gaps and gig economy growth will be an employer brand that excites and delights potential employees, along with a solid advertising strategy to generate traffic back to branded and cohesive employer and job information.
In addition to the initial attraction methods, engagement with talent is essential. With top talent being in low supply, employers must feed candidates enough information, so when they are ready to come back to the workforce, those employers win out over competition. Accomplish this by building a talent network.
And of course, it is critical to have a robust career site. Your employer brand will help inform passive candidates' decision to apply. In 2021, that means highlighting your company's priorities in diversity and inclusion, social responsibility, employee flexibility, and more.
Lastly, given the high demand for talent, companies may need to look at resumes differently than they may have in the past. For example, you'll need to expect and accept gaps in resumes due to any given combination of circumstances that may have played out in that candidate's life during the pandemic. An employment gap does not say anything about the person's ability to do the job well.
Trend: Gig Jobs On The Rise
The gig economy has become a true disruptor in the job market, and the rise of on-demand work has added another layer of complexity to the fast-paced changes impacting the workforce. This shifting landscape is likely to have a profound impact on the talent acquisition industry, creating heavy competition for candidate attention.
Many job seekers are now looking to the gig economy, with 57.3M people in the United States already participating in freelance work. Workers are becoming increasingly interested in being paid by the task or project they accomplish, because they have the freedom and flexibility to work when and where they want. 40% of wages come from gig jobs for roughly 40% of the U.S. workforce, so it's becoming important for recruiting professionals to have a special focus on employer branding and retention if they want to remain competitive.
Trend: Labor SHortages
Retail and fast casual are experiencing extreme labor shortages. During the pandemic, the need for workers wasn't high at many of these establishments. Now, these companies are struggling to find talent, with several fast casual restaurants being in dire need of help including Whataburger, Domino's, Denny's and IHOP.
With such competition, companies are looking for ways to incentivise job seekers to apply and interview for their organizations, such as McDonalds paying for interviews and Famous Dave's offering a $300 sign-on bonus. Taco Bell is working to accommodate job seekers also by hosting hiring parties, with some stores even offering "drive-up interviews" for convenience at certain locations. They also added four weeks of annual vacation, eight weeks of paid maternity leave, and four weeks of new parent and guardian "baby bonding" time for general managers at company-owned Taco Bell locations.
Even though job opportunities have opened up for many of these establishments, many job seekers have moved on.
Highly Affected Sectors
The primary sector that will feel the talent gap the most is healthcare. This is primarily because healthcare is a licensed specialty. Just as you can't just wake up in the morning and decide to be a doctor or a nurse, you cannot just create supply overnight for licensed professionals. This is a talent supply gap that will take a decade to return to where the demand is. It's an area that is growing fast, but the supply is just not there to meet that demand.
Another area is logistics. This can be a vast and broad category. Still, it might include CDL drivers, forklift operators, warehouse jobs, delivery jobs, fulfillment jobs, and everything associated with them to make those logistics operate. This is because many consumers want things to show up on their doorstep a few minutes after they click a button. Because of that accelerated change in consumer behavior driven by the pandemic, we have created this massive demand. And those jobs need to be filled.
The last sector is technology. We are tremendously dependent on it. We are continuing to develop it in all different directions, and most technology jobs are in demand right now. Yet, there are only so many people who can fulfill them.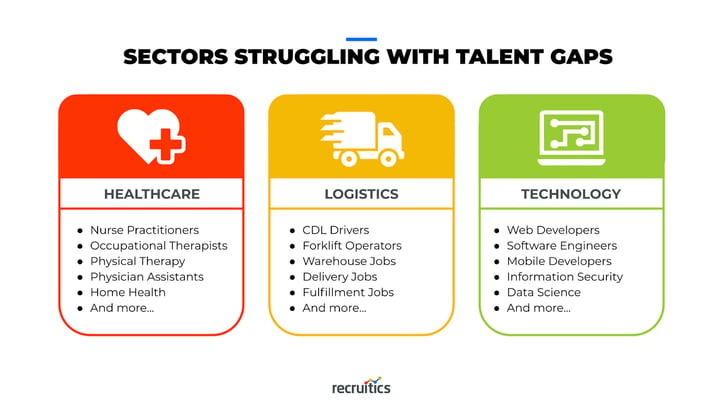 What Does This Mean For Employers?
Between the increased job growth, industry shifts, and new focus on remote work, there are plenty of things employers can do to make the most of these trends.
To start, take a look at your employer branding and candidate engagement strategies. Now, more than ever, candidates need to hear how your company is taking care of your employees. Your employer brand should reflect any increased flexibility you've created at your company over the last year. Use this as an opportunity to inform and update your talent community on all of the new reasons your employees feel valued and supported.
With increased competition for the best talent, you must find ways to stand out and keep your pipeline engaged -- plan in advance the ways to keep your talent warm, even when you're not hiring.
--
All is not lost. This is an inflection point in the talent gap. There are things companies can do that will impact how they fair as a result of these trends.
Employers must be proactive. It is critical to get out there and compete. See this landscape as an opportunity to excite and delight talent with a thoughtful employer brand and talent engagement strategy.
To activate a strategy to compete in today's competitive talent market, contact Recruitics!
Posted by Julie Calli

Julie Calli is the Chief Marketing Officer at Recruitics. In the 16+ years that Julie has worked in talent acquisition, she has managed over $700 million in recruitment advertising and developed strategies that have supported hundreds of organizations. She is passionate about recruitment advertising and the positive impact that it has on bringing together employer opportunities and talented people.