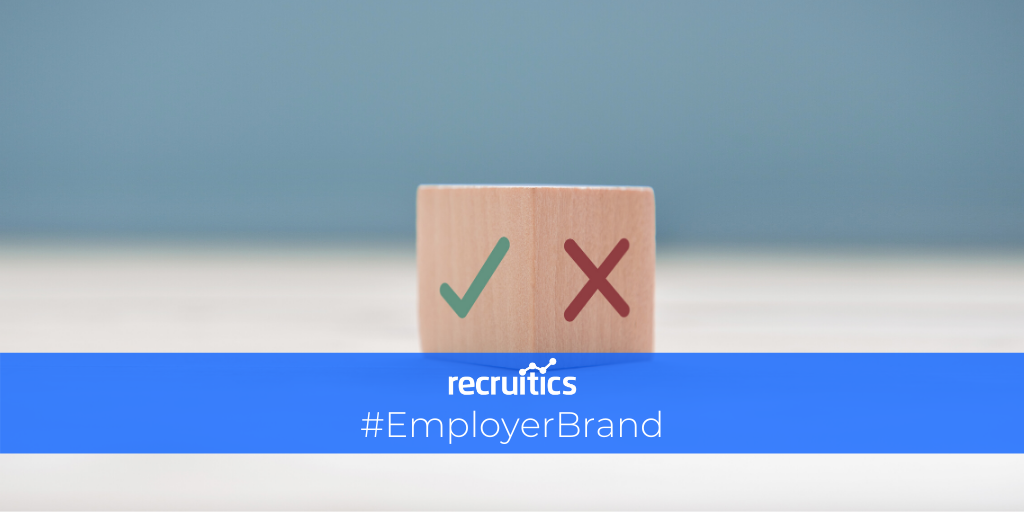 COVID-19 brought a whirlwind of things we could not have imagined even two months ago. Thousands dead, school buildings closed, and working from home is now the norm. I'm keenly aware of how lucky I am. Yes, I became a homeschool teacher overnight, and I wake up at 5am to buy toilet paper, but my family is safe and healthy. And, I have a job. Our country is experiencing an unemployment and economic crisis not seen since the Great Depression. 30MM Americans have filed unemployment insurance (UI) claims since the pandemic began. Glassdoor is no exception and has sadly felt the impact. We said goodbye to many amazing and talented colleagues last week due to COVID-19 lay-offs. It was painful, and no one could have predicted it would come to this.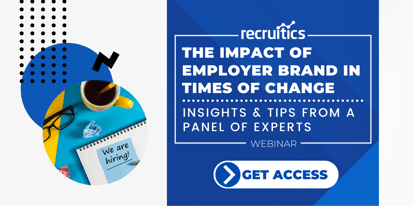 Access the webinar on demand now.
---
So, this begs the question: with all of the problems and issues in this worldwide pandemic - is employer branding even important right now? Glassdoor's response is an absolute YES. In fact, employer branding is more important now than ever before. We firmly believe, when this crisis is over, job seekers and their families will remember what companies did in response, how people were treated, which companies led their people through it and this will have a direct impact on a company's reputation for years to come. Not only are employees and job seekers taking note of company behaviors, but so are the next two generations of workers as they watch first-hand, often with their shelter-in-place families.
On Glassdoor, there is a mountain of user-generated content, which includes millions of reviews left by employees. Employers utilize this information to gain a current and transparent view of employee sentiment. This helps lead the conversation on how a company is responding to the crisis. It is very important that the way a company responds to COVID-19 is aligned with their employer brand. If not, it will feel inauthentic, fall flat, or worse, be damaging.
In a survey conducted by The Harris Poll on behalf of Glassdoor, nearly 1,000 employed U.S. adults were asked about their employers' response to COVID-19 and sentiments on working from home. The survey revealed a lack of employee confidence in their employers' responses to the Coronavirus outbreak. And, according to Glassdoor Economic Research, "Employee reviews on Glassdoor discussing the outbreak report a variety of workplace challenges from disruption of business operations to cancelled interviews to lack of work-from-home arrangements. Notably, some reviews cite serious economic consequences including diminished business outlook or pay cuts. Conversely, we have seen several employees praise their companies' response. Some unifying themes from these responses have been a combination of transparent communication and substantive action."
This has come at a time when employees and potential candidates have more access to information and so many options on social media to share stories about employers. Job loss and layoffs have become a growing part of these employer stories. Glassdoor reviews data shows the percentage of company reviews mentioning layoffs has risen 73%, since March 5th. Small to medium sized companies have been hit the hardest with a 60% rise in reviews mentioning layoffs. In contrast, those companies with 5,000+ employees have seen a lower jump of 13%. There isn't an industry where layoffs aren't becoming top of mind. Some of the hardest hit industries have been Travel & Tourism, Real Estate and even Healthcare, as many doctor's offices and hospitals have canceled non-essential procedures and furloughed non-medical staff.
One thing is for certain - no matter the industry - employee reviews are more relevant than ever and this is an opportunity for employers to respond and act accordingly.
In response to COVID-19, Glassdoor recently launched two new options for all employers to help communicate to their employees, candidates and followers. The first, a "Hiring Surge" indicator, allows employers to let candidates know if they have a spike in demand for workers. Candidates can then filter by hiring status to see which companies are hiring. Over 1,300 employers enabled this option within the first two weeks of it's launch, and approximately 70-100 are added each day.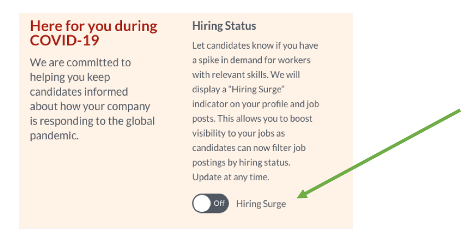 Employers can also create COVID-19 Company Updates to share news on their profile and in their weekly follower emails.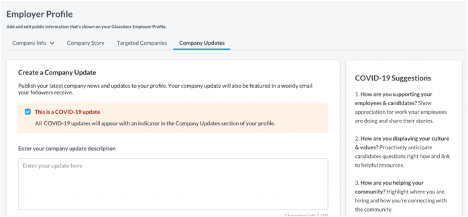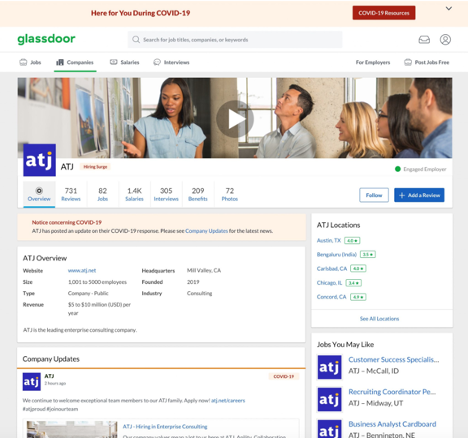 Both of these options are available to all employers with a Glassdoor account. As a best practice, Glassdoor partners can also choose to add a COVID-19 tab in their Why Work for Us Section to share information about their organization and how they are supporting their employees and community.
---
Learn more about Glassdoor, Indeed and LinkedIn product updates in response to COVID-19.
---
I'll end with some optimism. According to Glassdoor's Economic Research, "past data on pandemics suggests we're likely to see a U.S. recession that's shorter-lived than the Great Recession, and with a much faster, so-called 'V-shaped' recovery. Of course no one can predict the future, but economies tend to snap back quickly once a pandemic ends. Because of this, we expect and encourage employers to continue investing in talent attraction and employer branding, as they will need to hire quickly once we see the economy begin to rise." Those that have placed focus and importance on their employer brand will have the clear advantage when we reach the other side. Even more importantly, those that have placed the focus on their employees and potential employees by communicating regularly and with transparency are the companies that will be poised for future success.
Featured Resources:
Want to learn more about Glassdoor or Employer Brand? We'd love to chat.
---
GET ACCESS TO THIS WEBINAR ON DEMAND

Posted by Heidi Denger