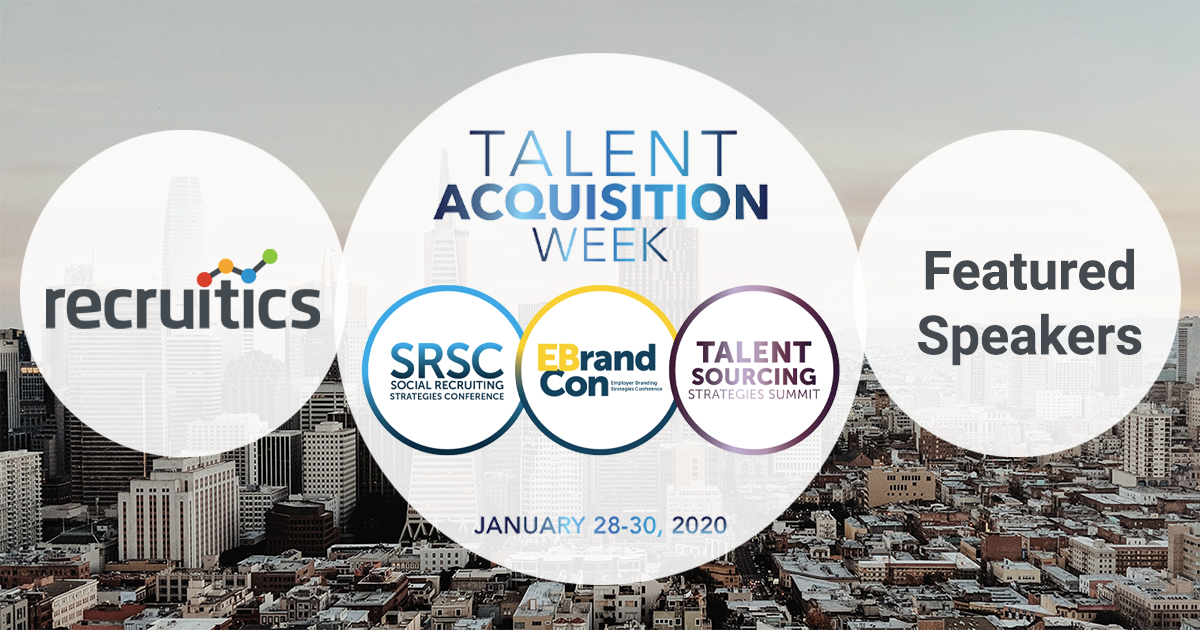 TA Week delivers a 3-in-1 experience for Talent Acquisition Professionals.
On January 28-30, 2020, the popular Social Recruiting Strategies Conference (SRSC), Employer Branding Strategies Conference (EBSC), and Talent Sourcing Strategies Summit converge under one roof at GSMI's Talent Acquisition Week. A 3-in-1 ticket provides attendees with all-access, allowing for the most comprehensive conference experience and endless networking opportunities with the brightest in the industry. TA Week will be hosted in the heart of San Francisco, at Mission Bay Conference Center at UCSF.
Not only will Recruitics be joining the impressive exhibitor floor at Booth 130 to offer #TA_Week attendees access to their cutting edge talent acquisition, employer branding, and sourcing services, but we'll also have our SVP of Marketing, Adriana Kevill, and our EVP of Programmatic, Mona Tawakali, co-presenting on "The Art & Science of Recruitment Marketing" on Wednesday, January 29th from 4:15pm to 4:45pm on the Employer Branding Strategies Conference main stage.

(Click To Tweet!)
TA Week attendees will walk away with knowledge of how to leverage emerging recruiting practices, with a look into the latest global recruiting trends, recruitment marketing, candidate engagement, tools, and technology. "I was emailing my team with great actionable tips during the entire conference. Great information to hit the ground running when I get back from the conference," says Stefanie Kelly, Director of Marketing, at Cross Country Healthcare.
Leading TA practitioners will come together to share best practices, tools, case studies and metrics for recruiting success in the candidate-centric market. Attendees and speakers will share experiences in how to effectively leverage an integrated talent acquisition strategy - unlocking the power of personalization and automation with technology and employer brand to find the best candidates, all while staying true to the human element of the process.
Featured Speakers Include:
Adriana Kevill, Senior VP of Marketing, Recruitics
Mona Tawakalil, Executive VP of Programmatic, Recruitics
Aaron Kraljev, Vice President, Employer Brand & Candidate Advocacy, Wells Fargo
Jillian Snavely, Sr. Manager Talent Acquisition, Accenture
Arthur Matuszewski, VP, Talent Acquisition, Better Mortgage
Beth Gottfried, Group Manager Talent Acquisition, Toyota
Lane Sutton, Recruitment Marketing Manager, Walmart
Chloé Rada, Director of Talent Administration, Technology & Branding, Sodexo
Carrie Corbin, Director, Global Employer Brand and Talent Attraction, Dell
Alex Murray, Manager, Marketing and Communication, Futureforce, Salesforce
Jenna Sandker, Associate Director Talent Acquisition, Memorial Sloan Kettering Cancer Center
Bryan Chaney, Director, Employer Brand and Talent Attraction, Indeed
Jonathan Dale, VP Marketing, Phenom People
And countless more!
Attendee registration can be completed online or over the phone by calling 888.409.4418. And as a sponsor, we can offer our audience 15% off with code RECRUITICS15.

For timely updates during the conference, connect with TA Week on Facebook, Twitter, and LinkedIn and follow #TA_Week.
--
Posted by Recruitics

Recruitics is a data-powered recruitment marketing platform that makes it easy for the world's leading brands to attract and hire great talent. Recruitics revolutionized recruitment advertising with the introduction of the industry's first programmatic buying platform in 2012. Since then, Recruitics has helped thousands of companies find, attract, and engage millions of job seekers. Today, Recruitics continues to lead the recruitment marketing industry with its state-of-the-art data optimization and analytics platform.