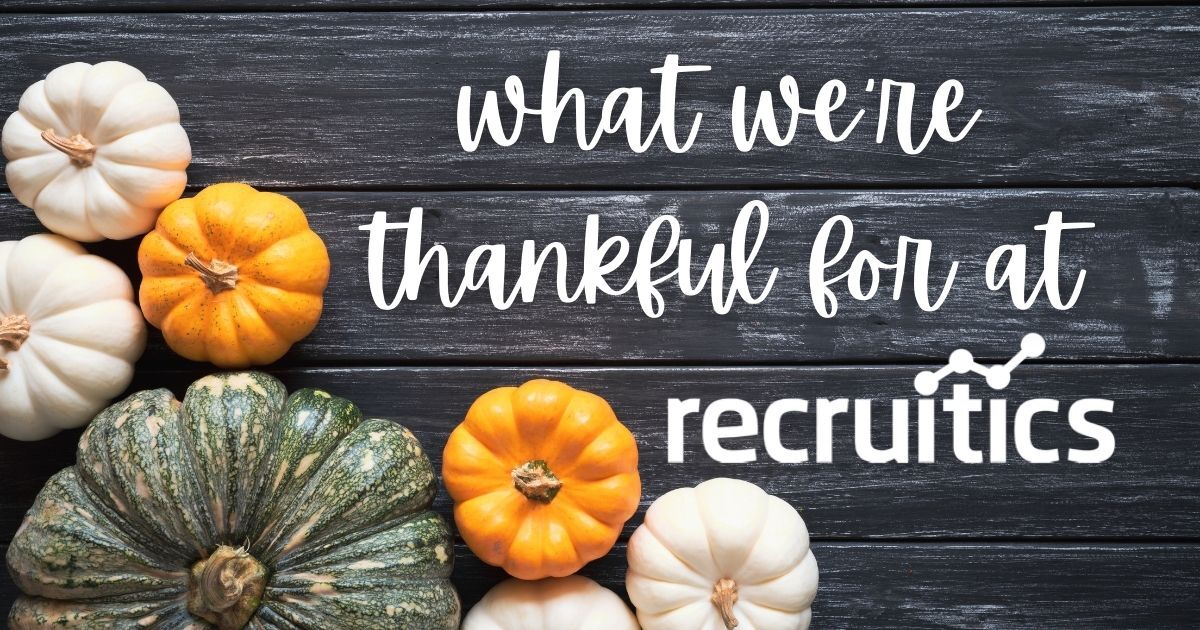 The Thanksgiving season is a time to reflect on the events of the year and show appreciation for the things that you're grateful for in your life. Given that this has been a particularly challenging year for many people, setting aside a negative outlook on the past 12 months in order to search for something positive to celebrate may seem tough. The events of 2020 have created tremendous change in our everyday lives, but it's important to consider the silver linings.
In the spirit of the holiday, we're looking on the bright side and sharing the positive things we've discovered throughout this year that have made our lives as recruitment marketing professionals just a little bit easier.
Technology
Due to the pandemic, most organizations that don't absolutely require onsite staff to operate successfully began shifting away from an in-person work environment around March, with many encouraging (or even mandating) that employees transition to working from home if they are able to perform their duties and fulfill the responsibilities of their role remotely. The shift to remote work has impacted both employees and businesses greatly, in more ways than one. In particular, employees who were not already remote workers prior to the pandemic have had to adjust to new ways of communicating with colleagues and teammates they could previously connect with in person.
One thing that has made this major transition easier is technology. Throughout the year, we've developed a new appreciation for the tools that have helped us stay connected to our colleagues, clients, partners, and even friends and family. With a little help from video conferencing platforms and business communication tools, the distance doesn't seem so difficult to overcome.
Many employees have attended more virtual meetings during the last few months than they likely have in their entire professional careers. Zoom shared that they now have an average of over 300 million daily meeting participants, 30 times higher than the 10 million daily users the service reported having in December 2019.
While virtual meetings have come along with their own new challenges (like so-called "Zoom Fatigue"), these platforms (along with multi-channel communication tools like Slack and Microsoft Teams) have certainly helped make the shift from in-office to remote work more streamlined, allowing individuals, teams, and even entire businesses to stay connected to one another with just a few clicks. The ability to communicate remotely and work together regardless of physical distance is essential for the success of your business.
Since it has gotten easier to schedule meetings, workers can also maintain a tighter agenda, learn more efficient and direct ways to communicate, strengthen their collaboration skills, and much more. For any business, these professional development strides in employees are huge wins.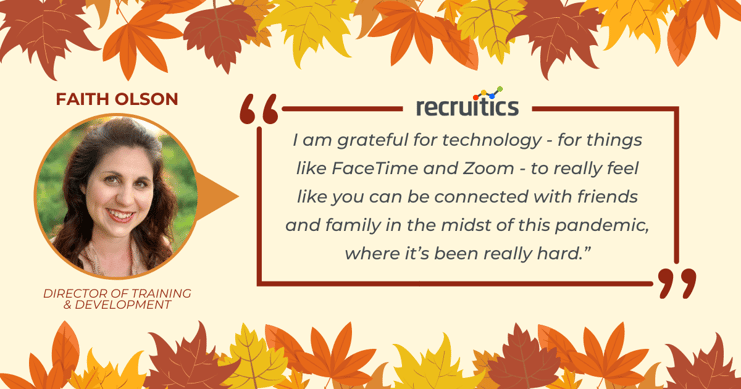 Our AMAZING team, CLIENTS & PARTNERS
There is something special about being able to go to the coffee machine or water cooler and have small talk with a colleague. When working from home, we don't get the luxury of social interaction with our peers like we used to. That's why we are thankful for teamwork. Times of crisis can serve to bring people together, highlight important relationships, and strengthen bonds. With social distancing, it's easy to feel isolated and overwhelmed. Strong bonds and effective team collaboration regardless of distance help maintain a sense of normalcy.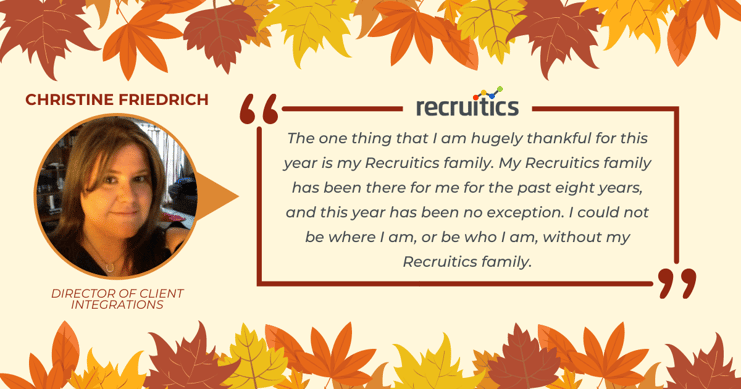 The Importance of Teamwork
Attending virtual meetings has seemed to change how we feel about our colleagues. According to a recent Microsoft study, 62% of people shared that after seeing more of their co-workers home lives, they feel more empathetic toward their colleagues and developed stronger personal connections to their teammates. Likewise, 52% of people reported that they feel more valued and included in remote meetings, since everyone is gathered together in the same "virtual room."
Seeing teammates in a comfortable home environment -- often wearing more casual clothes or featuring brief interruptions from family, kids, or pets -- can have an equalizing and humanizing impact on the way we view our colleagues. A company leader may seem more approachable than they did before once you've seen them in sweatpants with screaming kids in the background. For some, joining video meetings in comfortable and familiar places (like one's own home), may make them more relaxed and at ease, enabling them to share opinions or ideas more freely than they otherwise would in a more traditional office environment.
Maintaining connections with your colleagues and teammates is more important now than ever before. If you don't communicate with your team members daily, working from home can feel particularly isolating. Many companies have risen to this challenge by scheduling virtual happy hours, sponsored events, zoom celebrations, and team lunches to ensure everyone is staying connected and being given the opportunity to socialize with one another. Especially now when we are entering the holiday season, being able to celebrate and have a virtual holiday party is an important way to maintain normalcy and company culture.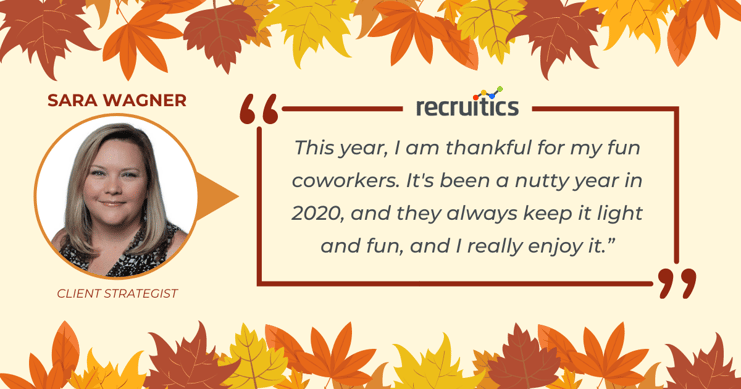 Our Awesome Clients & Partners
Of course, we couldn't have made it through this year successfully without our amazing clients and partners. We partner with employers, recruitment marketers, and talent acquisition professionals to get things done. We truly believe that we're all stronger together because of it, and our amazing clients believe this, too. We are proud to be extensions of our clients' talent acquisition departments and true partners of recruitment marketers, with the best people and technologies in the business.
The opportunity to help businesses recover, transform their talent acquisition process and goals to meet the changing needs that have come along with our new normal, and find the talent they need to put them on the path to success has been an incredibly rewarding experience. Just as we've found new ways to connect with our own team, technology has helped us to not only maintain but improve our relationships with our clients and expand the ways we can work together to tackle their most complex recruiting challenges.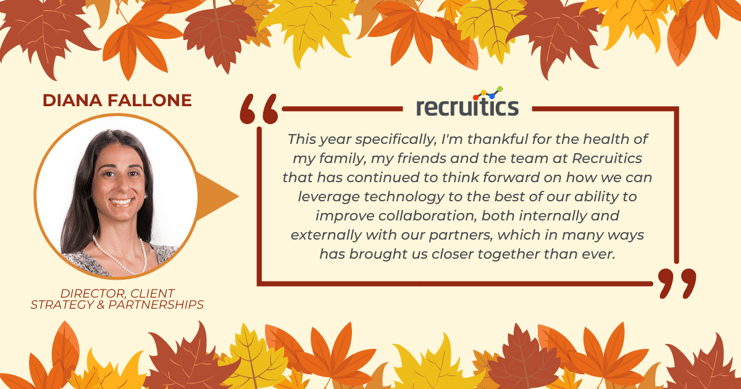 Fresh Starts & the ability to transform
Times of change and uncertainty can be difficult to navigate, but they can also create opportunities for innovation and positive transformation. This year has been a whirlwind for many companies, but some utilized this time to take a step back and evaluate their strategies, goals, priorities, and policies. That's why we are thankful for fresh starts. Every company has the ability to change and adapt to new needs of their business, customers, and employees. While these changes may be made out of necessity during a strenuous time, they can have a positive long-term impact on your corporate culture, company success, and ability to adapt to manage future challenges.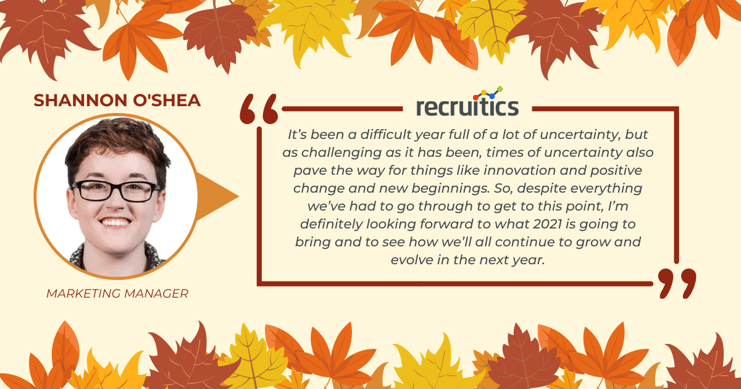 Being nimble and willing to change are vital qualities in a successful business, but it also shows your employees and clients that your business is ready and able to not just "talk the talk," but "talk the walk." As Jeffrey Shaprio, the Director of Talent Acquisition at Radnet, summarized in our recent webinar ("The Secret Sauce to Recruitment Marketing Success"), your company's core values don't mean anything without a plan. You need to take a deeper look into whether your business is truly demonstrating that you operate according to your stated company values. If not, then the candidate experience is going to be affected.
A crisis or a challenging situation has a way of highlighting where your business may have room to grow or modernize. It may mean making adjustments to your business model, virtualizing your hiring process, rethinking how you manage your resources, or finding more effective ways to communicate (both internally and externally).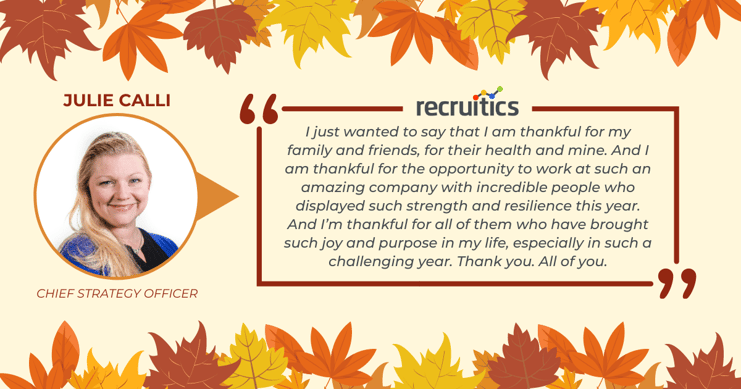 everything else our team is thankful for
Check out the full video below to discover everything else our team is thankful for this year! What have you been grateful for about 2020? We'd love to hear from you!
--
Posted by Carol Anne Perkins

Carol Anne is a Marketing Associate at Recruitics. She has a background in communication and copywriting. Carol Anne is passionate about helping projects run smoothly and loves to learn something new everyday. When she's not creating content, you'll find her reading, watching documentaries, or at the beach.