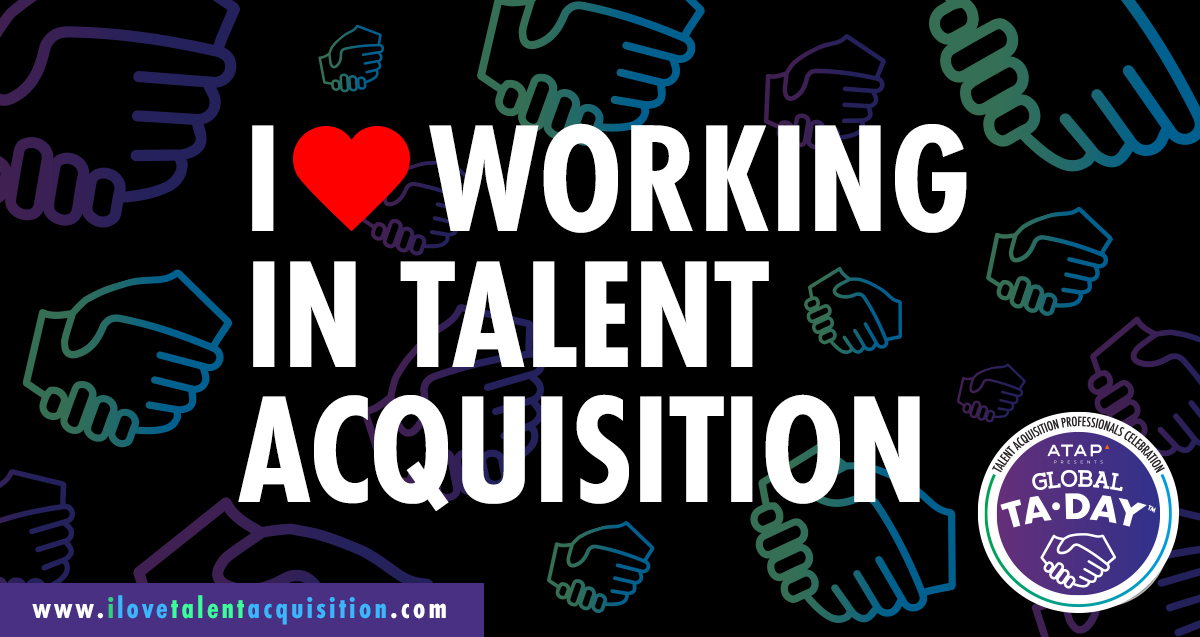 #GlobalTADay is NEXT WEEK, and we've got big plans for September 2 – do you?
Whether you're celebrating with your team or tuning in to the free virtual event, we hope you're as excited as we are! Visit the site to learn more.
Show your #TAappreciation & spread the love on LinkedIn with us!
Join us in supporting #GlobalTA Day and showing appreciation for industry pros. We nominate YOU! Simply share your appreciation in a video or written post for someone in TA or share why you love working in TA (or both)! Don't forget to nominate (and tag) at least three people and add the hashtags #TAappreciation #GlobalTADay.
Here are some of the fantastic videos that have been shared so far!
And check out some of the amazing LinkedIn posts from industry leaders that are spreading the love:
Celebrate #GLOBALTADAY virtually from around the world - wherever you are!
Give a shout out to your industry BFFs and show your talent acquisition pride on social media using the customizable social graphics, social share graphics, social cover photos and more! Print out the photo props to take selfies to show your #GlobalTADay pride on social media! Get Zoom backgrounds for your virtual conferences so celebrate from afar with your TA teammates! Download all of these great celebration assets and more (and get your guide to celebrating virtually) here!

Register to attend the virtual #GLOBALTADAY event!
This will be a FREE event presented by ATAP. Join us for an all-day event of celebration, learning, and networking for TA pros around the world. Register using the form on this page, and then click "Join Event" to grab your attendee badge to access the live event on Sept. 2!
We hope you and your team are looking forward to #GlobalTADay 2020 next week! No matter how your team celebrates, join the party!
Don't forget to use the hashtag #GlobalTADay on September 2!
Posted by Emily Tanner
Emily Tanner is no longer with Recruitics. During her time with us as VP of Marketing, Emily worked on both the client and business side of marketing, partnering with top enterprise customers on their talent acquisition and recruitment marketing strategies as well as developing inbound content marketing plans, paid advertising campaigns, and lead generation initiatives for Recruitics. A true data nerd at heart, Emily finds joy in analyzing deep performance metrics and finding the story in the numbers. When not working on marketing strategies or in Excel documents, you can find Emily hanging with her husband, two sons, and their 3 dogs.