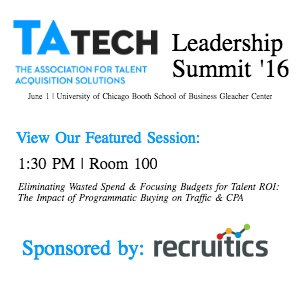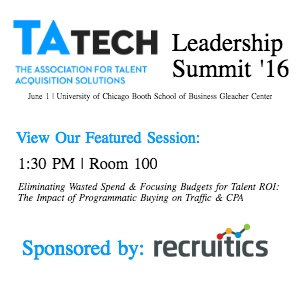 Recruitics Job Performance Classifications to be Announced During Talk on How Programmatic Buying Impacts Traffic to Jobs and CPA
NEW YORK, N.Y.--Julie Calli, vice President of Marketing and Analytics for Recruitics, will speak at the TATech Leadership Summit on June 1 in Chicago. Calli's presentation, "Eliminating Wasted Spend & Focusing Budgets for Talent ROI: The Impact of Programmatic Buying on Traffic & CPA," will be held in Room 100 from 1:30 p.m. to 2:15 p.m.
Programmatic buying has become an important mechanism for businesses to improve the ROI of their recruitment marketing budgets. Programmatic ad buying automates how recruitment ads are purchased in order to ensure an employer is always utilizing job advertising that delivers the highest return on investment against its goals. As part of her presentation, Calli will announce the Recruitics Job Performance Classifications, a method of grouping job advertisements in order to drive optimal performance within a programmatic strategy.
"We're seeing that organizations are utilizing programmatic buying with a desire to improve results, but they often lack insight on how to properly build a strategy in order to get optimal ROI on their budgets," Calli said. "We believe the Recruitics Job Performance Classification will provide an easy-to-understand framework for planning and executing against a company's recruitment marketing strategy."
Additionally, Calli's talk will also discuss key strategies for companies to consider when leveraging programmatic buying within their teams. Recruitics will also release an informational infographic to accompany the presentation on Wednesday.
Attendees can set up a time to speak with the Recruitics team at the Leadership Summit here: http://go.recruitics.com/ta_tech_meet_up.
About TATech Leadership Summit:
TAtech Leadership Summits are designed for both employers and recruiters, as well as for talent acquisition technology companies and consultancies. The June 1 event is a one day, one topic event, held in Chicago, IL at the University of Chicago Booth School of Business Gleacher Center facility, and attendance is limited to just 150 attendees. Learn more about the TATech Leadership Summit here: http://tatech.org/event/leadershipsummit/.
About Recruitics:
Recruitics is a recruitment analytics and programmatic buying platform that makes it easy for companies to achieve amazing results from their recruitment marketing strategy. Founded in 2012, Recruitics works with the nation's largest corporations, staffing agencies, and job boards to drive more applicants to their online job postings, hire great talent, and meet their recruitment goals. Recruitics received the 2015 ReSI Award for Most Innovative Enterprise Solution for Recruiting. The company is headquartered in New York City, NY with its European headquarters in London, UK. You can find Recruitics online at http://recruitics.com/.
Posted by Recruitics

Recruitics is a data-powered recruitment marketing platform that makes it easy for the world's leading brands to attract and hire great talent. Recruitics revolutionized recruitment advertising with the introduction of the industry's first programmatic buying platform in 2012. Since then, Recruitics has helped thousands of companies find, attract, and engage millions of job seekers. Today, Recruitics continues to lead the recruitment marketing industry with its state-of-the-art data optimization and analytics platform.