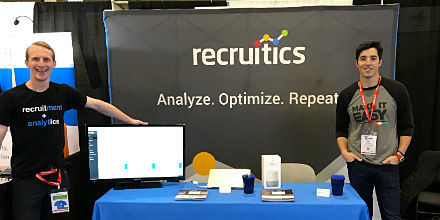 Last week, Human Resource Executive held their annual HR Technology Conference and Expo in Las Vegas. Also referred to as HR Tech, the conference focuses on "helping forward-looking professionals rethink HR and leverage technology to exceed employee expectations and succeed in business."
For those of you who were unable to attend the 2017 HR Tech Conference, we've put together a few key takeaways from this year's event:
https://twitter.com/CPeters1024/status/918166835769483264
https://twitter.com/HRmarketer/status/918121464276049921
https://twitter.com/elaineorler/status/918143062718550016
https://twitter.com/SteveBoese/status/918863289336995842
https://twitter.com/browncj2004/status/918506358512562176
https://twitter.com/JoshZywien/status/918145581033275392
https://twitter.com/shelano/status/917798699429806080
https://twitter.com/SHRMKaylor/status/917796102547443714
If you attended HR Tech in Las Vegas last week, and have something to add to this post, contact us here or tweet us @Recruitics.
If you'd like to receive recruitment marketing news and notes like this event recap, sign up for our newsletter today.