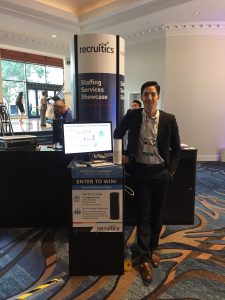 The week is coming to a close, and with it, the end of Staffing Industry Analyst's 2017 Executive Forum.
The SIA Executive Forum is an annual leadership summit each year that brings together hundreds of leaders from across the staffing industry to learn, network and share their ideas. This year's theme was "Dare to Lead" and aimed to provide a roadmap on how to best lead your organization in an industry that's constantly shifting.
The Recruitics team was in San Diego for the event this week and following along on Twitter. Here are some of our top takeaways, as told by the Twittersphere:
With leadership the hot topic of discussion, there was no shortage of pull quotes to choose from. One in particular that got a lot of attention is this one which reminds us what leadership (in staffing, and in general) is all about:
https://twitter.com/lvickrey/status/831910545972355073
The staffing space, and employers in general, tend to be more conscious now of their employer brand and company culture than ever before. That trend was not lost at the #ExecForum this year:
https://twitter.com/kip_wright/status/831649852563951617
But SIA's 2017 summit wasn't only about leadership styles, roles and techniques. The conference also circled around hot topics, such as this prediction that didn't fall upon deaf ears:
https://twitter.com/bradbialy/status/832307864576356354
Talks weren't only dominated by Facebook's new jobs features, though. Monster brought their famous "Wall of Ideas" to this year's conference, gathering important insight in the process. In case you're having trouble reading some responses they include: candidate quality and data and analytics.
https://twitter.com/jim_lanzalotto/status/832241831752540160
Not to be outdone, SIA had some great insights of their own. Here's just one example of the data they shared in San Diego this year:
https://twitter.com/CapitalGES/status/832317604446343168
And the insights didn't stop at staffing industry forecasts. Recruitment Process Outsourcing (RPO) is also gaining more momentum as discussed at the Executive Forum:
https://twitter.com/CindySongne/status/832305062781136896
Keynote presentations this year drew a lot of attention, but we're not sure any drew as much attention as the one delivered by world-renowned presidential historian Doris K. Goodman:
https://twitter.com/RanjiniPoddar/status/831952608285712384
And finally, what would an SIA Executive Forum be without live music? That's one question we never hope to learn the answer to, and this year we didn't just get live music, but an "industry band" as well (shout out to Art Papas):
https://twitter.com/lvickrey/status/831860591652278272
https://twitter.com/bandstampede/status/832079051946856448
That's a wrap from San Diego. If you were at SIA's Executive Forum and have a tweet you think should have made our roundup, connect with us on Twitter @recruitics and let us know.
Rather meet the Recruitics team in person? The next industry event we'll be attending is the London OnRec Awards on March 9 and we'll be back States-side for the TAtech Spring Industry Conference from April 22-23 in Chicago, Il.
Sign up for our newsletter today to get updates on industry news, notes and insights, and to always stay up to date on where you can find the Recruitics team next.