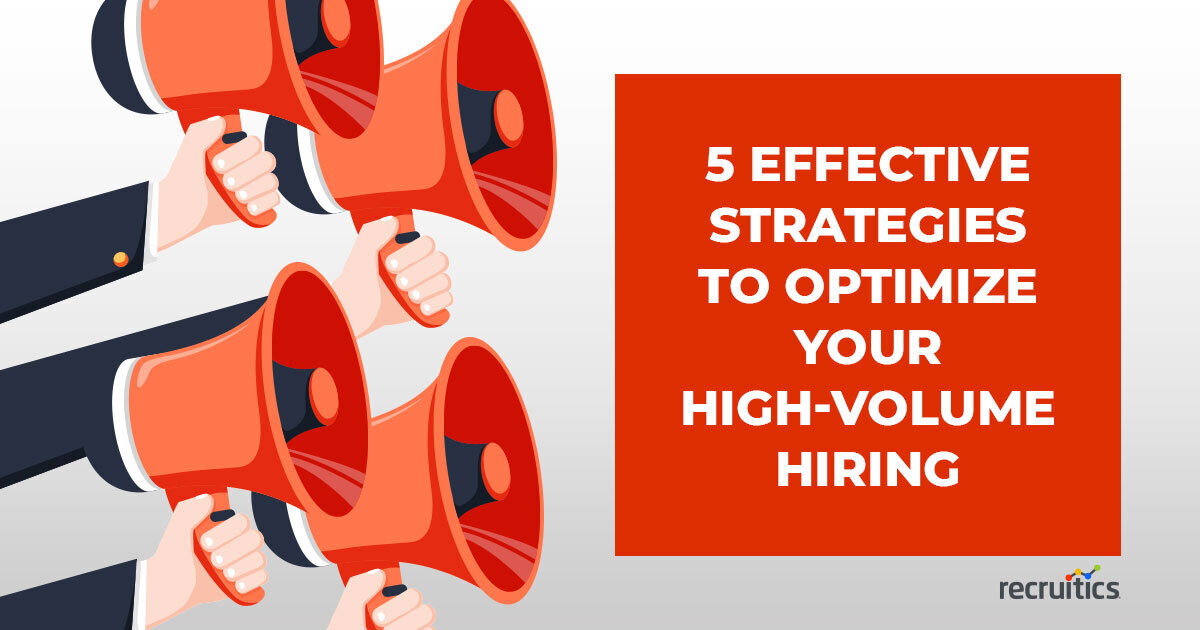 High-volume hiring comes with its own unique set of challenges. Throw in a global pandemic? You've magnified your hurdles.
In a recent survey of 420 recruiting professionals at the talent acquisition director level or above, 65 percent said they have "high volume hiring demands, defined in the study as needing to fill over 1,000 positions in a short period of time or receiving more than 1,000 applications per position." Additionally, 48 percent said that it's currently challenging to find qualified hires.
As speed typically defines success in high-volume hiring, the study mentioned above revealed that "companies need to simplify, optimize and automate as much of the candidate journey as possible to decrease time-to-hire. Businesses that are unable to scale their hiring to meet demand risk negative business outcomes."
Out of the numerous industries familiar with high-volume hiring, retail and warehousing have particularly been affected during the global pandemic, leaving recruiting professionals facing new challenges, including heavy competition for qualified talent.
For example, the bargaining power has shifted to workers in the retail industry, leaving employers scrambling to offer higher wages, increased benefits, and better perks for hourly retail workers. For example, Target recently rolled out a debt-free college education perk for both full-time and part-time employees, hoping to attract a large number of workers while making Target a "preferred place to work." CVS is also jumping on board the employee-first train, increasing their minimum wage from $11 per hour to $15.
Warehouses and distribution centers have also seen rocketing demand in hiring, with a 44 percent increase in e-commerce orders for 2020. This sudden growth in demand has somewhat frazzled this industry, already contending with a labor shortage before the global pandemic.
With gaps at every level of the supply chain exacerbated by the pandemic, warehouses and distribution centers face a new hurdle. According to Prudential's Pulse of the American Worker survey, 87 percent of workers would prefer to work remotely at least once a week, post-pandemic. Further, one-third of surveyed employees would not want to work for an employer who required them to be on-site. According to Logistics Management, with most entry-level and mid-level warehousing positions requiring an in-person presence, this could increase recruitment challenges in the industry.
Read on to learn five effective strategies to optimize your high-volume hiring needs in both retail and warehousing.
Plan Ahead
As soon as you're aware of a high-volume hiring retail or warehousing need, begin thinking about your approach -- allowing yourself enough time to create, modify, and execute your recruitment marketing strategy.
Develop goals based on previous high-volume recruiting experiences. For example, look back at former hires and determine how many interviews you conducted before finding the right candidate. Also, refine your career page, making sure it's updated and optimized for smartphones, giving potential candidates current information on upcoming hiring processes, and helping to increase your application flow.
However, when planning, don't forget to define the job roles needed, create candidate personas based on those roles as well as the goals and culture of your company, and refine your branding message, distinguishing yourself from your competitors. By understanding who you're looking for, you can more effectively recruit qualified candidates, even at high numbers.
Create a "Candidate-First" Job Application Process
When hiring for high-volumes, you should create a "candidate-first" job application process. Keep your application short and sweet. Grab the attention of potential job candidates with a catchy job title while showing them how you stand out from your competitors in the first paragraph or two of your job description. Remember, you want to convey what it would be like to join your team.
For retail and warehousing jobs, describe the required experience and responsibilities, followed by compensation and benefits. In the past, most employers would not specify pay wages in job descriptions. However, this is going to be top of mind for job candidates.
According to SHRM, most candidates search for compensation and benefits when reviewing a job posting. So, to save time and increase the number of qualified applicants, go ahead and include these specifics. Doing so will also help you stand out from the pack, as fifty percent of U.S. employers don't include pay rates in their job ads.
With 65 percent of job seekers using their smartphones to look for jobs, make sure your job ad is optimized for mobile phones. This is especially critical when hiring hourly workers who may not have a dedicated desktop computer. Additionally, allow candidates to apply for your open positions from their phones, preferably in a couple of clicks. The more accessible and more seamless you make smartphone job searchers, the more likely you'll increase the flow of applications.
Also, tailor your job postings for your candidate personas. For example, are you targeting younger workers? You may want to post on TikTok, Snapchat, or Instagram. Are you recruiting for manager positions? Perhaps LinkedIn or Facebook would be better options. By aligning your hiring goals with your employer brand, you can boost your candidate engagement, essential to hiring in a highly competitive marketplace.
Utilize Pre-Screen Questions and Assessments
Scheduling interviews -- whether on the phone or in-person -- is simply a pain. You need to coordinate with multiple people (as well as their calendars). For high-volume hiring in either retail or warehousing, this could quickly bring your recruitment to a screeching halt.
One way to qualify your candidates before they interview is through automatic pre-screening questions and assessments through your applicant tracking system (ATS). Prescreening questions and assessments are tools used to evaluate and measure a candidate's qualifications, from hard and soft skills to motivation and interest to personality, helping you to better identify qualified candidates before the interview process, saving you time and potential frustration. When hiring for high-volume, increasing efficiency in your recruitment efforts is the name of the game.
Focus on Consistency
Automatic pre-screening questions and assessments don't just allow you to identify qualified applicants; they also provide consistency across to recruitment process, helping you weed out biases while giving you a competitive advantage by using objective, data-driven strategies.
According to LinkedIn, "data matters for finding talent faster and more efficiently. Talent acquisition teams with mature analytics are two more times likely to improve their recruiting efforts and three times more likely to realize cost reductions and efficiency gains."
With pre-screening questions and assessments, you're ensuring that your recruiting practices are fair, objective, and legally defensible, providing you with the needed consistency in today's competitive market for hourly workers.
A second way to ensure consistency in your recruiting methods is to embrace standardized or structured interviews. In some often-cited research, it was discovered that "unstructured job interviews only predict about 14% of an employee's actual on-the-job performance." Structured interviews, on the other hand, were found to predict job performance 26 percent of the time. Multiply that difference by the number of roles you need to fill for high-volume hiring, and it is significant.
Additionally, be sure to align your interview questions with both your job descriptions and your pre-screening questions and assessments, keeping consistency high and bias low. Finally, don't forget to train your interviewers on these consistent practices. Everyone should be rowing in the same direction to make consistency stick.
If you want to really differentiate yourself from other retailers or warehouses? Describe your interview processes on your career page, giving interested job candidates transparency into your processes. Doing so not only informs your candidates of what to expect but also boosts your brand by garnering trust from both current and potential employees.
Don't Forget to Follow Up
Finally, we all know that success is in the follow-up. For high-volume hiring in both the retail and warehousing industries, following-up should not be left off of your to-do list -- for all job candidates.
After doing dozens of interviews, it could be tempting to only follow up with qualified candidates you intend to hire. However, just because an applicant might not fit as an employee for your current hiring needs, you don't want to lose that person as a customer. Further, you may have a position open in the future that those candidates may be able to fulfill.
Also, develop follow-up processes if you're not making hiring decisions immediately. You don't want to leave job candidates guessing. In this job market, they could quickly be hired by your competitor in that amount of time. So, never let an applicant go more than a week without a response.
--
Having a robust, well-thought-out recruitment strategy for the retail and warehousing industries can help you conquer high-volume hiring challenges, especially in today's employee-focused job market.
If you'd like to learn more about how to prepare for high-volume hiring strategically, contact Recruitics today!
Posted by Matt Grover

Matt Grover is an EVP of High Volume Hiring at Recruitics. He is an accomplished P&L strategic leader focused on growth with over 16 years of experience developing and executing successful multi-channel digital, consumer and B2B advertising and branding strategies. He is a data-driven and technically savvy strategist skilled implementing, overseeing, and leveraging advanced data analytics. Matt is also a collaborative leader skilled at building and fostering productive partnerships with internal and external stakeholders. Outside of work, Matt enjoys traveling with his family and playing golf.