In case you missed it, Google is once again making noise in the recruitment industry with their official announcement of "Google Hire" yesterday--an employer-facing ATS platform--just weeks after the recent release of Google for Jobs, their job seeker-facing search feature.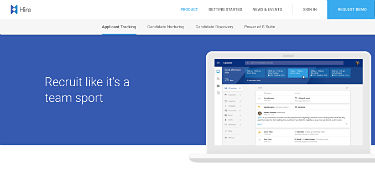 Those who need a refresher course on what exactly Google Hire is can refer back to our blog from May that took a look at the new web app when rumors first arose a few months back.
Readers who remember our first look at Google Hire probably also remember the buzz that ripped through the industry as information leaked from the rumor mill. Many believed that Google was out to disrupt the industry by introducing one ATS to rule them all.
But now that the recruitment tool has officially launched, we have a clearer picture of what you can expect from Google in recruitment (at least, for now).
That said, let's take a quick look at the top takeaways from Google's recent announcement.
Google is targeting its G Suite users--small to mid-sized businesses
With a business the size of Alphabet (Google's parent company), you'd expect that the search giant would be reaching for the stars as they enter the recruitment technology space.
However, to the surprise of many, Google said in their announcement that they would be targeting small- and medium-sized businesses--those with 1,000 employees or less, and in the US only (for now).
This should not be mistaken for Google conceding that it can't compete with already established players in the industry--it absolutely can. Rather, it shows that Google has built and tested Google Hire with the 3-million-plus businesses who use their G Suite product, in mind.
As you're probably already aware, G Suite is an affordable (and at times, free), cloud-based alternative to Microsoft's Office Suite--making it likely that many G Suite businesses fall into the small- to mid-sized category.
That said, major ATS providers who serve large, Fortune-500 companies need not worry about directly competing with Google Hire--yet. But they will need to closely watch how Google plays its cards and work on providing even better products to their current clients.
Google Hire is the final missing piece of the search giant's end-to-end ATS ambitions
Google Hire, on it's own, won't satisfy all of the tools and features you're probably looking for from an ATS--but that's probably because it's not supposed to. One of the main features highlighted in Google's July 18 announcement is that Google Hire directly integrates with G Suite.
The significance of these integrations should not be understated. Being able to integrate with other Google web apps like Google Docs, Google Sheets and Google Calendar can help provide small- and medium-sized businesses with a powerful platform, capable of features like:
Applicant email tracking through direct integration and syncing with Gmail
Easy scheduling through Google Calendar that allows for visibility into an interviewer's schedule
Data analysis and visualization through Google Sheets
This creates an affordable, albeit manual, approach to applicant tracking that will give smaller organizations better access to the types of best practices they need to execute against, if they want to grow and compete in a competitive talent landscape.
Be that as it may, a small- to medium-sized business could bolster Google Hire's ATS offering by pairing it with our free Recruitics Analytics dashboard. This would allow you to collect, analyze and report on your efforts, across all of your sources, without any manual data input or manipulation of spreadsheets required.
Google Hire distributes jobs, too
Up to this point, you might be asking yourself, "but, does it also distribute my jobs?"
The answer is yes, but at the time being Google Hire can only distribute jobs to a limited number of websites like Indeed, Glassdoor and Google for Jobs, directly from the Google Hire platform.
Google has mentioned in the past that partnerships like these are limited for the time being, as a means of maintaining quality control. This puts Google at a bit of a disadvantage compared to established competitors. For instance, the Recruitics Action platform can distribute to nearly every leading job boards, job aggregators and other employment sites. Having said that, we expect Google to expand their list for job distribution as the platform expands and adaptation grows.
One final note on job distribution. If you're wondering what Google for Jobs is, it's Google's answer to job boards, job aggregators and other employment sites. As we've discussed in the past, Google for Jobs allows Google to surface job listings directly within the Google search engine.
If you'd like to learn more about Google for Jobs, including how to get your jobs posted on their search engine, download our free eBook on Google for Jobs, today.
Conclusion
While many had let the initial rumors around Google Hire slip to the back of their minds, especially after the major announcement of Google for Jobs last month, the launch has brought this web app back to center stage in the recruitment space.
If you're in HR, talent acquisition or recruitment marketing, it's important to keep an eye on what Google is doing and to constantly be evaluating your current tech stack. Because, as the HR technology landscape continues to unfold, and job markets continue to tighten, the tools and applications at your recruiters disposal will be just as important as the recruiters using them.
To keep updated on the most important news affecting the recruitment marketing space, sign up for our newsletter today.
And, to learn more about Recruitics Analytics, the free recruitment marketing analytics dashboard mentioned in this blog, visit our website here or sign up for a demo today.