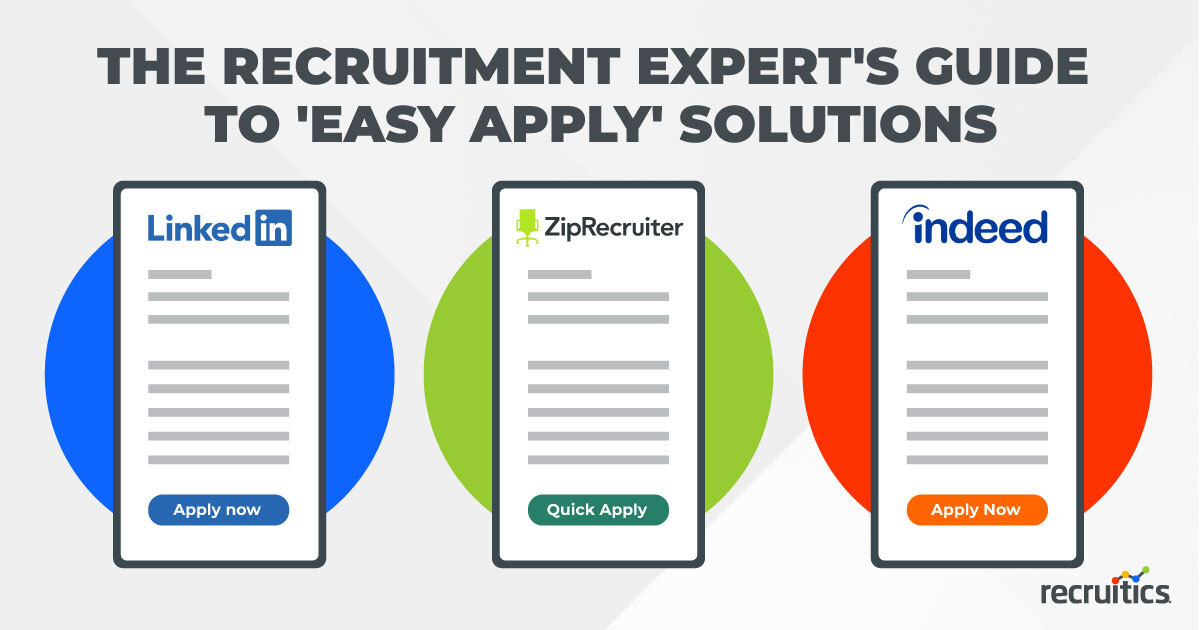 In their quest to combat fierce competition and successfully negotiate the current hiring landscape, companies are looking for tools and platforms to implement within their recruitment practices to help meet their hiring needs. Chief among these are any utilities that serve to expedite application and hiring processes.
Over the past few years, easy apply tools on job platforms have grown in popularity for many companies seeking new talent. These solutions streamline the application process, reducing barriers to completing applications and allowing job seekers to more quickly identify and apply to jobs they're looking for. On the employer side, it not only results in more applications, but more applications from potentially viable candidates.
There are appropriate parameters and best practices for utilizing easy apply, of which employers need to be mindful when interfacing with these utilities. If a company has good practices in place for easy apply, then their experience -- and that of their prospects -- will be positive. If a company does not have a good process in place, the experience can be fraught with frustration on both sides. What this means is that it's all about proper execution.
This article will detail what easy apply is, why companies should consider using it, and best practices to implement when employing easy apply solutions.
What is Easy Apply?
In most circumstances, when a candidate lands on a job board such as Indeed or ZipRecruiter, they see a job they'd like to apply for, click on it, and they're linked directly to the company's career page/area. From there, they are placed in the applicant tracking system (ATS) process the company has in order to actually fill out the application. This typically includes the standard information, including name, email address, phone number and -- more often than not -- a plethora of questions that the candidate has already addressed on their resumé.
Even though the employer is gleaning a lot of information from the candidate, the downside of this process is that it can take quite a while. It's not unusual for candidates to have to sit there filling out an application for 30 to 40 minutes. This can foster enough frustration that the candidate abandons the application. So, in the current environment where the labor market is highly competitive, anything that has the potential to reduce as much of that friction as possible in the process can help to ensure that employers are attracting as many candidates as possible.
In short, easy apply is essentially a way to bypass the traditional ATS process that candidates usually encounter when they're applying to a job online. It's a data-driven solution that's actually been around for several years, but which is being given a second look by many employers and job platforms in light of a number of factors, with the coronavirus pandemic and the increased competition in the job market being high on the list among these.
Easy Apply: How it Works
Easy apply utilities offered by Indeed, ZipRecruiter, and other platforms serve to bridge the gap between ATS processes and the difficulty of tracking direct job site postings. They allow candidates to circumvent the long application process and send their resumé, job board profile, or other information directly to recruiters or hiring managers. On the platform, easy apply jobs are typically labeled as such; with one click, applicants are able to fill out a short form and upload a resume from their previously uploaded profile. This has proven to be particularly attractive to users on mobile devices, since most candidates don't have a resumé saved on their mobile device, and the ability to contact a recruiter using their job board profile simplifies applying while on-the-go.
The information collected on easy apply is far more minimalist than normally found in ATS application systems. In many cases, the utilities just ask for a name, phone number and email, with some offering the ability to upload a resumé. While this disallows a lot of the information typically required by employers in the traditional ATS paradigm, it does increase the number of applicants. Additionally, a lot of companies have ways within their ATS to report on where their candidates are coming from (e.g., Indeed, Zip Recruiter, LinkedIn). This allows them to append tracking parameters after the fact so that they know which sites their candidates are coming from, so that they can better measure their ROI. With the proper ATS integration, employers can provide what's called a post URL to the platform. This way, the candidate's information is parsed and sent into either the company's ATS or CRM -- where recruiters can easily access the data.
Easy Apply Best Practices
Recruiting managers may wonder whether the ease of easy apply coupled with the minimalist approach to data gathering might lead to companies receiving a tsunami of applications from unqualified or under qualified applicants -- and that's where best practices come in. As mentioned earlier, without these, frustration on the part of recruiters and applicants alike is almost sure to arise.
Job Descriptions
When using easy apply, it's important to refine job descriptions so that candidates will perform most of the necessary self-vetting when reading them. For example, in healthcare, an organization looking for a nurse from a specific discipline (e.g., neonatal) will need to specify those parameters instead of simply posting a listing for an RN. If hiring managers are looking for someone to fill a middle management role or someone with a certain number of years' experience, these need to be mentioned in the job description as well, since hiring managers won't be able to ask questions of the applicant initially (as they could with traditional ATS).
Job descriptions need to be fully fleshed out, so that candidates can tell if they meet a job description's requirements at the outset. Failure to do so can lead to collecting an influx of applications from unqualified or under qualified applicants.
Tip: This real estate is a great opportunity to communicate compensation and benefits being offered for the role as well.
Mobile Compatibility
Since so many candidates are on mobile devices, a lot of them expect to be able to complete the job-seeking process on their mobile devices. Thus, it's important to make sure that all the IT integrations work on mobile. If hiring managers take the time to make sure the easy apply process is mobile-friendly, it'll increase the volume of qualified candidates.
ATS Integration
Another aspect to address on the IT side is ensuring that the ATS can handle the company's needs. The tech stack needs to be able to handle the volume required from the easy apply funnel. Also, hiring managers need to make sure that keyword parsing is set up to accurately shortlist qualified candidates.
Data Management and Outreach
Finally, ensure that there is a solid process in place for organizing and managing candidates' information, and a good way to reach out to them at scale. Part of this goes back to the ATS or CRM, but also involves efforts in the pre planning stage. If hiring managers don't have a good outreach process in place or if they don't have a way to manage all the leads that are coming in, they could wind up wasting a lot of money advertising jobs -- and possibly creating a poor experience for the candidates, many of whom can be customers as well depending on the employer.
--
Overall, easy apply is proving to be a great way to enhance the candidate experience while getting companies the applicants they're looking for. As such, it is becoming one of the most popular solutions among recruitment strategies. When executed properly, regardless of the platform, easy apply represents a speedy process for applicants to get their information in front of the right people without spending 30 to 40 minutes in front of an application.
Interested in implementing easy apply solutions for your company? To discuss easy apply or other recruitment strategies, contact Recruitics!
Posted by Michael Cheung

Michael Cheung is a Director of Marketing Strategy at Recruitics. Michael has been with Recruitics for just over 5 years, starting as a Marketing Coordinator and growing alongside the agency into his current role, now leading a team of marketers to deliver best-in-class service and expertise to our clients. Outside of work, you will likely find Michael reading business news between sets at the gym, playing video games, or exploring New York City for his next favorite restaurant.