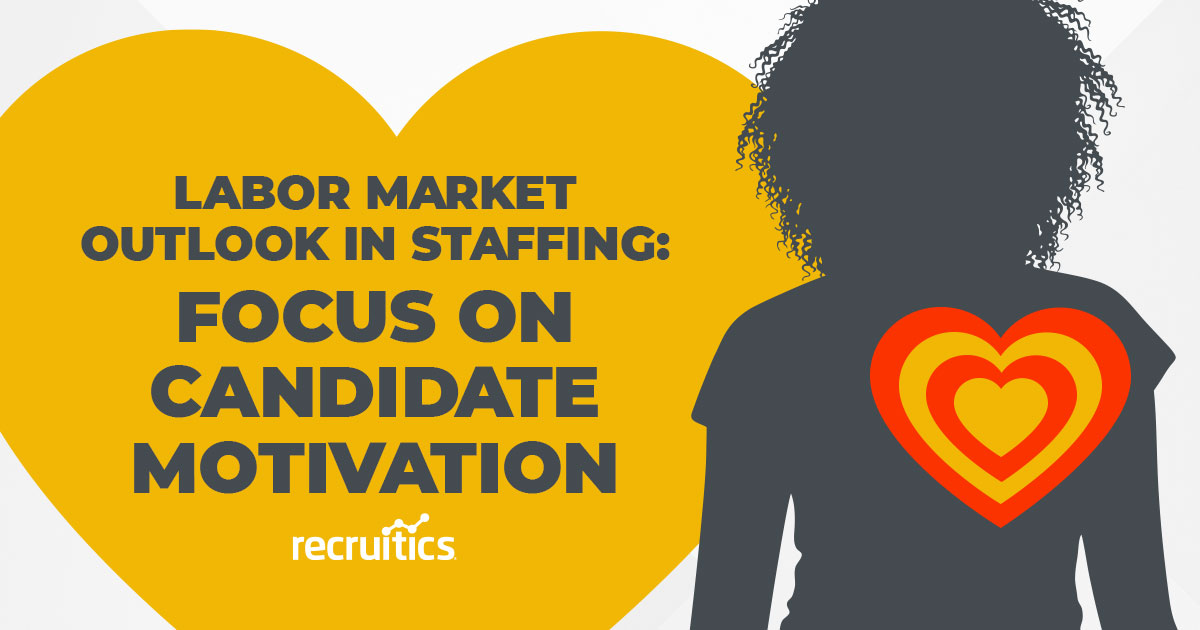 The labor market has undergone a significant shift in the last two years, and so have the employee benefits and company values that job seekers prioritize when evaluating new opportunities.
To effectively appeal to candidates in this evolving hiring landscape, companies need to understand what job seekers are really looking for, what they care about, and how to speak to these needs in their recruitment messaging. After all, in a candidate-driven market, job seekers will have plenty of other options to choose from if a company's offer doesn't align with their values and expectations.
Staffing firms can aid employers in reaching these objectives and provide education, as they can provide a broad overview of current trends across various industries. Staffing firms have access to valuable data that can be used to support insights about emerging trends and help talent acquisition professionals make predictions about the developments that may be in store for the market. Candidates' changing sentiments represent a new market demand, and if employers neglect to effectively communicate their value and benefits, then their competition will take advantage and emerge to fill that gap.
Read on to learn more about the shift in the candidate market and the importance of messaging in your recruitment strategy.
A Whirlwind of Change
Today, the workplace is undergoing a markedly accelerated revolution. In the 1950s and 1960s, employers were viewed by employees as akin to benevolent parental figures that looked out for workers to some extent – but needed to be paid similar deference. From the 1970s on, the relationship between employers and employees became far more transactional, and employee loyalty had to be earned.
In recent years, workers – particularly the Millennial and Gen Z workers who are coming into prominence in the workplace – have shown that they are placing an even higher value on work-life balance in their careers, some even above pay. Over the last two years, the impact of the coronavirus pandemic brought these issues to bear even more forcefully.
Candidates Have the Upper Hand
The unemployment rate is at historic lows, and candidate confidence is exceptionally high. At the end of April, there were 11.4 million jobs open, which employers are scrambling to fill. Candidates know they have the upper hand, and they're acting accordingly. Recently, Julia Pollak, ZipRecruiter's Chief Economist, called the current scenario "the mother of all job seeker's markets."
During the pandemic, millions of employees worked remotely due to lockdowns and restrictions. For many companies—even those that remained reluctant to adopt this paradigm—the pandemic proved the viability of remote work.
With this, many employees who had grown accustomed to the benefits of remote work were reluctant to return to an on-site work environment. Job seekers began to favor employers who offered remote or hybrid work. The pandemic also gave rise to the Great Resignation, the elevated rate at which US workers began to quit their jobs beginning as vaccinations eased the severity of the COVID-19 pandemic in the spring of 2021, amid a period of increased labor demand and low unemployment rates.
The Employee Value Proposition
In addition to remote and hybrid options, candidates are increasingly expressing their need to feel valued and appreciated, and this is something they're looking for even during the interview process. Many won't accept an offer if a prospective employer fails to showcase their intention to make the candidate feel valued.
As is now being widely acknowledged, making employees feel valued in their work is crucial because it can improve the workplace environment, individual and team performance, and help an organization reach its goals. With candidates doing more research on companies, employers must communicate how they're going to value a job seeker.
According to Indeed.com, these include offering adequate compensation, including fair base pay, health and wellness benefits, holiday and vacation pay, raises, bonuses and incentives, time off programs, retirement contribution matches, transportation reimbursement, and performance pay.
Employers must also communicate their commitment to benefits such as prioritizing work-life balance, corporate social responsibility (e.g. everything from DEIB initiatives to responsible stances on social and political issues), professional development, learning opportunities, and rewards and recognition programs.
The All-Important EVP
In the end, it comes down to an employer acknowledging and responding positively to the things that job seekers and workers value. And this comes down to the employee value proposition (EVP). With the proliferation of job postings and employers needing to invest and diversify in recruitment marketing and employer branding, a laser-focused candidate attraction strategy is paramount. This essentially entails employers finding common ground with candidates relative to their desires and needs and the organization's EVP.
Some best practices on how employers can create meaningful and engaging interactions with candidates, allow them to connect with their brand, and ultimately hire the best employees include:
Acknowledging the extent to which candidate sentiment has evolved, particularly over the last two years.
Acknowledging the values and the weight of the values job seekers now possess and responding decisively.
Being authentic by communicating in the language candidates use and the terms they understand.
Being to the point in all communications, whether in marketing media, interviews, or other forms of communication. This is particularly important in marketing media – candidates don't want to see over-produced, pre-scripted corporate boilerplate.
Developing a strategy for each type of media or platform. For example, different social media platforms and job boards serve different demographics, and employers must craft their recruitment marketing media to fit each.
Know where the audience is, and communicate with the candidates there. Being downright honest, open, and direct about what the company is and its values will resonate more with job seekers.
--
Staffing firms can push the concept (to employers) that providing these differentiators in their EVP is more crucial than ever before. In doing so, they can provide the greatest service to their clients in the current market.
If you're looking for more information on candidate motivation or any other workforce trends, reach out to Recruitics today!
Posted by Chris Satterlee

Chris Satterlee is a VP of Marketing Strategy at Recruitics. Chris attended Massachusetts College of Liberal Arts where he earned a Bachelor of Arts in English Language and Literature. He has held many positions at Recruitics in the past, including ​​Talent Acquisition Manager and Account Director. When he's not working, you'll find him playing guitar or reading a good book.