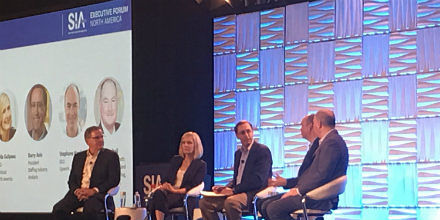 The annual Staffing Industry Analyst (SIA) Executive Forum North America (SIA #ExecForum) conference was held this month in Miami, bringing together CEOs, business owners and the top executives of staffing companies from around the world. The conference is one of the most important events for leaders in the staffing industry to come together to discuss the current and future state of the market, what economic and social trends to expect and to learn about new technologies affecting the way their businesses are driven.
The breakout sessions and presentations at SIA #ExecForum are designed to educate attendees on available knowledge and tools to become more efficient in their work and to obtain a competitive advantage in the industry. While Artificial Intelligence (AI) has definitely been a buzzword phrase in the technology community in recent years, the focus of this year's event was finally considering AI and analytics a primary focus for the staffing space, both of which are significantly transforming the staffing industry. More than half of the "Ideas in Action" presentations were focused on either AI, analytics or predictive technology platforms (which are actually driven by AI and analytics).
So, let's review a few of the top takeaways from SIA #ExecForum 2018, which focused predominantly on AI and analytics in the staffing space:
"The Power of AI in Recruiting," presented by Jobscience CEO Ted Ellison, focused on using AI to improve the relationship between candidates and recruiters. Ellison discussed the "triangle of trouble" in which data input by humans is fundamentally false. He also discussed how the growing necessity to rely on data for pattern recognition can lead to much more focused recruiters and can eliminate wasted time in a database flooded with unqualified or unreachable candidates.
"How to Increase Your Hit Rates and Margin Using AI," led by Brightfield Strategies' Chief Consulting and Business Development Officer Michael Benyamin and President/Chairman Jason Ezratty, focused on how machine learning improves efficiency. In particular, they offered a real case study in which one of their clients used their technology to increase the number of requisitions won.
"Recruitment Marketing Analytics: The Key to Increasing Gross Margin," led by Recruitics CEO Josh Gampel and Kelly Services' Recruitment Marketing Strategist Dennis Tupper, emphasized the importance of using data analytics to optimize job advertising performance to increase gross margin and realize better ROI. During this session, Kelly Services credited Recruitics' analytics, programmatic job advertising technologies and agency services with a very significant profit increase. After the conference, Recruitics held a drawing for 6 months of free agency services for those attending, and the winner was Staffmark!
"Data-Driven Job Ads: Transforming an Industry" was delivered by Jobs2Careers Vice President Cindy Songne explaining how the landscape of job advertising has changed and how technologies used to reach candidates must rely on data to drive the right candidates and make better hires. Jobs2Careers' new candidate attraction platform, On Demand Talent, relies on analytics tools such as Recruitics to deliver the most qualified candidates to their clients.
These topics are just a handful of many discussed at the Executive Forum, which was themed "Future Forward." However, in all discussions -- whether the topic was candidate experience, sales trends, business development or labor market skills gaps -- one key takeaway is that it is impossible to stay ahead of the curve without accepting new technologies or without relying on data to make more informed decisions.
Do you need an analytics platform to track and report on your recruitment marketing strategies? Sign up for Recruitics Analytics today, our free recruitment marketing analytics dashboard for staffing companies and recruitment agencies.
Posted by Jon Jewell

Jon Jewell oversees business development for Recruitics' Southeast Region. He is passionate about connecting people with solutions that make their lives easier and more profitable. Jon has an extensive background in the staffing industry, recruiting software solutions, employer branding and the job advertising space. Jon also served in the United States Navy onboard the aircraft carrier USS John C. Stennis in an executive administration role and as a security clearance officer for the Nuclear Reactor department as well as the Captain's Executive Office.