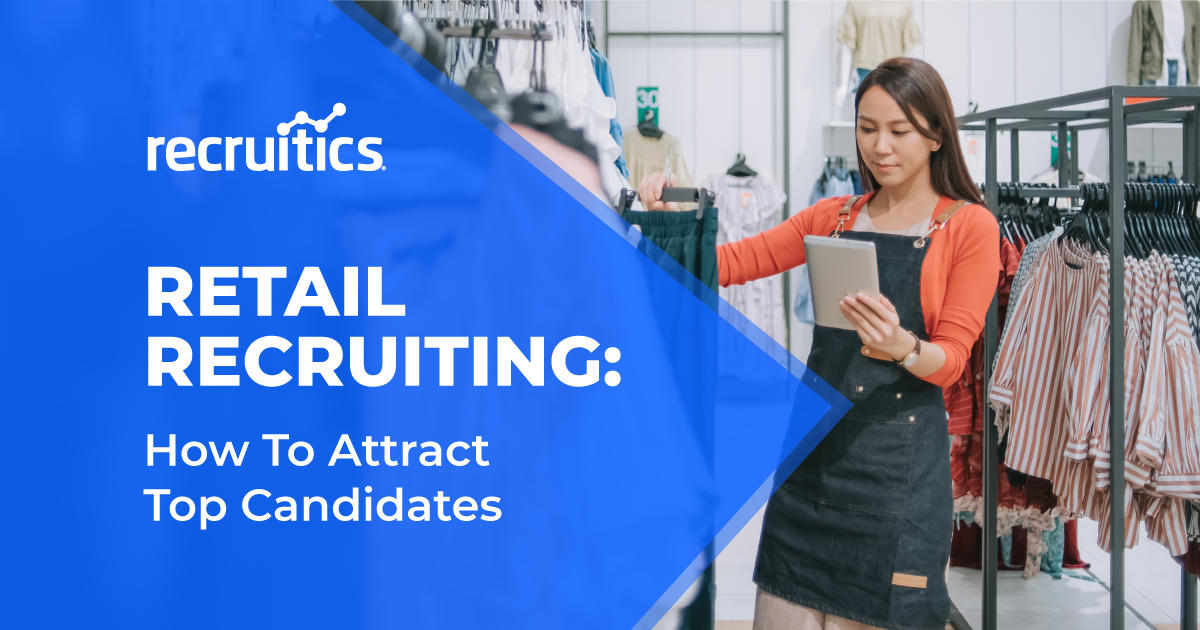 Hiring in the retail industry can be challenging. Not only do retail companies have to focus on combating the talent shortage, but they also have to fight against high turnover, low retention, application rates dropping, and more. This all gets exacerbated as we enter high-volume hiring season as well.
On top of the issues above, many retail companies have to hire many employees in a short time. Companies need an efficient and smooth retail hiring process to win top talent as we prepare for the high-volume hiring season.
If recruitment professionals want to boost their recruiting efforts and attract high-quality talent, check out these eight tips for creating a successful retail hiring strategy.
1. Highlight Employer Brand
Employer brand relates to how a company is perceived in the marketplace, which is why showcasing an employer brand is one of the most essential steps of the hiring process – and this step begins way before job seekers even apply! Companies need to share what their company is like and showcase the organization out into the world. Employer brand lives and grows from past and present employees, which is why this is an area companies need to remain focused on – since maintaining an employer brand never ends.
This is where recruitment advertising comes in, since companies need to use specific messaging to help attract the kind of prospects they're looking for. To hire top talent in the retail industry, recruitment professionals should advertise how a position in the industry can benefit job seekers, from developing their careers to working for a company with an excellent workplace culture. Use messaging and advertising to demonstrate to the world how the company is invested in the success of their team and their experience, now and into the future.
A clear employer brand can attract top talent and will be an asset when paired with the other recruitment strategies below.
2. Update Job Descriptions TO Highlight Benefits
With the updated employer brand, companies can begin to look into their job descriptions. A well-written and transparent job description has become necessary in recent years, especially in this hiring market. Job descriptions are supposed to share with candidates information about the company and what it takes to be successful. Candidates might be driven away if the description includes unnecessary job requirements or uninclusive language.
Ensure all roles showcase all the required responsibilities, but most importantly, the soft skills and personality traits needed to be successful. Experience, soft skills, and candidate potential will matter most for roles in the retail industry.
Once job descriptions reflect the role and what hiring managers are looking for, implementing a programmatic advertising strategy will be helpful. For many retail companies, they will have positions across the US. Programmatic will allow companies to hire at scale without compromising the quality of candidates.
Bonus: When attracting talent, it's beneficial to highlight the company's benefits in the job description to showcase what's in it for the candidate and why they should want to work with the company.
3. Easy Application Process
Along with updating job descriptions, hiring managers should look into how the application process flows. To elaborate, before sending the job postings out to the world, recruiting professionals should walk through their own application process to see if anything is redundant, can be removed, or is making it hard for job seekers to apply. If an application is too long or has hiccups throughout, many candidates will abandon the process and move on to a job that is easier to apply to.
Consider implementing easy apply for roles, which allows candidates to circumvent the lengthy application process and send their information directly to recruiters. Also, ensure the application process is mobile-friendly, since many candidates are applying while on the go.
Also, many retail candidates still seek applications in-store, so one way to have job seekers apply in person is to have a QR code to scan that sends them right to the career site or application.
4. Invest In Marketing
Companies should look to update their marketing materials if the steps above are updated. These materials need to reflect who the company is, the kinds of applicants they're seeking, and the open opportunities. Building a strategic media plan to reach the right candidates, both active and passive, will be important – especially with high-volume hiring season coming up, competition will be as fierce as ever.
If marketing materials do not reflect where the company is currently, then candidates will have different expectations about the company and the role they're interested in – which can result in candidates' expectations not being met. Companies need to ensure the expectations they're setting about the job, its requirements, or information about the company is 100% accurate when interviewing prospective talent. If expectations aren't met, there's no incentive for an employee to stay, which can result in a candidate leaving the position after a short period of time.
5. Go Beyond Traditional Interviews
Retail is very different than many other industries, and because of this, the retail hiring process should reflect that. Instead of using dated hiring practices, think about going beyond traditional interviews or recruiting tactics. This can include group interviews, open interviews (as in holding specific times where all interested applicants can come in store, submit their application, and get interviewed by the company), applying on the spot, referrals, etc.
Other ways to go beyond traditional methods are to have candidates walk the sales floor to see how they act, role-play situations with customers, or use a personality test to get to know the candidate. These methods allow companies to get creative and gauge if the candidate has the right skills and personality needed for the position and will be a right fit for the company in the long run. As we've mentioned before, experience or candidate potential is valuable, so these interviewing methods allow companies to hire for attitude and train for skill later.
6. Make Quick Hiring Decisions
Since every retail company will compete with one another over the same talent pool, it's important to follow up with candidates about whether they receive the position or not. Having candidates in limbo is not only supporting a negative candidate experience, but is unpleasant to experience – and this can lead to candidates no longer wanting to be customers. If candidates don't hear from a company quickly, they will move on to another opportunity. To attract top talent, speedy communication is essential.
7. Never Stop Recruiting
It's not uncommon for companies in the retail industry to face some turnover, so to combat this, hiring professionals should never stop recruiting. This way, qualified candidates can keep sending in their applications, and companies can build their own database of potential talent. This ensures their pipeline is full, and if there is a new opening at the location, hiring professionals have talent at the ready to fill it.
This also helps with retention, since when it's time to hire employees for new positions or start hiring for seasonal work, there will be ample available candidates at the ready.
8. Motivate Current Employees
It's important to understand candidate motivations when looking to hire, and one major benefit for the retail industry is flexibility with scheduling. Flexibility helps increase productivity, motivation, morale, loyalty, and retention. It also helps with maintaining a work/life balance – which in turn helps the well-being of employees. This will empower the team to do their best work while on the clock, allowing candidates to find work that fits their lifestyle, and ensuring they're happy in their current role.
Showcase these bonuses or perks for working for the company in recruitment advertising practices.
—
A smooth recruitment process is crucial when ensuring your candidate experience is top-notch. Remember, many of your applicants are most likely customers, so it's important they have a great experience with your company!
If you're looking for ways to create a winning recruitment strategy, reach out to Recruitics today!
Posted by Katie Cooper

Katie Cooper is a Director of Sales at Recruitics. Katie is a Saint Mary's College of California alumna where she earned a degree in Business Administration and Management. Katie is a leader in recruitment marketing strategy, and when she's not planning and executing successful marketing campaigns, she's instigating impromptu dance parties in the office.