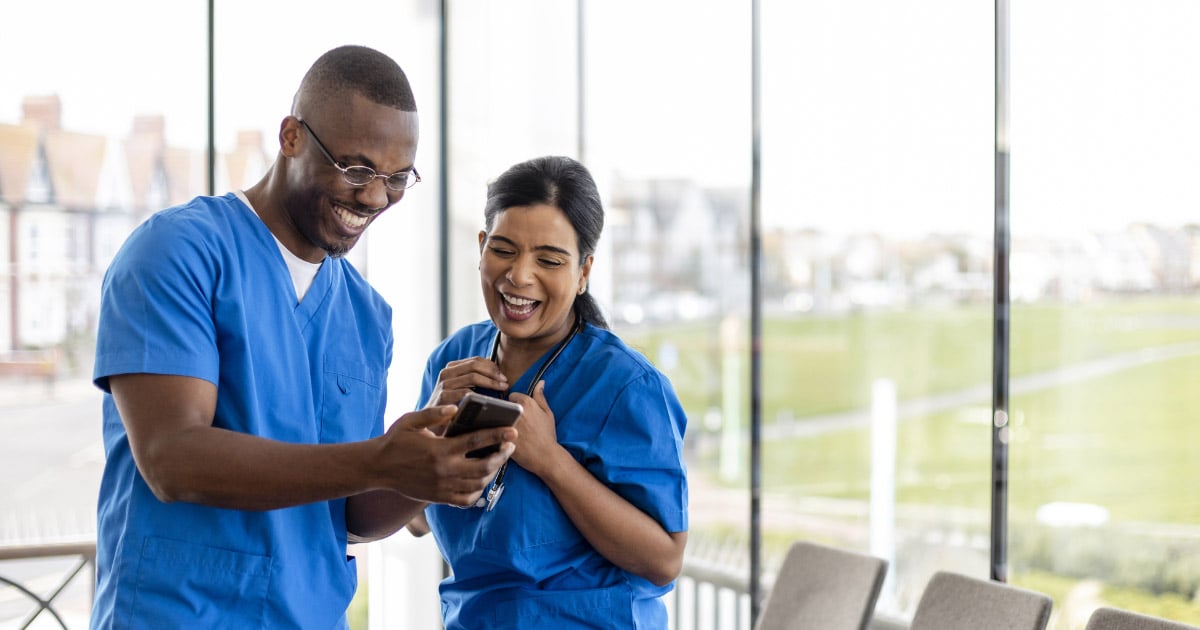 TikTok has grown in popularity, with the average adult user in the US spending 45.8 minutes a day on the app – which makes it clear that employees and job seekers alike are engaging with the content created on the app. TikTokers come to the app to build connections based off of shared experiences, from being silly and fun, to educational and professional – and anything in between.
Healthcare workers are among the vast communities on TikTok. Take a look at the #nursesoftiktok, which has over 11.2 billion views! These employees love to engage in the latest trends, share their employee experiences, and engage with other professionals in the industry on the app.
If hiring professionals are wondering what the significance of creating content on TikTok is, searching content tagged with industry-related hashtags is a great way to check out the communities and their stories. Here are some hashtags related to healthcare:
Source: @leannezequeira
Source: @annmarie.mm
Source: @lissa28_5
With such a wide array of workers and job seekers using TikTok, healthcare companies are able to interact with the audience in many ways. Read on to learn how a company can successfully implement TikTok into their recruitment strategy.
What To Consider
A key way for companies to be successful is to know where their audience is – and spoiler alert: they're on TikTok! Healthcare companies need to recognize that people are spending time on the app. If hiring professionals are interested in multi-generational audiences (with 47% of TikTok users between ages 10-29 and 42% of users aged 30-49), then they need to align on how to create content that's authentic and effective.
With users in key markets (US, UK) spending around 24 hours every month watching TikTok content, it showcases how healthcare companies can appear on users' "For You" pages.
Tip: Creating a TikTok content plan is a big undertaking, so healthcare companies need to strategize, plan ahead, and partner with the creative department or a platform to help ideate and execute content.
Ways To Be Successful While Using TikTok
There are things to keep in mind when building a TikTok strategy. But one of the most important pieces of advice is "don't make ads, make TikTok's." TikTok shares that this is an "invitation to be more creative, more authentic, and to create content that truly speaks to people" – which is what job seekers are looking for when vetting companies!
Also, healthcare companies should look into their target market and follow popular influencers, which can help identify popular trends for the company's target audience. Once a company understands where the audience is and the content they're engaging with, they can create content that aligns with the users.
Along with the above, here's other advice when preparing a content strategy:
1. Lean Into Trends And Sounds

One way to be memorable to an audience is to create content they're already seeing or are interested in, and a way to do this is by leaning into trends and using TikTok sounds. Companies can use the music not only to show their personality, but share a message with their audience – but with a new storytelling dynamic. Instead of having an ambassador speaking directly into the camera, trends and sound effects are more engaging, can humanize a brand, help engagement, and keep the conversation going.
Source: @steveioe
Source: @nurse.johnn
TikTok is an algorithm-based platform, with a number of factors for getting on the "For You" page such as liking or sharing videos, comments, and content created. The algorithm looks at video information like captions, sounds, and hashtags to find similar content to help push similar content to viewers' feeds. This is why participating in trends or using trending sounds can help push a company's videos out to new users.
Tip: Ensure the company is using royalty-free music or gain the license before creating content. Tapping into these sounds is a way to be discovered, so it would be unfortunate if the video gets taken down!
2. Stick To 15-Second Videos

Even with TikTok expanding their maximum video length to three minutes, and for some ten-minute videos, companies should aim for brevity with their content.
With TikTok, it's essential to capture the audience's attention quickly. The app is fast-paced, and viewers often do not want to sit through a long video to obtain information. This is why it's important to convey the essential information in digestible bites, and ensure the nuggets are enough to hook the audience.
Attention to detail goes a long way, so if the company uses creative sound, trends, captions, and more, they'll capture viewers' attention.
3. Reference Marketing Materials

It's a great idea for healthcare companies to review their marketing materials and ensure the content they're creating aligns with the values and messaging of the company. Ensure the team isn't showing anything they shouldn't and is effectively showcasing the company's mission statement, culture, and any other information correctly.
4. Utilize Employees
Having trouble getting content? Lean into brand ambassadors.
Users on TikTok want to hear real stories from people they can relate to, so if they're already following or have seen videos from a teammate, lean into it! This can help strengthen team spirit to get people interested in participating in employee-generated content.
If a healthcare company is having trouble creating content, talk to the team and see who's savvy on TikTok or who's already posting and see if they'd be interested in becoming an employee ambassador.
Companies should look into hashtags of the company, careers, or industry to see if their employees are posting – or to check in on the type of content that is being made in the space.
Tip: Engage with influencers in the space. Nurses are on TikTok engaging with content and having fun, so finding an influencer whose audience and values align with a company's can help create more authentic and engaging content.
5. Keep Confidentiality and Safety In Mind
Creating content can be so much fun for employees. However, healthcare companies must remember that security and safety are essential. This means ensuring all teammates have personal information (badges, name tags, etc.) put away and there are no patients present.
Keeping their information safe is important even if employees want to be brand ambassadors.
Three Benefits Of Using TikTok Ads
1. Generate Leads
TikTok ads are an excellent way for companies to expand their current audience pool. Advertising on TikTok allows companies to generate a substantial volume of impressions at a low CPM, which helps to build brand awareness. To help capture interested candidates' information, it's recommended to test the TikTok Lead Form. This ad product allows advertisers to create a custom form within the TikTok platform that links directly to the sponsored video, making it very easy for candidates to express interest! These forms allow for the addition of copy & images to brand the form, and even customizable questions to help vet the candidates (ex: What nursing specialty are you interested in?).
Check out how Recruitics helped CVS Health launch successful Lead Generation campaigns on TikTok!
2. Promote Hiring Events
Promotional strategies are crucial for the success of events, and TikTok is a great way to boost a company's hiring events. TikTok has a unique capability to target users based on their recent engagement with specific content categories. This means that hiring professionals target active users who may be interested in a company or an industry.
With this, companies can drive traffic from a TikTok video back to a registration page and increase the likelihood of obtaining registrants.
3. Boost Organic Content
If a company has a TikTok page or is currently building up their page, they can drive users to their account by creating organic content. This helps grow the number of followers and boosts engagement. TikTok calls this ad format Spark Ads, and it helps boost organic content and has the option to link to an external landing page, lead form, or the TikTok profile.
Another way to gain organic traction is by tailoring the content made to match TikTok's algorithm. Before companies create a content plan, they need to consider that the content needs to attract the target audience and cater to the platform itself. This can mean tailoring the content to match the algorithm by creating fifteen-second videos, since users are more likely to watch a shorter video. Also, if companies want the users to take action, ensure the content directs back to the bio link.
Tip: Consider launching a follower campaign that drives back to the careers profile. This is an easy way to reach new audiences and help build up the follower counting – which allows users to act and engage with the page without disrupting their scrolling.
Moving Forward
As TikTok continues to be a platform to watch, recruitment teams should look into expanding how they engage with the platform. Remember: TikTok is a perfect platform to entertain and educate viewers. This is why hiring professionals should think outside of the box for their social recruiting strategy. With over one billion active users worldwide, TikTok is definitely a place to "learn, laugh, or discover something new."
If your healthcare company is looking to spruce up its recruitment marketing strategy, feel free to reach out to Recruitics!
Posted by Melissa Van Dyke

Melissa is a Director of Paid Social at Recruitics, where she brings her passion for social media to the table on a daily basis. She puts her fun personality into each custom campaign she creates. (You've probably seen a few on your Facebook feeds!) Melissa is a Saint Mary's College of California alumna where she earned a Bachelor of Science in psychology and a minor in business administration. Outside of work, you can find her either attending country music concerts or binge-watching reality TV. Melissa is as dedicated to her clients as she is to the Real Housewives franchise.