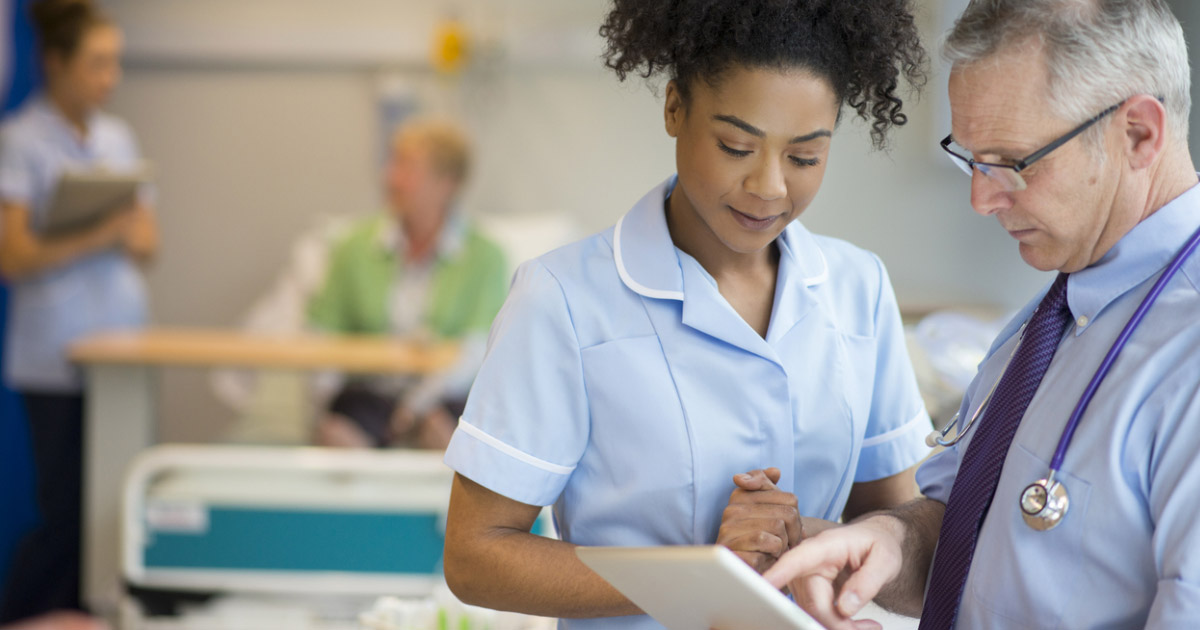 Finding passionate, skilled, and quality candidates can be a hard feat for any company, but many healthcare organizations face hiring challenges they've never anticipated due to the lasting effects of the pandemic.
The United States Bureau of Labor Statistics projects that healthcare occupations are projected to grow 16% from 2020 to 2030 – which is about 2.6 million new jobs. Also, for registered nurses, employment is projected to grow 9% from 2020 to 2030, about as fast as the average for all occupations. Also, a study shares that 34% of nurses are planning to leave their current roles by the end of 2022.
To combat these market challenges, healthcare companies must be agile and ready to try new recruitment tactics – or even dig into their processes and update old strategies. One of the first steps in revamping a recruitment strategy is to review and refresh the employer brand.
Remember: companies can guide and influence their employer brand through messaging. However, they cannot be in total control of it. Employer brand relates to the external reputation and image of the company as an employer specifically – as in what people and employees think about the company, not what the company feels about the company.
Read on to learn the importance of employer branding and what healthcare companies can do to create an employer brand that stands out from the competition.
The Importance Of Employer Branding
Job seekers research companies before applying, using social media, company profiles, career sites, and more to learn about a company's mission, values, and culture. Because of this, companies need to ensure what they're sharing with the world is an up-to-date reflection of their employer brand.
The employer brand of a healthcare company allows hiring professionals to clearly express the health system's values and offerings, ensuring potential candidates understand what it's like to work at the organization. This allows companies to engage the right people while helping unfit candidates seek a job elsewhere.
When candidates search for a job and can't learn why they should join an organization over the competition, that company will have lost the ability to engage with the candidate, and now they will be looking at the competitors who have a strong EVP/employer brand for work.
With a solid and reputable employer brand, companies can stand out against competitors, attract higher-quality candidates, and boost their credibility and trust with job seekers.
How To Revamp Recruitment Strategies
Employer brand plays a critical role in keeping current employees on board and helps attract newly available talent exploring the market. Here are eight ways to update a recruitment strategy to attract top healthcare talent:
1. Showcase Employer Brand During The Entire Funnel
This seems like a no-brainer; however, if an organization doesn't showcase what makes them unique throughout the entire funnel, candidates could become disinterested – in reality, many organizations are hiring, what makes one company different than the next?

There are so many touch points to show job seekers what they're looking to learn about the organization: from what it's like to work there, to the perks, and why they should pick a company above others. Having information throughout also helps candidates receive information in a steady stream and be well-informed about the company and their decision – since the candidate is receiving information as they progress through the funnel. If not, healthcare companies can lose quality talent, making hiring even more difficult for recruiters.

This can help recruitment teams attract the right talent, allow candidates to understand the company's purpose and values, and allow companies to be authentic and visible.

2. Create Personas
When diving into a recruitment strategy, healthcare companies should also create candidate personas, or fictionalized characters created to represent a pre-identified candidate type. These personas are created based on the behaviors, goals, and challenges of a group of job seekers and help recruitment professionals gain a deep understanding of their target audience. Candidate personas help recruiters understand their audience and attract candidates through targeted messaging and branding.
This is an important step for healthcare professionals because, for example, what attracts nurses is very different from what attracts a radiologist. Candidate personas help hiring professionals understand the interests of the candidates, create customized content based on their interests, learn what values resonate with them the most, how to reach the right job seekers and receive higher-quality applications, and more.
Personas also boost employer branding efforts by increasing candidate awareness and improving the candidate experience. Remember, focusing on the company's employer brand positively impacts existing employees as well as prospective ones, so it's essential to tailor content to what the audience wants!
3. Revamp Online Presence

When auditing and updating an employer brand, it's also a great idea to look at the company's website, career pages, and social media/employer profiles to understand if the correct information about a company is being showcased effectively. Meaning, do the social media platforms share what the team's culture is like? Do the job descriptions allow job seekers to envision themselves at the organization and understand what it takes to be successful in the role?
Hiring professionals should review each platform to ensure the employer brand is being communicated to what it currently is, not what the company hopes it to be one day. Being authentic about the brand can attract high-performing talent, increase employee morale, and showcase the company's commitment to its people.
Tip: Hiring professionals should make sure they're communicating consistently across all platforms. Posting consistently offers valuable opportunities for companies to showcase their employer brand and connect with prospective talent – since companies will be meeting talent where they're at (i.e. on whatever platform the candidate is active on).
4. No Blanket Statements

Every company will boast that they're the best to work for, have the best culture, etc. However, to attract top healthcare talent, companies should go beyond blanket statements and go into detail about what makes the company the best.
One way to do this is to let candidates know what a day-to-day would be like working for a company. This can include information about the positives and negatives of the job and what qualifications candidates will need to be successful in the role. It's vital for hiring professionals to go deep and accurately represent what the job is really like during the hiring process. This ensures candidate expectations are being met and candidates won't have any false expectations about the role.
The more details a company provides, the better candidates will be able to understand the company – which will help attract more candidates.
5. Show Company Values in Content
Candidates are interested in learning what it's like to work for a company and are looking to hear from employees they could work with – which is why companies are investing in recruitment videos. These employee-generated videos allow candidates to see authentic and transparent stories from employees about their experiences at a company.
Employee-generated videos allow companies to build authentic connections with their audience and allow candidates to get a peek behind the curtain so they can envision themselves at the company. These videos are impactful because they feature real people and can boost a company's employer brand efforts by giving employees the platform to become advocates for the brand and amplify the brand message.
When planning employee-generated videos, ensure healthcare professionals highlight the organization's values, commitment to patients, career progression, diversity initiatives, teamwork, and accountability. The audience craves authenticity and transparency, and recruitment videos allow a platform for teammates to advocate for the brand and connect with other like-minded people – which can help attract candidates and humanize the brand to patients.
6. Highlight Training Opportunities
Many candidates want to see that they have the opportunity to learn and grow at a company. Recruiters who share professional development opportunities with candidates will not only increase the chances of hiring a candidate, but could also find a candidate who is willing to grow with the company. This is essential for healthcare companies – since many candidates are willing to jump ship if they do not see a clear growth path.
This would be a great time to audit the employee value proposition (EVP), since this defines the value employees can expect to receive from the organization (career development, training opportunities, etc.), as well as the value they are expected to contribute (the commitment to growth).
7. Showcase Diversity, Equity, Inclusion & Belonging (DEIB) Strategies
Candidates are very interested in identifying whether an organization's views and values align with their own, and this is becoming an essential step in the decision-making process. This is why showcasing a company's DEIB practices is important.
Hiring policies should be up-to-date and reflect the company's current culture and commitment to DEIB strategies. Prioritizing DEIB can help improve trust, empathy, and strengthen connections. This can also create a welcoming environment where individuals are respected, celebrated, and have equal opportunities for growth and advancement. Healthcare is a hard industry to work in, so it's essential for candidates and job seekers to feel comfortable and supported by their teammates and employers.
8. Create Content For Different Audiences
When crafting content, be sure to keep in mind the audience that is being targeted – and customize content to engage with different audiences. To elaborate, if companies are looking to hire recent college graduates, hiring professionals might tailor the copy of the content to mention workplace well-being or flexibility. However, companies looking to hire more seasoned staff might tailor the message to showcase growth opportunities or healthcare benefits.
There isn't a "one size fits all" approach to hiring from multiple generations or different talent pools. Companies need to understand the role's needs and the audience they're seeking and alter their content accordingly.
Moving Forward
Passionate healthcare talent helps keep companies alive. To keep this up, companies need to realize the changing candidate sentiments and understand that workers want to feel respected, see career progression, and know that the safety of the patients is equal to the safety of employees during these still uncertain times.
When healthcare companies focus on nurturing their employer brand, they will attract and retain top talent. Many candidates do not want to work for companies that don't align with their values, so it's essential to have a strong employer brand that allows talent to see their fit in the company.
If you're looking for assistance with revamping your healthcare recruitment strategies, we'd love to help!
Posted by Michelle Sargent

Michelle Sargent is VP of New Business & Partnerships at Recruitics. Michelle has over 30 years of recruitment marketing experience. Her extensive knowledge comes in handy when providing strategic solutions for our Fortune 100 & 500 Global Accounts. Michelle is also instrumental in bringing new clients onboard the growing Recruitics client roster. She also considers herself an extension of her clients' talent acquisition team and enjoys all aspects of working with her clients, from employment branding and execution to candidate attraction and experience.