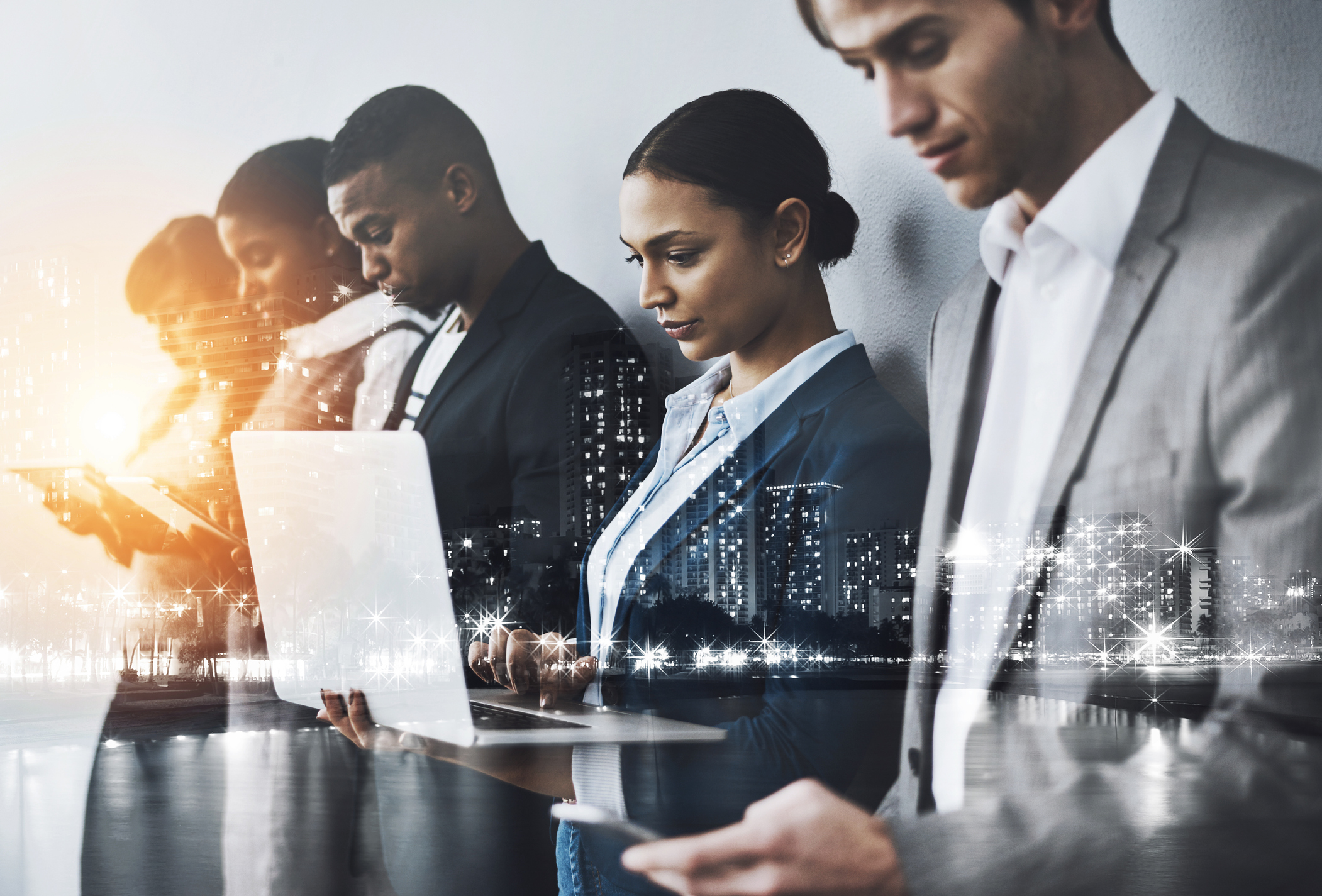 As a serious recruitment professional, you know that every marketing effort counts. That's why you are probably interested in using the latest technology to bring talent in before the competition does. One highly effective way to attract talent is programmatic job advertising, which harnesses the power of smart data technology to optimize the performance of job ads.
Programmatic Job Advertising for Recruitment Marketing
If you have not heard of programmatic job advertising before, here's a quick lesson on marketing 101 (where this originated). Performance-based media, or programmatic buying, has been around for quite some time. In fact, you may have heard of it referred to as pay-per-click (PPC) or affiliate marketing. Essentially, someone (advertiser) pays someone else (publisher) when a specific action is taken with their advertisement (click or conversion).
According to recent statistics from Gartner, companies are spending 11.2 percent of their annual marketing budgets on digital advertisements, stating, "Marketing technology is the single largest area of investment when it comes to marketing resources and programs". Magna, the research arm of media buying firm IPG Mediabrands reported that, "Digital ad spending reached $209 billion worldwide, and that by 2020 it will take over half of the media market."
What does this have to do with recruitment? In the simplest sense, every ad is evaluated based on its performance. Advertisers and affiliate marketers can see how each ad is performing and if it's generating click-throughs and converting to sales. Recruitment marketing also generates data on how well job advertisements are performing. This data tells recruiters a lot about candidate behavior, preferences, and if the job advertisements are getting results. Translated in recruitment terms -- is the company getting a good number of applications from qualified candidates cost-effectively?
Let's create a structure for this type of recruitment and how it can boost your efforts. First, you'll need to know…
The different types of media used in recruitment marketing
How performance-based media is bought and sold
What programmatic job advertising is
Now that you have a context for programmatic job advertising, it's important to understand that it's always evolving as technology expands. There are some differences in the various versions of programmatic job advertisement you should be aware of.
What is Programmatic Job Advertising 2.0 versus 1.0?
Before selecting a recruitment marketing solution, it is critical to note that there are some differences that can impact the performance of your job ads.
In 2012, we pioneered the initial programmatic job advertising technology as the first of its kind in the recruitment industry. This 1.0 version of programmatic job advertising is a mature technology that powers a rules-based optimization of job advertisements based on performance metrics. By using programmatic 1.0, a recruitment marketer can achieve optimization by using statistical rulesets to define job advertising segments. Using this approach, jobs are segmented according to each job's properties and its performance metrics collected by an analytics platform. Bid and vendor selection rules are then applied to each segment to determine the job ads distributed at any given time. Essentially, this is a reactive method of increasing the performance of job advertisements, and it can take time to gather the data needed to improve job ads.
In contrast, Programmatic job advertising 2.0 is made up of a set of new and emerging "smart" technologies that expand the programmatic recruitment marketer's capabilities. Machine learning enriches job data using learning-powered classification models. Aggregate data is leveraged by machine learning to predict the performance before jobs are marketed. Programmatic 2.0 is a predictive and proactive method of improving the performance of job advertisements, rather than being reactive.
Supply and demand based buying models are now the norms, and optimization is being achieved to a degree and at a scale that was previously impossible.
Although both types of programmatic job advertising work towards the same goal, to achieve better results (high performing job advertisements), Programmatic 1.0 and Programmatic 2.0 approach things very differently. Consider the cost savings of knowing ahead of time how a job advertisement will perform, and having a tool that can essentially reduce waste by shutting down low performing advertisements.
In addition, Programmatic 2.0 extends the reach of the demographics that recruitment marketers want to target. Presets can control when an ad is getting excessive clicks or if an ad isn't getting enough clicks to bid more. There are so many variables with every job that recruitment marketers must be constantly aware of -- everything from job type, skills, location, market conditions, and even unemployment rates. Programmatic 2.0 allows recruitment marketers to stay on top of these factors so that their job advertisements are performing better than the competition.
Programmatic job advertising 2.0 is not designed to replace human recruitment marketers, but to support data-centric recruitment decisions. This helps make the management of multiple job advertising vendors -- job aggregators and job boards -- easier by consolidating everything in one place while improving overall recruitment marketing efficiency and cost-effectiveness.
Who Should Use Programmatic 2.0?
The best use of Programmatic 2.0 is for large companies and staffing firms that do high-volume hiring at scale, and especially those that have difficult-to-hire positions. Startups with critical supply-and-demand-based openings also find this to be a great way to manage recruitment effectively.
Small to midsize companies may find some value in using Programmatic 2.0 also, but if you're hiring for just one or two positions per month, it may not be as impactful on the budget or time. However, an organization in this size range that is rapidly growing and recruiting or has high turnover rates should consider using this as a solution.
Programmatic job advertising 2.0 is a clear advantage to recruitment marketers, making your efforts more efficient, cost-effective, and giving you better results. Smart recruitment is transforming the way we attract and hire top talent like never before.
If your organization would like to learn more about the advantages and features of Programmatic Job Advertising 2.0, you can download the 'Six Benefits of Programmatic Job Advertising' or get in touch with us. We'd love to hear from you.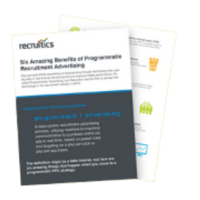 Posted by Emily Tanner
Emily Tanner is no longer with Recruitics. During her time with us as VP of Marketing, Emily worked on both the client and business side of marketing, partnering with top enterprise customers on their talent acquisition and recruitment marketing strategies as well as developing inbound content marketing plans, paid advertising campaigns, and lead generation initiatives for Recruitics. A true data nerd at heart, Emily finds joy in analyzing deep performance metrics and finding the story in the numbers. When not working on marketing strategies or in Excel documents, you can find Emily hanging with her husband, two sons, and their dogs.