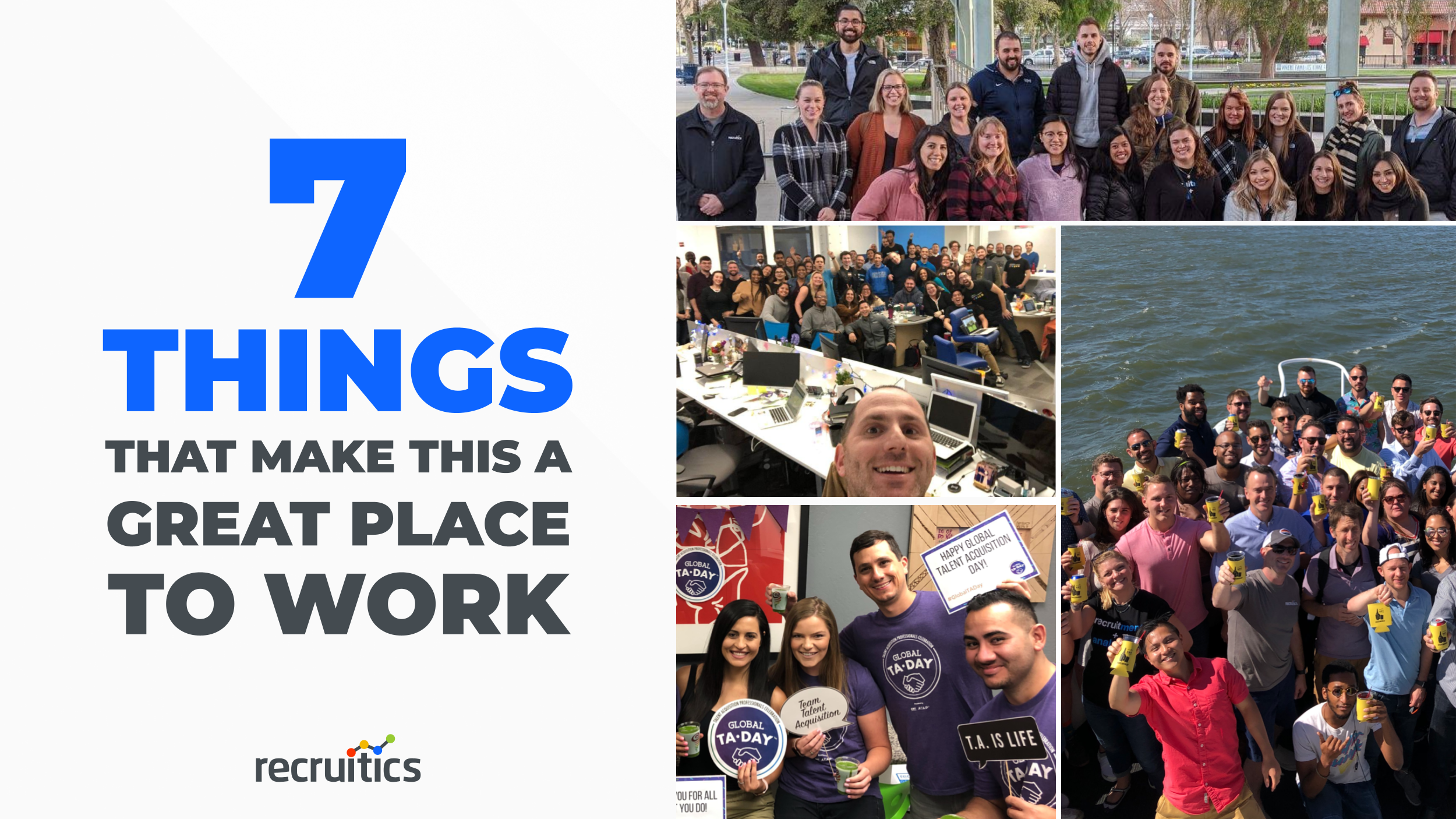 Recruitics was founded in 2012 with the industry's first recruitment marketing analytics, analysis, and programmatic buying platform. From then, we've grown and evolved into the industry's leading provider of talent attraction solutions for the Fortune 1000.
At our core, our mission is to make it easy for the world's leading brands to attract and hire great talent, but we know that delivering great work for our clients starts with creating a positive and supportive environment for our employees.
If you're a data-driven innovator with an entrepreneurial spirit who is interested in a career in talent acquisition and passionate about helping others, learning new things, and finding creative solutions, we want you to be part of our growing team!
If you're job hunting and wondering why you should work at Recruitics, we've compiled a list of 7 great things to consider.
1. Flexibility and Other Perks
Recruitics is built on an entrepreneurial spirit, where you work with bright and passionate individuals to help grow the business. We take our jobs seriously, but more than that, we have a fun group of people who love coming to work with each other every day.
With everything going on, we are creating the best possible work from home experience we can, and our current virtual work environment has allowed us to be flexible and support our teammates as we work through this time. Creating this temporary WFH environment -- often featuring brief interruptions from family, kids, or pets -- also allows us to keep operating while supporting each other and our work/life balances. For many of our teammates, being able to work from comfortable and familiar places (like one's home) makes everyone more relaxed and able to focus on bringing their best selves to work each day.
Also, with the transition to remote work and the increased number of back-to-back Zoom meetings, we have made mindfulness a priority by shortening meeting times, allowing employees the opportunity to take a break between meetings, clear their minds, and step away from the computer.
When we go back to the office, we allow casual (work appropriate) dress and have pet-friendly offices (yes, we love having office dogs!). To keep connected with our teammates in different departments, our leadership team hosts bi-weekly All-Hands meetings that are interactive -- which gives us the ability to celebrate the successes of people and teams across the company.
In addition to standard health benefits, Recruitics also offers unique perks such as Summer Fridays, Fall Fridays, and other wellness benefits such as in-office trainer-led boot camps, massages, etc.
2. Our Growing, Award-Winning, and Innovation Team
We have a collaborative and communicative culture at Recruitics, and we take our job as a top employer seriously. But don't just take our word for it, we've also been recognized in the industry. We've received Comparably awards for "Best Company Culture," "Best Company for Women," "Best Company Leadership," and more. We are honored to be acknowledged and continue to ideate, develop, design, create, optimize, strategize, and think outside the data and technology to create talent attraction solutions.
In a recent press release, our CEO Josh Gampel shared, "Our company has grown so much since its inception, but one thing has remained the same throughout the years: our main focus is our people, values, and goals." With this, we are able to continue delivering our world-class results in the recruitment marketing space.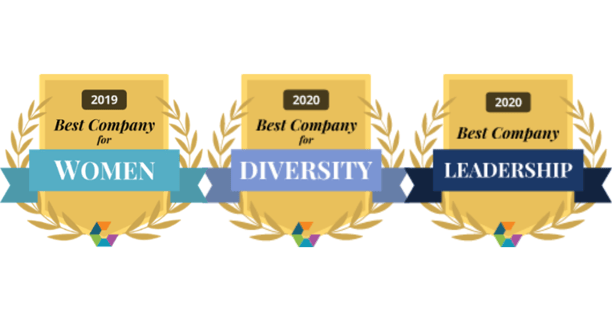 3. Employee Groups
At Recruitics, we are working towards cultivating a culture that can transcend from in-office to WFH and everything in between. Maintaining connections with your colleagues and teammates is important, now more than ever before, and employee groups give the opportunity to socialize with one another while also giving us a sense of normalcy and belonging in the company.
Recruitics has created employee groups that anyone on the team can join to allow a space for interaction with one another outside of a work setting and the ability to foster our community even more. These groups are also a great way to connect with others across the company that our teams might not otherwise get the chance to converse with. Some of the clubs Recruitics has include DEIB (Diversity, Equity, Inclusion, and Belonging), photography club, and we also created certain Slack channels for conversation like pups-of-RX and rx-book-club -- which allow everyone the platform to share with one another, just like we would in passing at the office.
We also have a group called EPIC (Employees Promoting Improvements in Culture) with a mission to make Recruitics a great place to work. The vision of this team is to identify areas of improvement throughout the organization to foster the best work environment possible for our employees, while promoting events, activities, and initiatives centered around team building, employee wellness, making a difference in our community, and having fun.
4. Supportive & Inclusive Environment
Our people are very important to us, and we are constantly working to improve our culture to ensure an inclusive environment. This past year has been a whirlwind, and we wouldn't have made it through without the support of everyone across the company. To ensure we are creating a supportive and inclusive environment for everyone now and into the future, we wanted to take a step back and evaluate our strategies, goals, priorities, and policies to make certain that we are supporting one another and creating actionable practices.
We've been dedicated to growing our DEIB efforts so everyone in the company feels welcome and included each day. From hosting educational opportunities to creating a comprehensive cultural celebrations calendar that ensures no diverse groups are excluded, we are working towards building a better workplace experience for every member of the team.
5. Leadership Team
We wouldn't be where we are today without our award-winning leadership team. We're also proud to say that our team is recognized as some of the preeminent thought leaders in the recruitment space. Also, our leadership team's strength and resilience allows us to ensure world-class results for our clients all year round.
6. Rewarding Industry
Some of you may not be familiar with the talent acquisition industry. At Recruitics, we work with some of the best practitioners and companies to help candidates get jobs. We provide the strategy and technology to solve today's toughest problems in candidate targeting and acquisition, applicant nurturing and engagement, employer branding, and effective sourcing, among others. It is incredibly rewarding to be able to change a candidate's life and be a part of something bigger.
See more about what our team loves about working in the TA industry here.
7. RxU (Recruitics University)
We have a 5-star new hire training program that each new employee participates in to get them up to speed and successful in their roles.
Recently, we started RxU (Recruitics University) so that our teammates can have the opportunity to continue learning. Also, we host "Share Some Knowledge" sessions to allow for continued learning in different areas of our wheelhouse, and we began hosting classes to make sure everyone is being supported in the areas they'd like to grow in.
By having opportunities for our teammates to take part in professional development sessions, our team's skills and knowledge in the industry remain up-to-date -- improving confidence, credibility, and efficiency. This also allows our teams to reach their full potential and grow professionally and reach career goals.
--
Interested in working for Recruitics? Check out a list of our available positions!
Posted by Recruitics

Recruitics is a data-powered recruitment marketing platform that makes it easy for the world's leading brands to attract and hire great talent. Recruitics revolutionized recruitment advertising with the introduction of the industry's first programmatic buying platform in 2012. Since then, Recruitics has helped thousands of companies find, attract, and engage millions of job seekers. Today, Recruitics continues to lead the recruitment marketing industry with its state-of-the-art data optimization and analytics platform.